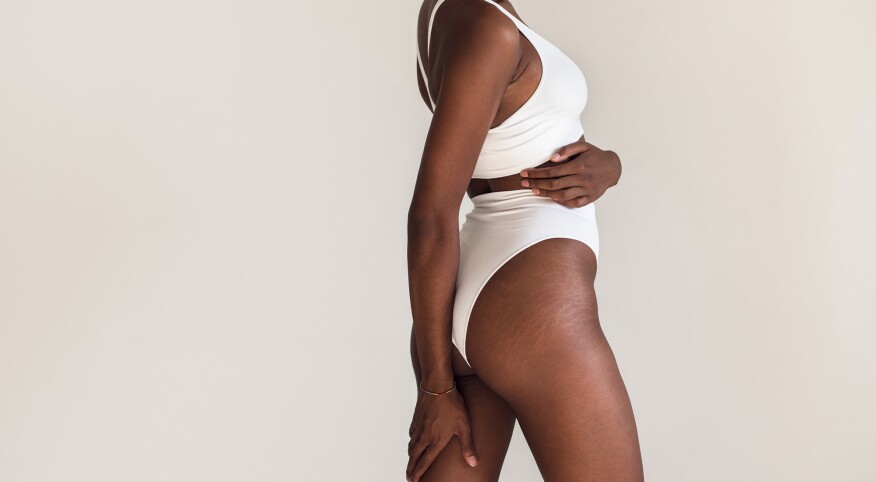 Hiding under shirts, below pants and across the bodies of about 80 percent of women are stretch marks.

These have various causes: genetics, hormones, and microscopic bleeding when tissues separate and stretch. Most women notice stretch marks after pregnancy, weight gain, puberty, growth and even aging. Regardless of their causes, there's one thing all stretch marks have in common: They won't simply go away on their own (though they will fade). But you don't necessarily have to live with your stretchies forever if they bother you. There are a few easy — and some not-so-simple — solutions.

*Note: Try one or try all the treatments, but be aware that there haven't been many studies on their efficacy, though dermatologists say they've seen positive results. Also, while the topical solutions are easy (and you'll probably find them in your medicine cabinet already), there haven't been any that are proven to totally eradicate stretch marks. As always, talk to your doctor or dermatologist before starting a new treatment.

Aloe vera

This magical plant seems to be the cure-all for just about everything from sun burns to skin irritation to bug bites. And Lesley Reynolds, cofounder of the Harley Street Skin Clinic and author of Easy Ways to Drop a Decade, swears by its use for stretch marks. Although there's little clinical evidence for aloe as a cure for this, Reynolds says that pure aloe vera (find it in most natural stores) is a healing agent and a skin softener. This is a slow, long-term solution, however. Reynolds suggests applying pure aloe vera to your stretch marks daily to reduce their visibility.

Retinoid cream

The application of a prescription strength topical retinoid has shown some promise in improving the appearance of stretch marks, says Juliya Fisher, M.D., a dermatologist and micrographic surgeon at JUVA Skin and Laser Center in New York. This — along with acne medications — have been shown to increase collagen production. "They are one of my favorite antiaging ingredients and are safe to use in patients that are not pregnant or breastfeeding," Fisher says. The trick to using retinoids successfully is to apply them when the stretch marks are new, says Adarsh Vijay Mudgil, M.D., a dermatologist at Mudgil Dermatology in New York.

Microneedling

Repairing stretch marks essentially involves restoring the skin's structure, says Jamie Kim, M.D., a dermatologist in Southern California and founder of Myitchychild.com. Noninvasive methods such as lasers and microneedling injure the skin and trigger the body to build more collagen, so this improves the appearance of the stretch mark, Kim says.

Tummy tuck

The most invasive and the most successful option, the tummy tuck removes the skin that has been damaged by stretch marks, Kim says. If you can surgically cut out the stretch mark, then you will improve the area by 100 percent.

Fraxel lasers

The light energy from these lasers creates tiny holes in the skin, which is intended to trigger new collagen production to repair the holes. This will help thicken and improve skin texture with multiple treatments, says Tsippora Shainhouse, M.D., a dermatologist in Beverly Hills with SkinSafe Dermatology and Skin Care.

Pulsed dye laser

This is another invasive treatment — but it tends to help the most with early stretch marks, says Anna Chacon, M.D., a dermatologist in South Florida who serves on the advisory board for Smart Style Today. "The red in the early stretch marks can be improved or treated with a pulsed dye laser that targets reddish discoloration in skin lesions," Chacon says. Over time, stretch marks become less noticeable and fade into a whitish color. These can often be treated with a more ablative method such as fractional thermolysis, microneedling or skin needling procedures.

Moisturizers

The tissue paperlike wrinkling that overlies stretch marks makes them appear more pronounced. Many products work to hydrate overlying skin to improve its turgor, reducing their overall appearance, says Erum Ilyas, M.D., president and founder of Montgomery Dermatology, and CEO and founder of AmberNoon. IIyas recommends cocoa butter, as it's affordable and easy to use. "By keeping the skin well moisturized as it expands, the hope is to reduce the inflammatory response to rapid stretching and hopefully reduce the scar tissue that follows," IIyas says. Bio oil is another option. It's a multiuse skin oil for skin sensitivities that occur when stretch marks are forming. The first single-blinded randomized controlled study of bio oil on stretch marks found that 50 percent of the people improved at eight weeks. Finally, using belly butter will moisturize and add a barrier to the skin.