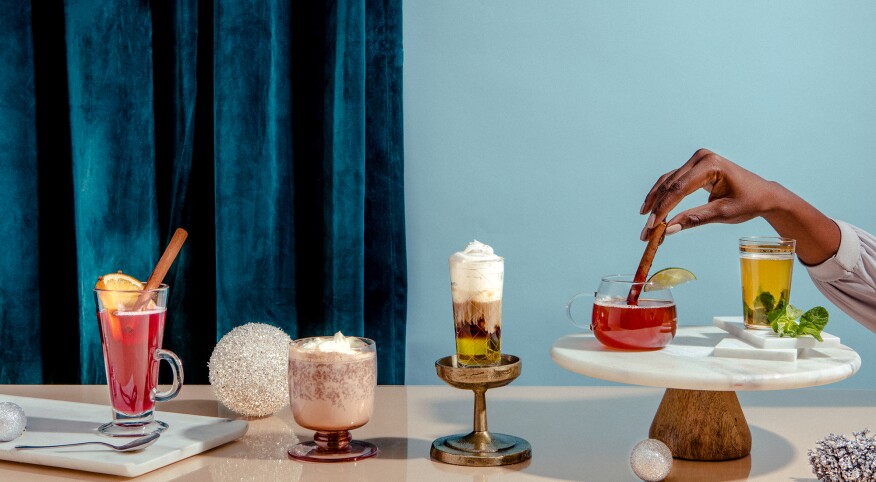 As temperatures plunge and days grow shorter, you'll want to reach for various hot beverages to evoke a sense of all-things-cozy during a period of the year that can feel long and bleak. Instead of nursing the same ole hot drinks, why not dare your taste buds to branch out into new territory and go global? These five accessible hot drinks from around the world inject warmth into the season as well as deepen your understanding of places far away by introducing you to new flavors, ingredient combinations and customs. Get ready to be swept into the authentic local life of each corresponding country, where every day people are enjoying the traditional beverage that you can make right in your home kitchen.

Té con Té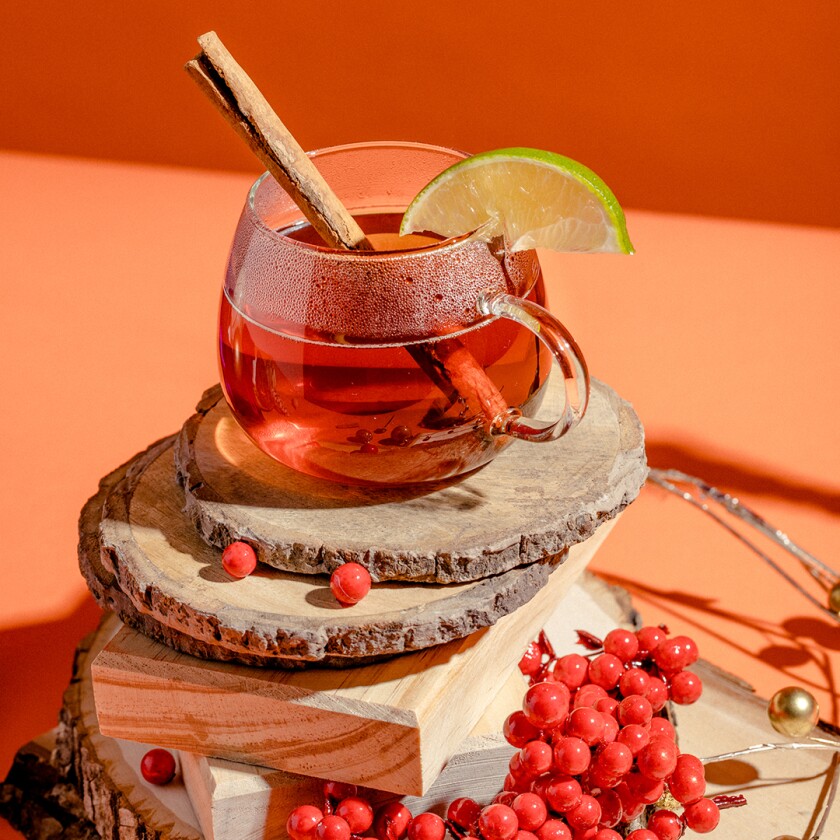 Bolivian Copacabana Restaurant in Seattle's bustling Pike Place Market has anchored the area for 50-plus years. Bolivian family member Vivian Morrow of Copacabana describes Té con Té as Bolivia's version of a hot toddy. "Té con Té is made with Singani, the national liquor of Bolivia. Singani is only produced in Bolivia at the elevation of 5,000+ feet above sea level. Bolivians drink this cocktail to keep warm in the extreme cold of the Andes Mountains."

Ingredients

2 ounces Singani liquor

4 ounces brewed black tea

1 cinnamon stick

1 lime wedge
Directions:

Pour Singani liquor in a mug, add cinnamon stick and tea bag, pour boiling water over cinnamon stick. Garnish with a lime wedge.
Moroccan mint tea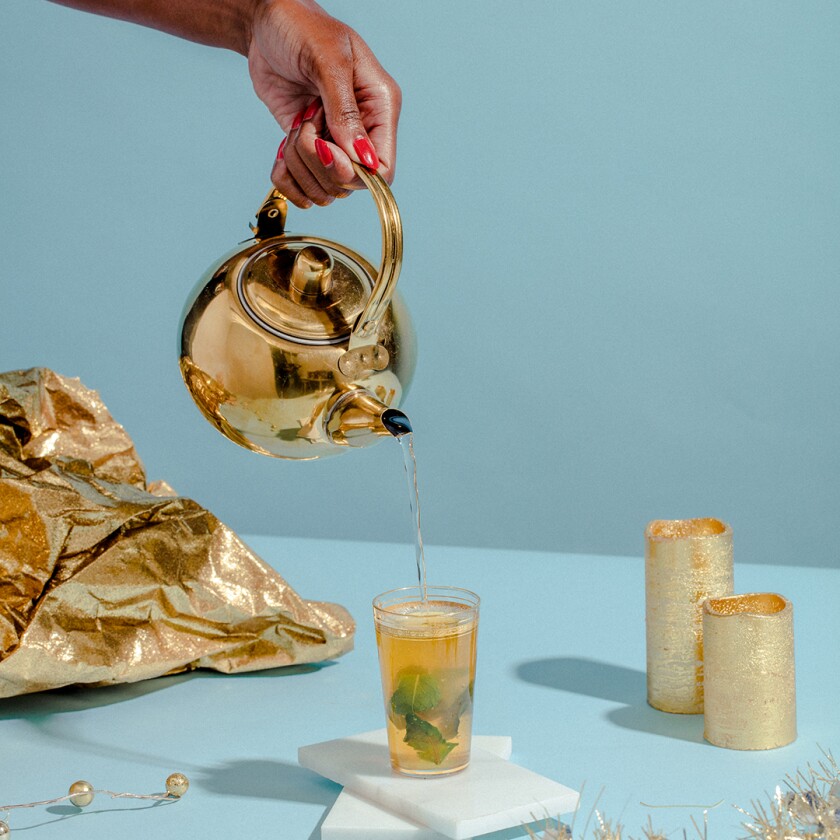 Specializing in pan-Mediterranean cuisine representing Morocco, Spain, Lebanon and beyond, Gypsy Kitchen offers a peek into Moroccan culture: "Mint tea is embedded in the Moroccan social life. It is part of their hospitality. In addition to being served at restaurants and cafes, mint tea is typically offered when visiting someone's house." Giovanni Maramis, the restaurant's assistant general manager, shares how to make this traditional Moroccan drink.

Ingredients


1 tablespoon gunpowder green tea

1 bunch fresh mint

1 tablespoon granulated sugar

3 cups water
Directions:


Boil water. Pour 1 cup of hot water and 1 tablespoon of green tea into a teapot (at least 1 quart size). Swirl around and pour into a glass. Pour the tea back into the teapot, and add remaining 2 cups of boiled water, fresh mint and sugar. Let it sit for 1 minute. Pour tea into a glass and back into the teapot 2 to 3 times. Serve tea by pouring and lifting the tea pot to a higher elevation to create froth on top. Garnish with mint leaves.
Mexican hot chocolate
"If you were visiting friends in Mexico, you might be served a frothy concoction like the recipe below, which has been made in one version or another for literally hundreds of years," says Bonnie Bennett of Kakawa Chocolate House in Santa Fe, New Mexico. The chocolate house believes in keeping these roots alive, and offers various elixirs online that include Ancient Maya and Aztec seasoning mixes to help you whip up magical chocolate drinks at home.

Bennett says that in many Mexican homes yet today, they'll grind the roasted cacao beans into a paste and make a chunkier, more rustic version of this drink. For ease, here's a more accessible modification from the chocolatier.

Ingredients (serves 4)


3 1/2 cups of whole milk. If you prefer to make dairy-free as we do at Kakawa, substitute unsweetened almond milk, which also adds a more complex depth of flavor.

6 ounces of rough chopped dark chocolate, at least 65 percent, and 70 percent is ideal or up to 80 percent. Buy the highest-quality cacao you can, as this will dramatically change the taste and texture.

2 1/2 tablespoons of finely chopped or ground piloncillo sugar (a traditional Mexican brown sugar, often found in cone shapes). You can substitute coconut sugar or 3 tablespoons honey.

2 tablespoons of canela (Mexican cinnamon)

1 teaspoon of vanilla

1/3 teaspoon of ancho chili powder (may also use the traditional milder chili guajillo or reduce the amount of ancho). Tip: Spike the heat using cayenne chili powder.
Directions:

Warm the milk slowly on the stovetop, do not boil. Once very warm, add sugar, canela and chili. With a whisk, mix and blend these into the milk mixture, continue blending until sugar is incorporated. Allow to continue to warm further, when steam begins to come off the surface but just before a boil. Turn the stove off and add chocolate and vanilla, blend until chocolate has melted and all ingredients are mixed. Create a froth with vigorous whisking, either with a traditional molinillo or a conventional whisk. The froth is a delicious part of a traditional Mexican hot chocolate. Divide into cups and serve. Fresh whipped cream or even 1 ounce of Kahlua coffee liqueur (for an adult-only version!) can be added at this stage if you like.
Hot port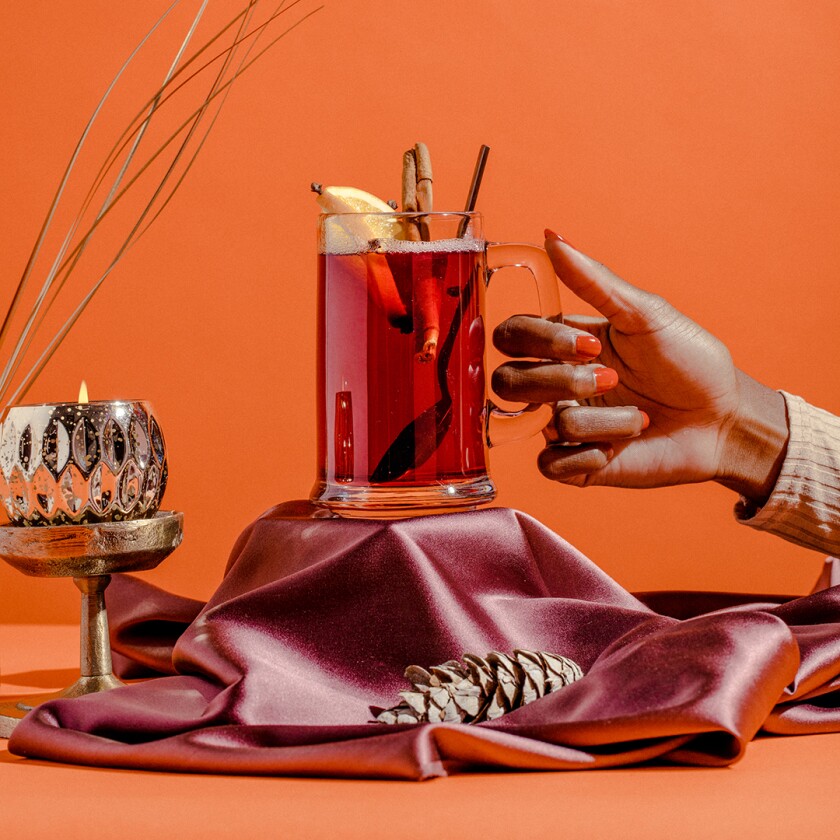 Founder and blogger Mairéad Geary of Irish American Mom says that warm pub drinks are an Irish tradition, and hot port — which tastes like "Christmas in a glass" — is a favorite on chilly, wet and blustery winter days. "Served in pubs all over Ireland, hot port warms the cockles of your heart," she says. Mairéad (Irish for Margaret, rhymes with "parade") promises it's easy to create this festive taste of Ireland in the comfort of your own home. She should know what it takes to evoke an Irish atmosphere from afar, as she moved to the U.S. 30 years ago.

Ingredients


Orange or lemon, slice (I like the combination of port and orange)

4 to 6 whole cloves

1 teaspoon of brown sugar or honey

2 measures (3 fluid ounces) ruby port

Cinnamon stick (optional)

Directions:


Boil the kettle. Prepare the garnish. Spike the orange or lemon moon (one circular slice) with cloves. Use 4 cloves for a less intense spicy flavor, and 6 cloves if you like the robust flavor of cloves.

Warm the serving glass. Choose a thick glass, preferably with a handle. Place a metal spoon in the glass and fill it with near boiling water. (The metal spoon helps absorb heat and prevent the glass from cracking.) Let the boiling water stand in the glass for 1 minute before discarding.

Pour a double measure of port into the warm glass. Top up the glass with boiling water and stir with the metal spoon. Add brown sugar or honey to sweeten if desired. Stir to dissolve and combine. Remove the spoon and add the citrus garnish to the drink. Stir with a cinnamon stick for extra flavor.

Galliano hot shot
The American Swedish Institute presents the coffee shot that conquered Sweden. According to Swedish historian and lecturer Richard Tellström, this Swedish invention won a coffee competition in 1987 and instantly became wildly popular. "In the late 1980s and early '90s at any Swedish party or bar, you couldn't escape trays of the Galliano Hot Shot arriving in front of you," says Tellström. The hot shot should be drunk all at once — like, well, a shot. At local Swedish bars, the air will often fill with screams of "Hot Shot, Hot Shot, Hot Shot!" as shot glasses are readied to be tossed back. Like a lot of great things from the '80s, this epic drink is making a comeback.

Blake Meier, executive chef at the FIKA Café, and Nadya Concharova, food and beverage director at American Swedish Institute/Culinaire, share their recipe for this infamous Swedish drink.

Ingredients (equal parts)

0.7 ounce Galliano liqueur

0.7 ounce hot black coffee (but not burning)

0.7 ounce whipped cream
Directions:

In a shot glass that shows off the layers, first add the Galliano as the base layer.

Slowly and carefully pour in the coffee. Retain the layers of coffee and liqueur (try pouring over or into a spoon to make it easier). Spoon whipped cream on top.
Kathryn Streeter is a Washington, D.C., freelance travel/lifestyle writer whose work has appeared in the Washington Post, AARP The Girlfriend, USA Today and Islands, among others. Kathryn Streeter | Washington, D.C. | kathrynstreeter.com | Freelance Writer | travel • lifestyle • people