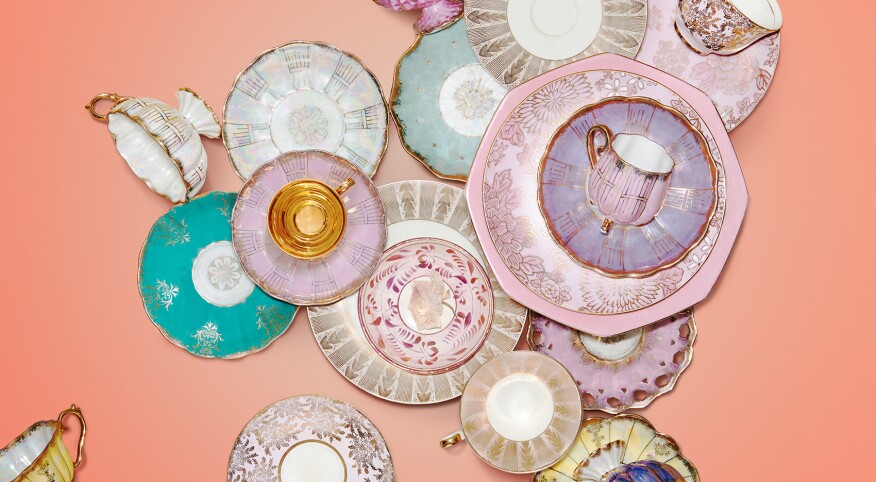 This past Christmas my mother presented me with a giant cardboard box full of her silver chafing dishes. A clever ploy, thinly disguising it as a "gift" under the tree, complete with stick-on bow. There is no refusing my fate. I have been chosen as Keeper of the Pretty Things.

My brother apparently cannot be trusted with fine home decor. So, as the daughter, one generation in a long line of matrilineal Pretty Thing owners, I must absorb the cast-off crystal creamers, wedding-gifted vases, brass candlesticks, water goblets and Asian art objects ("Your great-grandmother bought this in an antique store in Naples, Florida").

Pretty Thing Keepers must also accept the solemn responsibility of sentimental Not So Pretty Things. Moldy mid-century Christmas ornaments (knee-hugger elves, anyone?), needlepoint pillows, a desiccated wedding veil, Charles Dickens collectibles (it's Fagin and it hangs on the wall!).

My mother is not dying. She's moving into senior living.

This means she can bring only a few hundred beloved objects with her into 1,800 square feet of living space. What's left, but that she can't bear to part with, I must carry forth (into a storage locker, if necessary). I can only assume Elder Keeper of the Pretty Things status after she dies, and then like a vampire, must pass the curse of the Steuben Bud Vase on to the next generation.

Say no? Have boundaries? Discover eBay? You don't understand. Not only does my mother give me these things, she insists that I decorate with them and send her pictures. It doesn't matter if I don't have a silver-chafing-dish lifestyle. How I live and how my mother thinks I should live haven't jibed since about, well, ever.

In 1990, I moved to an edgy part of Washington, D.C., with a college friend and we rented a former crack house, which the landlord had painted pink in hopes of attracting a gentler, female clientele. We had about $15 of disposable income between paychecks. My mother sent a care package.

"Is it money? Food?" inquired my roommate.

No. It was a two-tiered porcelain cookie plate.

The message was clear — you may live in a mauve s**t hole, but you might throw a tea party. My mother's gifts to me have always been aspirational. It has taken a few decades, but I've finally reached middle-aged respectability. I'm sure my mother imagines the dazzling dinner parties I'll be throwing with her wedding crystal.

I realize this is a first-world problem. Being sandwiched between postwar prosperity and thanks-but-I'll-buy-it-at-IKEA millennials, I'm generation What Do I Do With It? I've got enough stuff and I've already downsized entire households, closets, a cheating ex-husband — I'm pretty content with what I have now.

But for my mother and grandmother, and generations before them — immigrant ancestors who escaped potato famines or dairy farming in Terre Haute – Pretty Things were status. They represented the ability to seat an extended family around a well-laid dining table. They were totems of stability and legacy; a bulwark against chaos. My mother still believes any sorrow can be borne with cloth napkins.

If I reject the Pretty Things, the barbarians win.

Besides which, my husband has zero sympathy. His 84-year-old widowed mother lives alone on 10 acres in rural Texas, in the same family home they've had since 1974, full of all the same things they've had since 1974. His G.I. Joe space capsule is still in his bedroom closet.

"Be grateful your parents are downsizing!" he says.

Fine, then. He won't mind this four-burner sterling silver chafing dish on our dining table.

Tracy Schorn is a State News editor at AARP Bulletin and blogger at chumplady.com.