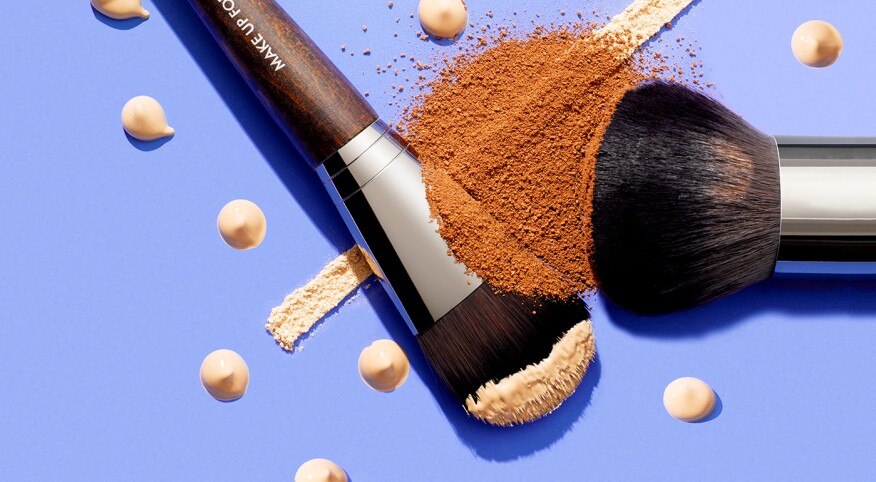 Just when I thought I finally had the perfect makeup routine, I fell down an Instagram rabbit hole and watched a few (OK, more like dozens) makeup tutorials and realized I've been doing it all wrong. I was proud of my five-minute routine from start to finish: tinted moisturizer, eye shadow, eyeliner, a wisp of mascara and a nude lip. But no matter how much makeup I put on, people always commented how natural I looked — though maybe not in a good way? A quick glance in the mirror showed a washed-out instead of dewy-fresh reflection.

For me the point of makeup is to look natural — only better. I wear makeup to cover up my rosacea and prevent the curse of my oily eyelids, which makes all of my eyeliner and eye shadow disappear. And while these beauty Instagrammers wear more makeup than I did on my wedding day and spend countless hours devoted to beauty, I've learned several helpful, quick makeup tips from them for those of us who prefer a natural look.

Yes, my last (unfortunate) makeover was on my Barbie doll when I was kid (it involved a black Sharpie and scissors), and then on my sister, which didn't go much better. But this time I turned the makeover on myself — with a little help from my Instagram friends.

Gorgeous even before they put on makeup, Laila Loves, Ling K. Tang, Marjan and Eloisexo offer makeup tips for us mere mortals, too. Their tutorials are worth checking out. Who knew how many different lotions and potions there were? I always thought an illuminator and a highlighter were the same things. Wrong! Apparently, the illuminator is added before the foundation for an allover glow, and the highlighter is added last to "highlight" a few choice spots, like the top of cheek bones, brow bones or a dot on the end of your nose or chin. Apply it anywhere natural light would touch and reflect.

Here are more tips from the pros:

1. Start with a super clean and hydrated face. That means gently exfoliate (don't try to rub off the years — it won't work, I've tried), then pat on your favorite moisturizer or moisturizing primer and let it absorb. If you wear sunscreen, add this first.

2. Do eyes before foundation in case of eye shadow fallout and eyeliner smudges. Add an eyelid primer or neutral light-colored powder to eyelids to help set your eye shadow, especially if you have oily eyelids like me and don't want everything to slip off before you leave home. Fill in eyebrows with an eyebrow pencil, add a thin line of eyeliner or shadow at the lash line, curl lashes and add a few strokes of mascara.

3. Apply foundation (or tinted moisturizer) with a makeup sponge for a flawless finish. (Some prefer fingers for a lighter finish.) To look especially luminous, put some drops of an illuminator on before foundation. Or add highlighter after foundation. Apparently, they use both, which honestly seems too much for me to use as my day makeup.

4. Put concealer wherever you need to camouflage: under eyes, blemishes, uneven skin tone, scars, rosacea. Blend well.

5. Sweep a wisp of blush on the apples of your cheeks. (I usually skip blush and use a light dusting of bronzer to give me a slight sun-kissed look.)

6. Line your lips with a color close to your lip color and swipe lipstick. Put a dab of gloss in the bottom of your lower lip. If you feel bold, add a teeny line of highlighter in the bow of your lips to add fullness. And — voilà! — you're ready to go!