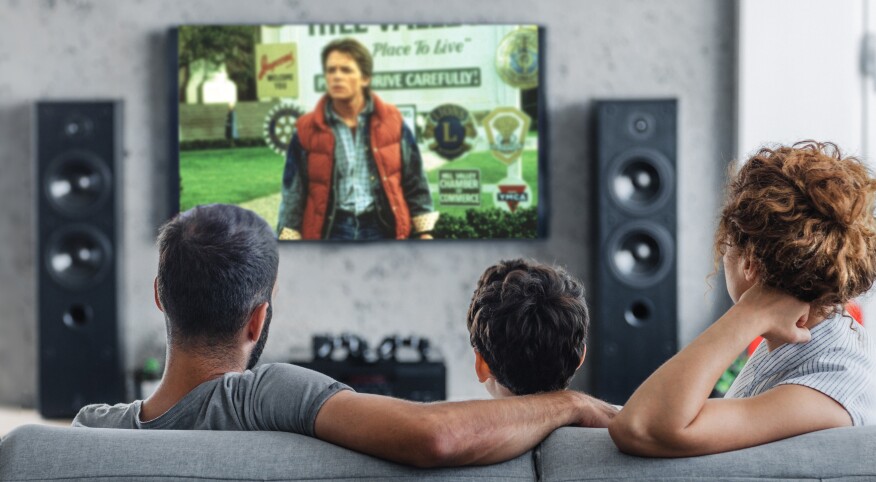 Being a teenager in the 1980s and '90s (without a car) meant you got bored quite often. But the Gen Xers didn't stay bored for long — we knew how to make our own fun and connect if we were trapped in the house and couldn't get a ride to the mall or a friend's house, because that was our life a long time ago.

I didn't realize it until about two weeks into our state's stay-at-home order, but I've been reverting back to some of my teenage ways — and it is saving me one spray of tanning magnifier at a time.

Instead of sprinting through my days trying to be the maid, cook and Uber driver, I'm at home with my kids, and we are trying to make the best of it. I'm so glad I have the experience of simpler times under my belt, because I already know the joy that can be found doing these six things.

Talking on the phone for hours
After becoming a mother I started dodging phone calls like, well, the plague. Which is weird, because growing up in the '80s with one telephone between me and my three sisters (this is unfathomable to my kids), I lived for gabbing for hours on the phone.

Now that I have not seen anyone besides my children in real life for weeks, I long to hear another person's voice. It doesn't have to be FaceTime or a Zoom call, either. Just dialing someone's number and talking is enough.

Going for walks
I've never walked so much in my life. Not even when I was the manager of a busy retail store did I get so many steps in. Remember when we were teenagers and we didn't have a car, but our parents let us walk everywhere? Once my friend and I wanted to go back to her house that was 6 miles away … and we walked. There were countless parties we went to on foot. Now, taking walks up and down my street has helped me set some kind of a routine and gets us out there to air out our shorts. And I now know muscle memory really is a thing.

Being in the sun
Listen, I know this isn't the healthiest option, but the extra dose of vitamin D has been fantastic. Besides, I'm so thankful spring has sprung — our deck and backyard are among the only places my kids and I can go to get away from each other. Just don't forget the sunscreen, hair lightener and tanning magnifier.

Comfort food
I'm talking about Hostess cupcakes and Drake's fruit pies. Packets of ramen are flowing in this house right alongside the macaroni and cheese. This stay-at-home order is making me see things I used to eat when I was young and carefree in a different light. The Banquet pot pies reminded me of Friday nights in front of the television with my sisters. The frozen burritos were always eaten before a high school dance. Fig Newtons and hard salami with Goldfish crackers were my afternoon snacks of choice as a teenager. Eating has become a coping mechanism for many during this frightening time. And for me, grabbing food that makes me nostalgic has brought me great comfort. Damn, the food in the '80s was good for the soul.

Looking at magazines
I can only handle so much online exposure these days. We all need different doses during this pandemic, and I'm sure we fooled around with a few different systems: getting updates on our phones, turning phones off, tuning into the news for a half hour, binge-watching every ounce of COVID-information we can. I've found reading magazines like I used to back in the day (I still have stacks of Glamour, Vogue and People) has helped lift my spirits a little bit and get my mind off things. It feels good to hold something in my hand that's not a device. And yes, it reminds me of the lazy afternoons spent with friends during winter or spring break in high school.

All the 1980s and '90s television
We've already watched Say Anything, Back to the Future, The Goonies and Karate Kid. I introduced my kids to Full House and Saved by the Bell, too. While there are some great modern shows to watch, I'm feeling the old-school vibe now. Much like the food I bought and ordered online, it's giving me a sense of peace and reminding me of happy days in my past. It also has been a great time to expose my kids to parts of my childhood, because they literally can't leave and blow me off for their friends.