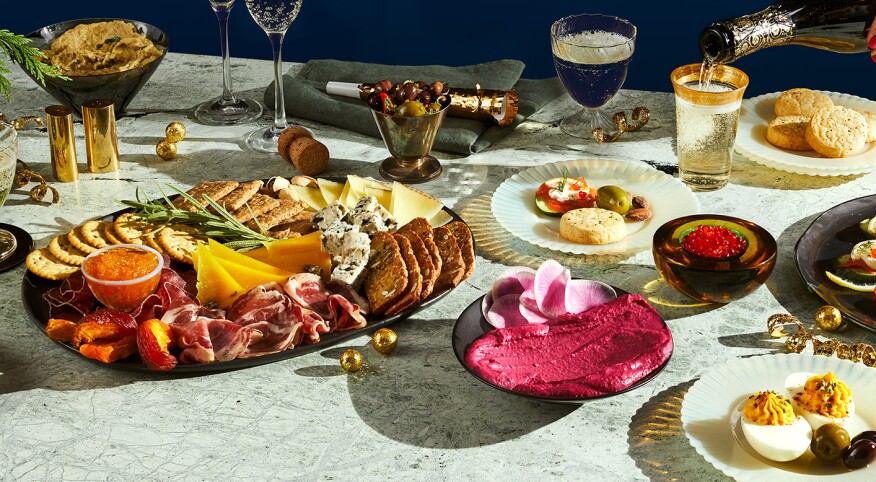 Going out on New Year's Eve is always a disappointment, with its inflated menu prices and lackluster service. For the past 10 years, the same group of friends and I have rotated our New Year's countdown in each other's homes. Our gatherings range from four to eight revelers. I avoid being isolated in the kitchen when my friends are enjoying drinks and conversation. Appetizers and finger foods work best.

Here are recipes for an elevated New Year's menu at home with a few close friends: Do all prep, cooking and plating before the guests arrive.

Recipes serve four, but can easily be doubled for larger end-of-year celebrations.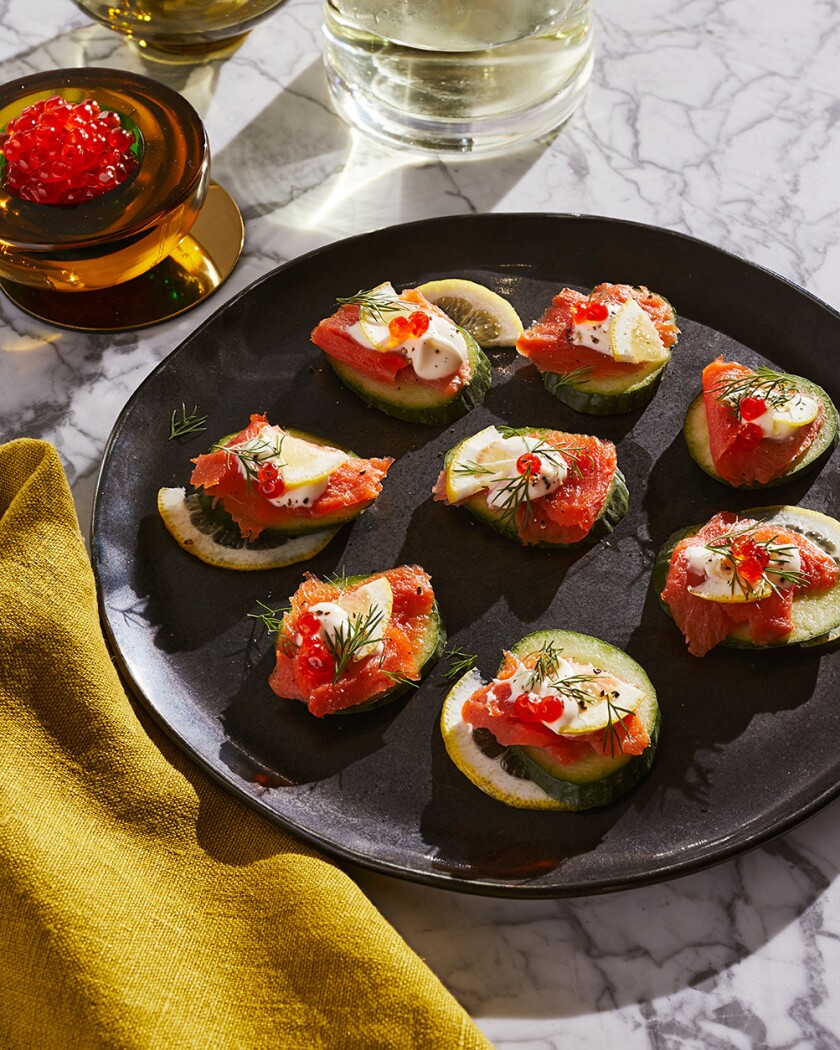 Cucumber Circles with Smoked Salmon and Crème Fraiche

Ingredients

3 to 4 Persian cucumbers (the small kind that don't need to be peeled)

Small container of crème fraiche

6 ounces smoked salmon

Chives, dill sprigs, or microgreens

Directions

Cut cucumbers into ¼ inch slices. Top each one with a small, folded piece of smoked salmon. Dab top with crème fraiche. Garnish with chopped chives, sprigs of dill, or microgreens. Arrange in a circular pattern on a serving plate.

Option: Top off with salmon roe or capers.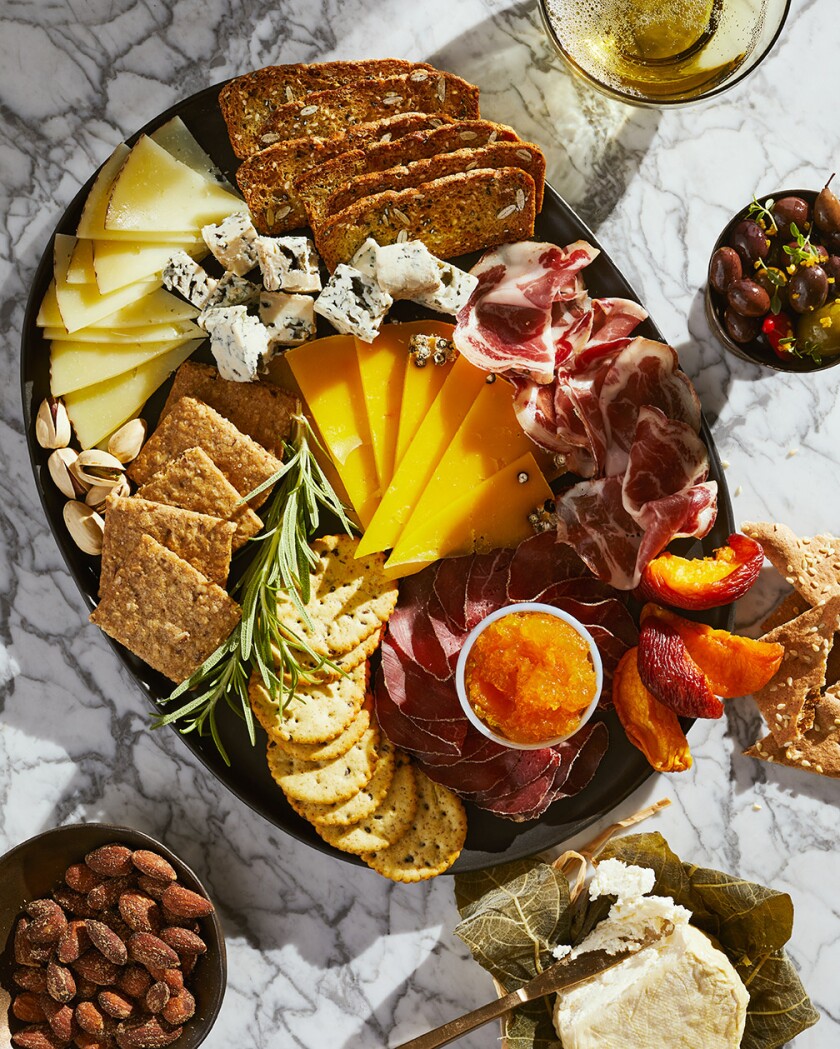 Charcuterie Platter

This is the centerpiece of your table: meats, cheeses, crackers, pitted olives, smoked almonds, Dijon and grainy mustards, dried dates, figs, apricots and cherries. This is a DIY recipe. Choose and artistically arrange your favorites from the list below.

Meats

Any cured meats to your taste: an assortment of prosciutto, mortadella, ham, salami, chorizo.

Cheeses

Everyone serves Brie and cheddar. Offer your guests an array they might not be as familiar with, depending on their tastes. Some of us like "stinky" cheese; others prefer milder options. Your charcuterie platter can be international, all-American featuring Wisconsin and Vermont, Italian or French themed. Soft and runny cheese include Buffalo Mozzarella and Taleggio from Italy; Neufchâtel from Normandy, a cow's milk heart-shaped cheese dating back to the 6th century; soft, mild fresh chevre from Vermont Creamery; or Bucheron from France. Medium-to-firm cheeses include Manchego from Spain, Stilton from England, Compté from France, Pecorino and Asiago from Italy. Rather than putting out large hunks of cheese, slice into bite-sized pieces and use your creativity to make an arrangement of geometric shapes and colors.

Option: Drizzle hot honey on some of the cheese slices for a spicy kick.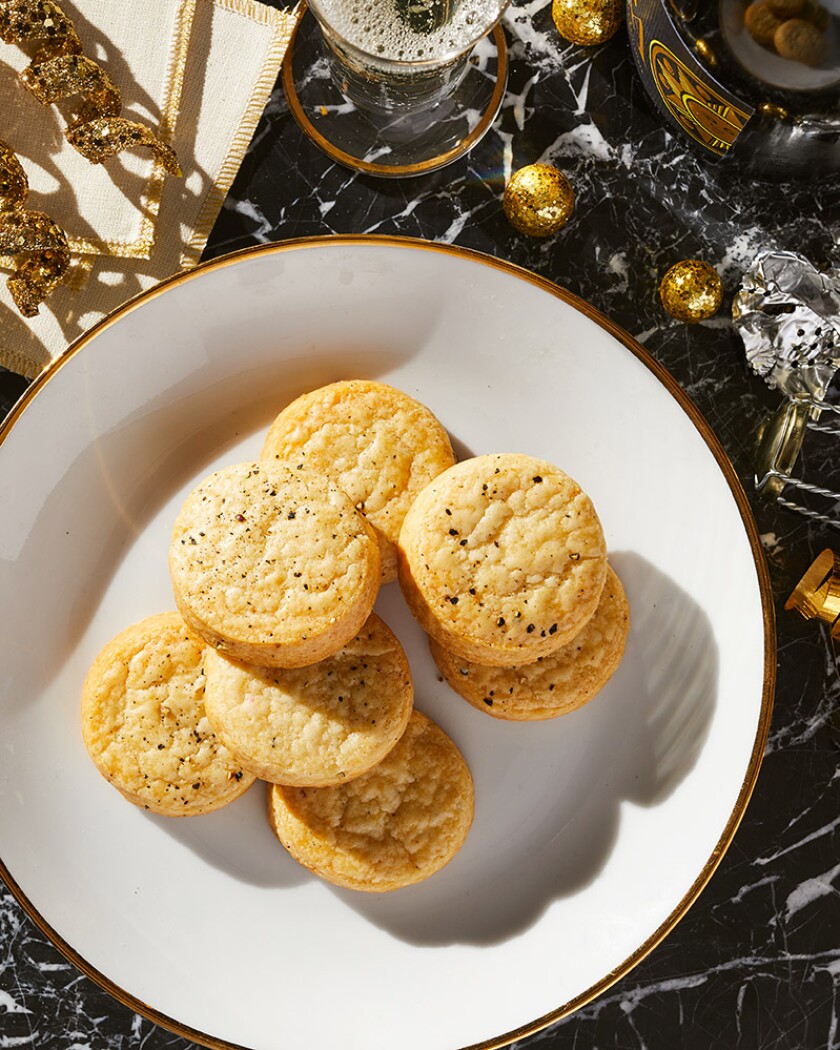 Dorie Greenspan's Smoked Cheese Cocktail Cookies

Master baker Dorie Greenspan calls these "cookies," but they are a perfect pairing with pâté and dips, and savory enough to munch on their own.

Stash some away for January leftover snacking, stored in a tin. You won't be able to eat just one!

Makes 5 dozen

Ingredients

1¼ cups all-purpose flour

Fresh ground pepper to taste

Pinch of cayenne (optional)

1½ cups shredded smoked Gouda (4 ounces)

¾ teaspoon fine sea salt

¾ cup shredded sharp cheddar (2 ounces)

1 cup cold unsalted butter, cut into small pieces

Directions

Pulse butter, Gouda, cheddar, peppers and salt in a food processer until large moist clumps form. Add flour. Pulse into large moist clumps. Knead gently until dough congeals. Divide in half. Press into disks. Roll between wax paper to thickness of ¼ inch. Slide onto baking sheet and freeze at least an hour until firm.

Preheat oven to 350°F. Using a 1½-inch round cookie cutter, stamp out cookies. Place them 1 inch apart on baking sheets lined with parchment. Bake 20 minutes, until lightly golden. Cool first on baking sheets for 3 minutes, then on a wire rack.

Note: Dough can be wrapped in plastic and frozen for 2 weeks.

Adapted from Food & Wine and Dorie Greenspan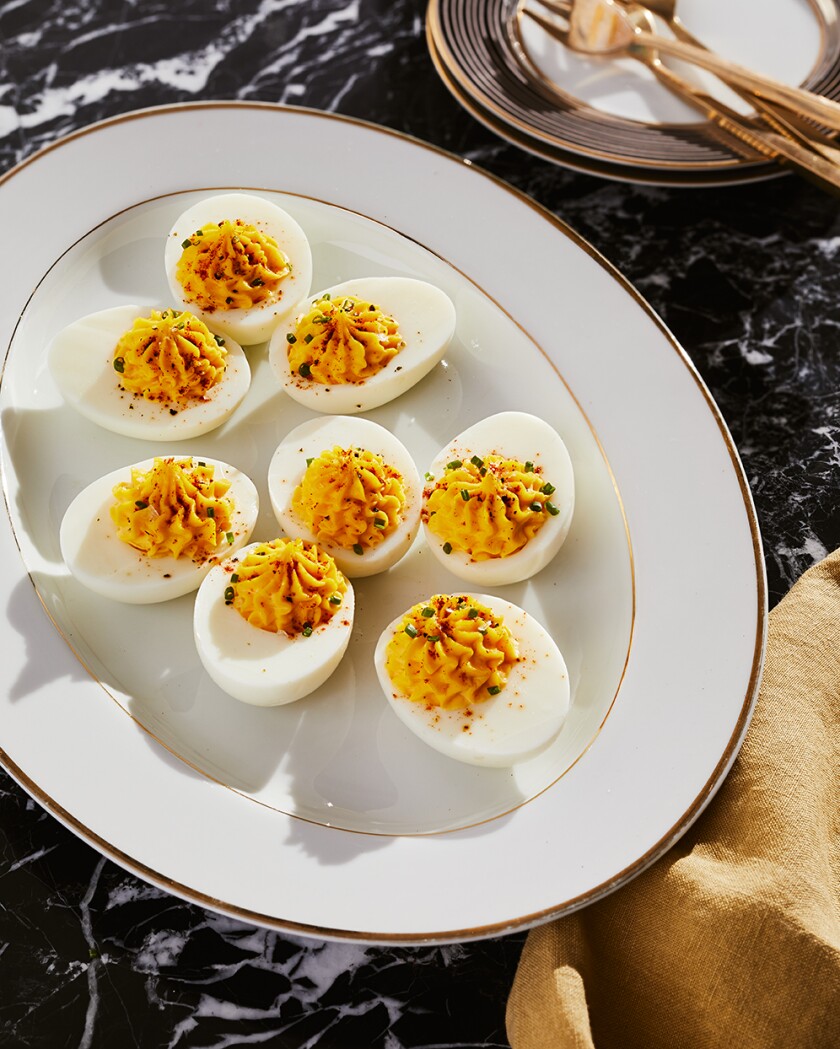 Deviled Eggs

Ingredients

12 large eggs

½ cup mayonnaise

1 tablespoon Dijon mustard

Hot sauce (optional)

Himalayan salt and freshly ground pepper

Chopped chives

Smoked paprika

Directions

Hard-boil eggs. Cool in ice water. Peel. Slice each in half lengthwise. Remove bowls and mash in a bowl. Add mayonnaise, mustard, hot sauce to taste, salt and pepper. Whisk until smooth. Use a pastry bag or a spoon to fill each egg half higher than the whites. Garnish with chives and smoked paprika. Refrigerate before serving.

Tip: Slightly older eggs are easier to peel.

Adapted from Mary Nolan at Food Network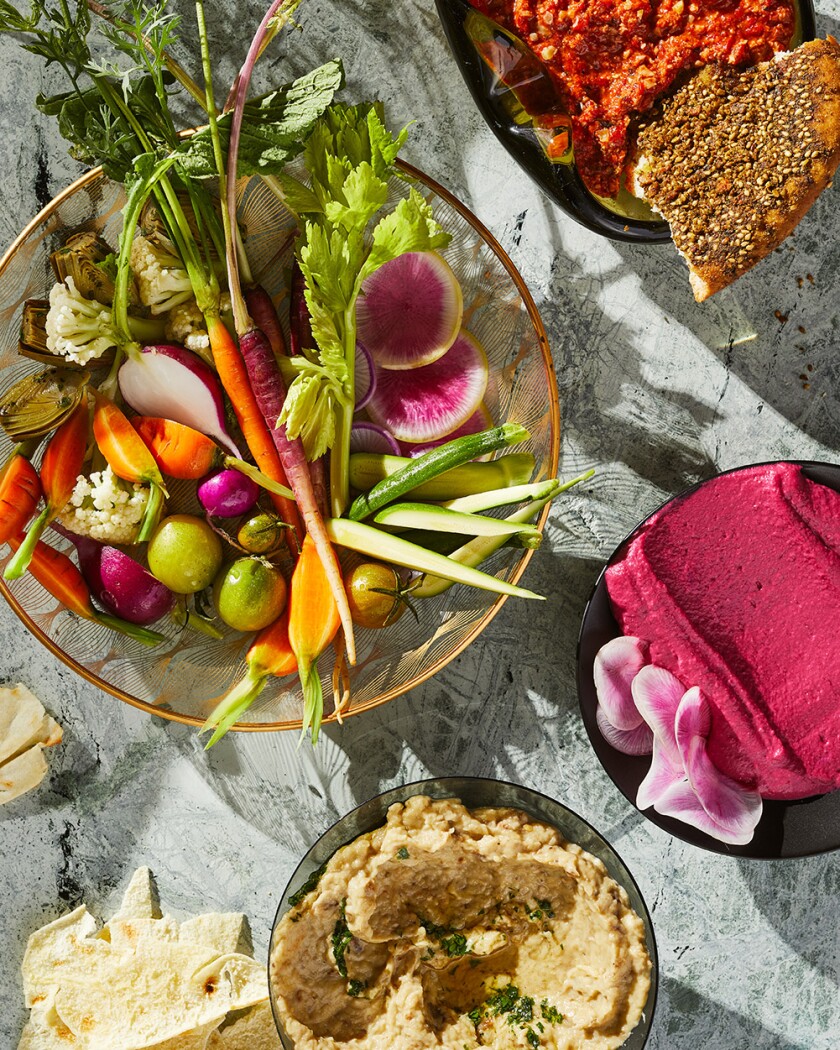 Vegetarian options

If you live near a Middle Eastern restaurant, take out their homemade hummus; baba ghanoush; and muhammara, a red pepper dip. Serve each in medium-sized bowls surrounded by crudités of thinly sliced carrots, cucumbers, zucchini and celery for dipping.

Dessert

Keep it simple with an assortment of fine chocolates, mini bite-sized pastries from your favorite bakery, and a fruit platter. Even better: If your guests ask what they can bring, suggest dessert.

Toasting to 2023

What's New Year's Eve without bubbly? Italian prosecco is just as festive as champagne but cheaper. Allrecipes has lots of suggestions for nondrinkers, including a mock bubbly made from ginger ale or sparkling water and white grape juice served over ice in a flute, garnished with red berries.

Optional: Get noisemakers, goofy hats and 2023 eyeglasses. We're never too grown up to act like silly kids.

Do you usually go out for New Year's Eve? Or host people at your place? Or stay home? Let us know in the comments below.