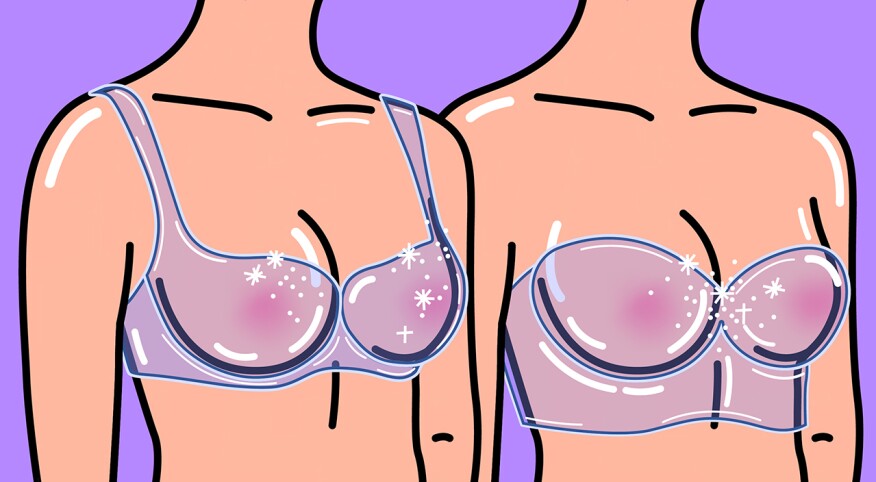 Whether it was in junior high gym class or sometime later, you may remember discovering that every woman's breast size and shape differ vastly different from your own. In fact, no two breasts are alike. Think of them as being as distinctive as fingerprints. And for many of us, our breasts might not quite match but instead slightly vary in size or shape. Again, totally normal.

Breasts start as small prepubescent buds and, over an adolescent period of about five years, develop into the size and shape you have as an adult. And they're also subject to a genetic lottery. You may have your mom's perky size C's, your dad's sister's double D's or your maternal great-grandma's athletic A's. What's more, weight loss and gain over your lifetime, hormones and diet can all affect breast size and shape.

"The breast tissue that isn't made up of milk ducts is largely composed of fat cells that increase and decrease as weight is gained and lost, potentially changing the shape as well as the size of the breast," says Constance M. Chen, M.D., a board-certified plastic surgeon, clinical assistant professor of surgery (plastic surgery) at Weill Cornell Medical College and clinical assistant professor of surgery (plastic surgery) at the Tulane University School of Medicine.

Chen has special expertise in using innovative natural techniques to optimize medical and cosmetic outcomes for women undergoing breast reconstruction.

Other factors influencing breast size and shape include the hormonal changes that accompany pregnancy, breastfeeding, perimenopause and menopause. Some changes are a natural consequence of aging, as skin loses elasticity and as breast-tissue composition shifts to a higher concentration of fat, which is prone to sagging. A properly fitted bra, however, can enhance your comfort at any age, and not just for large-breasted women, Chen points out.

"Every woman will be more comfortable and less restrained in her physical activity if she wears a properly fitted bra," she notes. This can be tricky, since most women find that their breasts' shape changes more than once over their lifetime, prompting them to retire the size, shape or style of their current bra.

How breast shape influences your bra size

Though you may believe you're a size 32B or 36G, you may not realize how much your breast size and shape affect the style and size of the bra you need.

"Any catalog of breast shapes is only an approximation," Chen says. "Just as every woman is unique, her breast shape cannot be expected to conform to a picture or description."

Chen believes even having an idea of one or two shapes that closely match your breasts best can help you find the right bra with the right fit.

What's your breast shape?

These descriptions of breast shapes aren't comprehensive, but most women — using a mirror — should be able to get an idea of which ones come closest to her own.

· Round breasts appear equally full at the top and bottom of the breast. Not many women have perfectly well-rounded breasts, but many bras are designed for this presumed shape and account for many poorly fitting bra purchases. Bra tip: Most bras fit rounded breasts well. Choose a bra with a molded round cup.

· Teardrop-shaped breasts are also rounded but fuller at the bottom than the top. Women who have lost weight may find that their breasts reflect this shape. Bra tip: Typical bras may gape or not fit well at the top of the cup. Choose bras with full or demi cups that lift and support from the bottom.

· Bell-shaped breasts are also fuller at the bottom and narrower at the top, though less rounded than teardrops. Bra tip: Choose a well-made, sturdy bra with underwire and/or padded cups to uplift and support from the bottom up.

· East-west–shaped breasts have nipples that point outward, away from each other. Bra tip: Select a bra with side support that centers the breasts and helps them from splaying sideways.

· Side-set breasts have a wide space between them. Bra tip: Typical bras will fit with empty space between the cups. Choose a bra with side support to center breasts toward each other.

· Close-set breasts have very little space between them. Bra tip: Underwires may separate breasts uncomfortably. Choose a non-underwire bra.

· Slender breasts are narrow and long and have nipples that point downward. Bra tip: Typical underwires will have space at the sides of the cups. To correct this for slender breasts, choose a bra with cups that fit but with a too-small band size; then use a bra extender to extend the band at the back. This can lengthen the bra band on the sides while fitting the cups well.

· Athletic breasts tend to be wide-set and more muscular, with less breast tissue, correlating with an athletic body that's muscular with little fat. Bra tip: Choose soft, stretchy athletic bras that offer support and enhance the cups or plunge, or push-up bras that will lift and support.

· Conical breasts are cone-shaped rather than round and are more common in small-breasted women. Bra tip: Choose a T-shirt bra or bras or one with molded or padded cups that provide a gentle rounder appearance. Demi rather than full coverage may work better.

· Asymmetric breasts may have differences in size or shape. Bra tip: Select a bra with padded cups to hide empty space; for slight differences, choose a soft, stretchy bra that form-fits each breast.

· Relaxed breasts have looser tissue and nipples that point downward, similar to Slenders but generally fuller; they are more common later in life. Bra tip: Choose a bra with extra lift or a panel that sits under the cups to push breasts upward.

Getting the right-fitting bra

Once you know the shape of your breasts, try to look for bras that can enhance that shape while feeling comfortable and supportive, no matter your size. "Many women wear a bra that doesn't fit properly, which can lead to discomfort," Chen observes. "The best way to be properly fitted for a bra is in a specialized shop with experienced bra fitters. But even a professional bra fitter may not consider your shape when helping you select a bra. If you go in with the knowledge that you're a teardrop or an athletic, you may have a leg up on finding the right bra for you."

When a bra fits properly, there's no gapping and no overflow in the cups, the straps don't slip or dig into your shoulders, and you should be able to slip two fingers under the band in the back, Chen says. Remember, knowing the shape of your breasts may help on your journey to finding the right bra.

Where do you buy your bras? Recommend a store in the comments below.