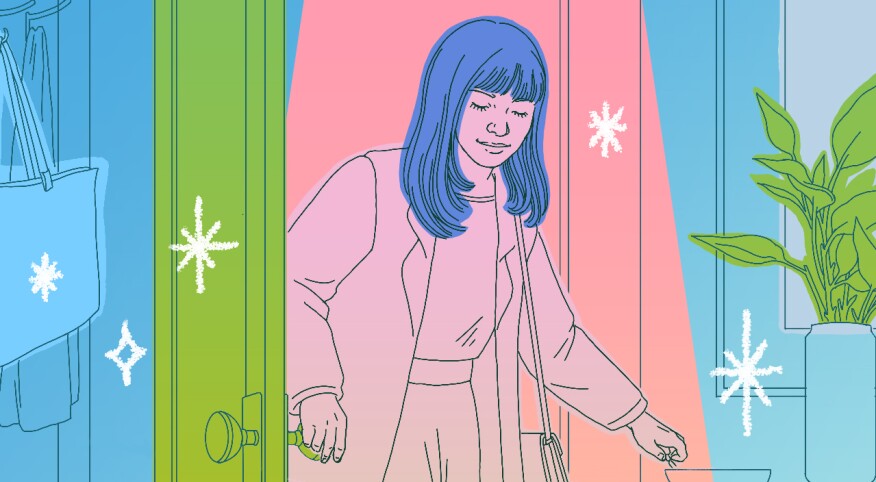 When Marie Kondo's book, The Life-Changing Magic of Tidying Up: The Japanese Art of Decluttering and Organizing, was published in 2014, it made people reexamine how they cleaned their homes. Instead of saying, "Do I need this?" or "Will I ever wear this?" they were looking at all the items in their house, from clothes to tchotchkes, asking, "Does this bring me joy?"

Several years later, Kondo is out with a new book, Kurashi at Home, inspired by the Japanese concept of "kurashi," or way of life.

In an interview with Kondo, she explains, "Clutter within your home can cause stress and anxiety whether you realize it or not. By tidying your home, you're not only physically putting your space in order, but you're also embarking on a journey of self-realization."

Cleaning your mind while you clean your house sounds like a great two-for-one deal. So, if you are ready to tidy up, and deep clean your home while helping to improve your mindset, here are five tips from Kondo herself:


Kondo says, "Your morning routine can be very telling of how the remainder of your day will go. That is why I have a set of morning rituals that ensure my day begins on a refreshed and positive note." For Kondo, mornings start with some alone time. She purposely wakes up before everyone in her house. She says, "I always begin by opening the windows to let fresh air in to cleanse my space of any lingering stale air. Then I light incense because aromatherapy is a great way to purify your space, and you can find a variety of scents that promote specific moods, such as energizing or calming. Then I'll greet my day, a custom I've believed in since the development of the KonMari Method."


Your entranceway sets your mood
What greets you when you walk into your house? If it's shoes all over the place, bags on the floor, and jackets unhung — that means each time you enter, you face chaos, stress and anxiety. In Kurashi at Home, Kondo writes, "The entranceway to our home should inspire a sigh of relief and contentment as we walk through the door, making us want to announce, 'I'm home.'" Kondo also believes that a clean and neat entranceway makes guests feel uplifted and warmly welcomed.


Not being able to get dressed quickly and confidently is a stressful way to start the day or an evening out. Kondo writes, "If your closet is overflowing and you dread opening the door, nothing will have more immediate impact than folding your clothes." She continues, "Engaging with your clothes in a mindful way will change your relationship with them and spark joy day in and day out." The act of cleaning a closet allows people to confront their past, including the mistakes they have made. Kondo writes, "Our wardrobe will always contain some reminders of experiments we would rather forget." Rather than holding onto items (because you feel bad or guilty or wasteful for purchasing), Kondo suggests expressing gratitude to those fashion-don'ts before placing them into the donation pile. She writes, "(Say) 'Thank you for teaching me that this style isn't for me.'"


While there are people who love cleaning, most of us do not consider It a fun activity. The dread of embarking on a deep clean may be why many of us put off spring cleaning or abandon the project midway through. "It's inevitable to be in situations that don't always spark joy," explains Kondo. "That is why I am a firm believer in setting time for rituals that spark joy and recharge your energy throughout the day." For Kondo, those rituals include scheduling time for long walks and tea breaks each day: "Both of these practices bring me immediate calmness. When I take time for either or both of them in the middle of my day, they help me reset and recharge so I can break from difficult tasks and come back feeling clearheaded."


A Clean House Can Lead to a Clearer Mind
"Once you tidy your home, only keeping things that spark joy, you'll find that if you had issues with your space before, you'll see it in a brand-new light," Kondo says. If you rid yourself of the clutter and get rid of the items you don't need, Kondo believes you will find more joy and clarity in your home and in your mind. "Through the process of deciding on and surrounding yourself with what brings you joy, you'll develop your capacity to make decisions and take action, and this, in turn, builds self-confidence," she says. Rather than thinking of spring cleaning as a tedious chore, view it as an opportunity.: "By mindfully letting go of what no longer sparks joy, you're not only clearing the physical item but also the mental space it can take up. Tidying and cleaning as we enter any new season is the perfect way to reset our intentions and begin life on a fresh and inspired note."

Do you like Marie Kondo's tips? Let us know in the comments below.