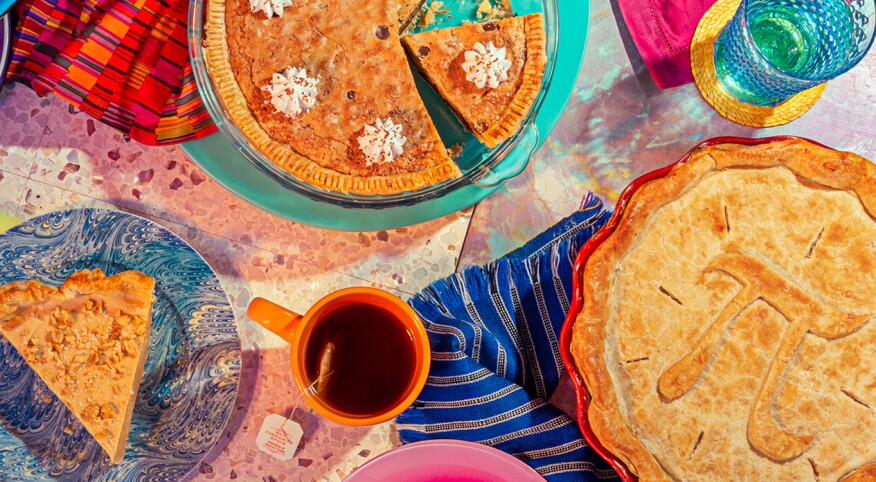 To see the version of this article in Spanish, go here.

When my daughter was in middle school, she asked if I could make or buy a pie for her class. I was caught off guard. First off, why would the teacher request a whole pie? For bake sales, they usually wanted individual treats, like cookies or brownies. And it was the end of winter. I've always thought of pie as seasonal — pumpkin and apple in the fall, blueberry and peach in the summer. Why have a pie party in March?

Of course, it wasn't a pie party but a party to celebrate Pi! What is Pi Day? Pi (Greek letter π) is the symbol used in mathematics to represent a constant — the ratio of the circumference of a circle to its diameter. No matter the circle's size, this ratio will be 3.14159, which rounds to 3.14. So Pi Day is celebrated worldwide on March 14: 3.14.

Pi Day is an excellent opportunity to discuss math with your friends and coworkers while eating pie. Or, if you prefer, skip the math part and head straight to the pie-eating.

Pie 101

Sweet or savory, there is no question that pies are delicious. There are pies like pecan that are served for dessert, and pies like pizza that make a complete meal. Some pies have just a bottom crust and others have a top crust too. There are pies where the crust is baked before filling (known as a blind bake), while others are filled and then baked.

It's all about the crust

The phrase "easy as pie" is often used to describe a task that is easy to complete. But it is a bit misleading. It is not that easy to bake a pie. Making a tasty, flaky crust can be a bit of a challenge. According to Ree Drummond of The Pioneer Woman, whether you use homemade or store-bought dough, the key is that the dough be cold when you work with it. Another tip: use a prebaked crust, line with parchment paper, and then place pie weights in it before baking. Bake for 20 minutes, then remove from oven, take out the parchment paper and weights. Prick the bottom of the crust to prevent bubbles and then return to the oven for an additional 15 to 20 minutes until the crust is golden.

If you are ready to celebrate, here are four recipes to get your Pi party started.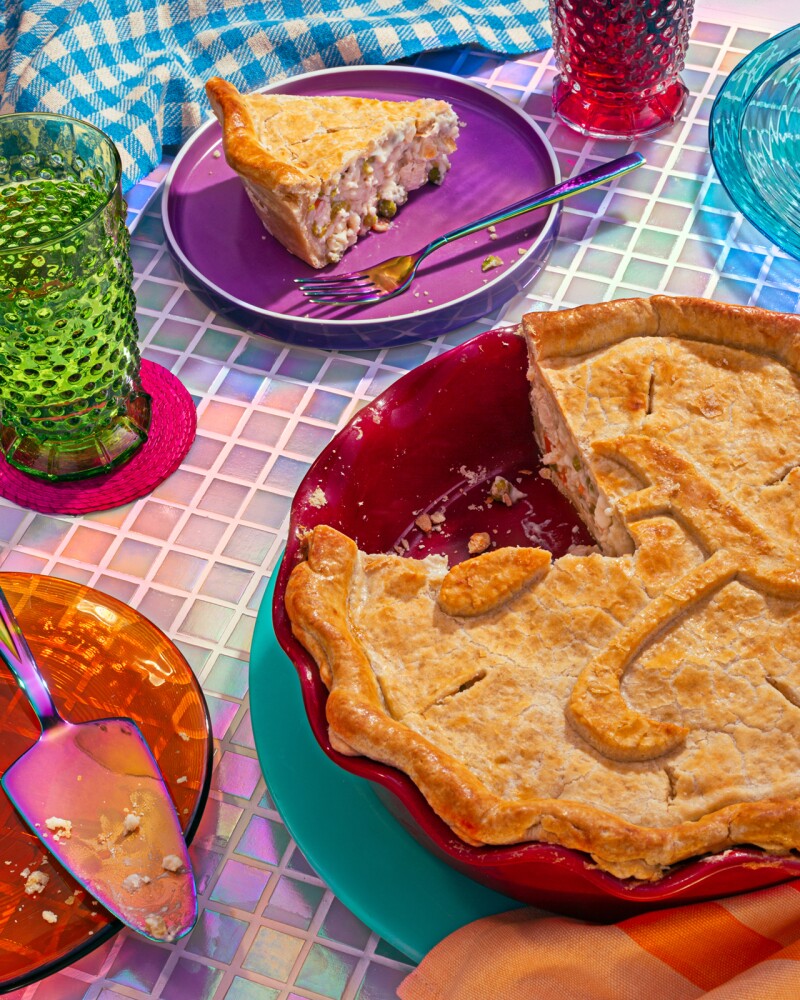 Chicken Pot Pie (adapted from All Recipes)

INGREDIENTS

· 2 9-inch unbaked pie crusts

· 1 pound skinless, boneless chicken breast halves — cubed (for simplicity use rotisserie chicken)

· 1 cup sliced carrots

· 1 cup frozen green peas

· ½ cup sliced celery

· ⅓ cup butter

· ⅓ cup chopped onion

· ⅓ cup all-purpose flour

· ½ teaspoon salt

· ¼ teaspoon black pepper

· ¼ teaspoon celery seed

· 1 ¾ cups chicken broth

· ⅔ cup milk

INSTRUCTIONS

Preheat the oven to 425 degrees. Combine chicken, carrots, peas, and celery in a saucepan; add water to cover and bring to a boil. Boil for 15 minutes, then remove from the heat and drain. While the chicken is cooking, melt butter in another saucepan over medium heat. Add onion and cook until soft and translucent, 5 to 7 minutes. Stir in flour, salt, pepper and celery seed. Slowly stir in chicken broth and milk. Reduce heat to medium-low and simmer until thick, 5 to 10 minutes. Remove from heat and set aside. Place chicken and vegetables in the bottom pie crust. Pour the hot liquid mixture over the top. Cover with top crust, seal the edges and cut away any excess dough. Make several small slits in the top crust to allow steam to escape. Bake in the preheated oven until pastry is golden brown and filling is bubbly, 30 to 35 minutes. Cool for 10 minutes before serving.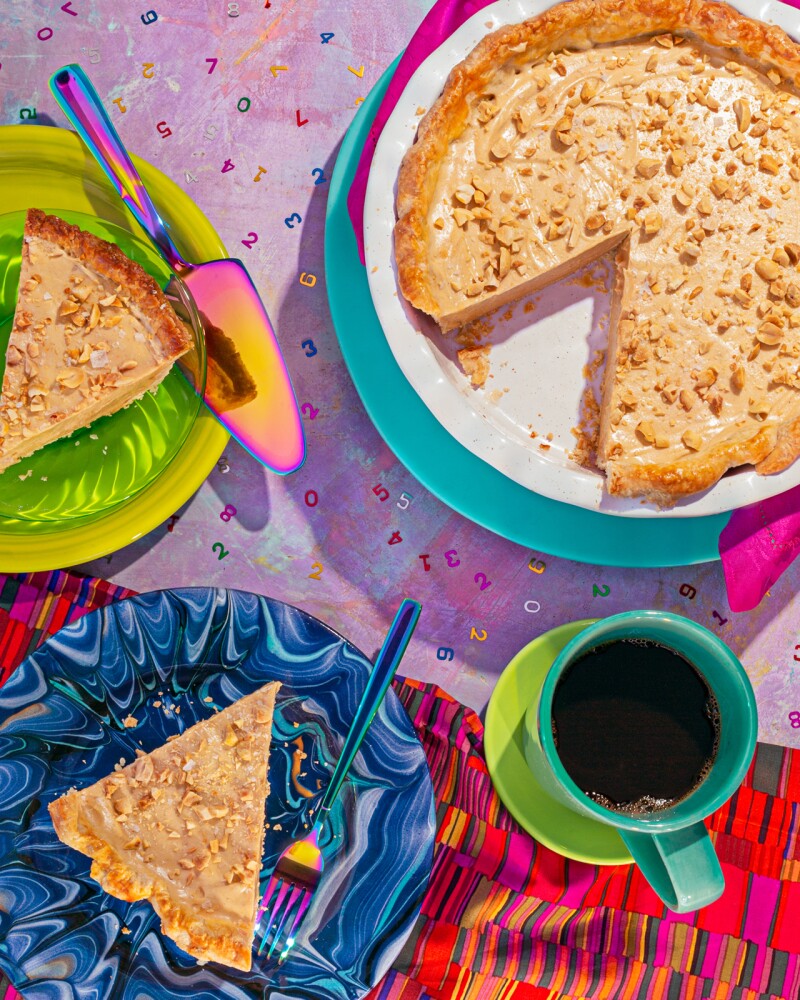 Peanut Butter Pie (adapted from Little Spoon Farm)

INGREDIENTS

· 9-inch baked pie crust (homemade or store-bought)

· 1 cup creamy peanut butter

· 4 oz. cream cheese

· 1 cup powdered sugar

· 1 1/2 cups heavy cream

· 1 teaspoon cream of tartar (optional)

· 2 tablespoons chopped peanuts

· 1/4 teaspoon flaked sea salt

INSTRUCTIONS

Prebake crust according to directions and set aside to cool. In a medium-sized mixing bowl, beat heavy whipping cream with cream of tartar until stiff peaks form. Place in the fridge to keep cold. In a large mixing bowl, beat the cream cheese, peanut butter and powdered sugar until smooth. Use a large spatula to gently fold half of the whipped cream into the peanut butter mixture. Fold in the remaining whipped cream and pour the filling into the prepared pie crust. Smooth the top of the filling and sprinkle with chopped peanuts and flaked sea salt. Chill for at least 3 hours to set the center.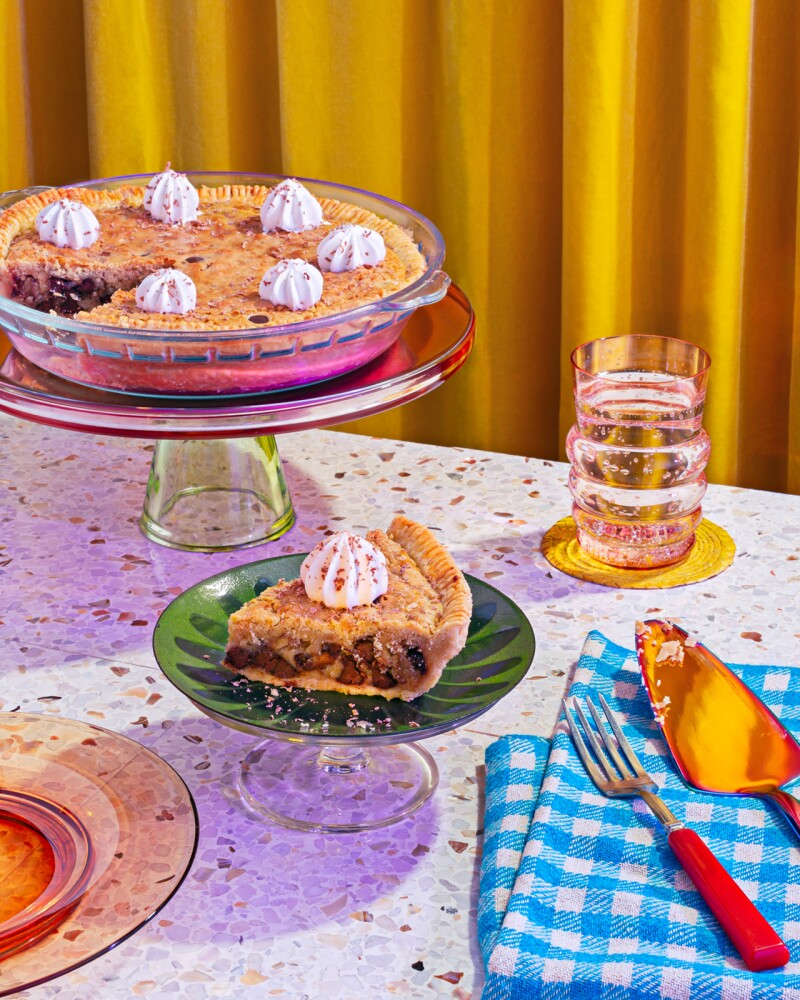 Chocolate Chip Cookie Pie (adapted From Nestle Toll House)

INGREDIENTS

· 9-inch unbaked pie deep-dish pie shell (4 cups)

· 2 large eggs

· 1/2 cup all-purpose flour

· 1/2 cup granulated sugar

· 1/2 cup packed brown sugar

· 3/4 cup (1 1/2 sticks) butter, softened

· 1 cup of semi-sweet chocolate chips

· 1 cup chopped nuts

· Sweetened whipped cream or ice cream (optional)

INSTRUCTIONS

Preheat oven to 325° F. Beat eggs in large mixer bowl on high speed until foamy. Beat in flour, granulated sugar, and brown sugar. Beat in butter. Stir in morsels and nuts. Spoon into pie shell. Bake for 55 to 60 minutes or until knife inserted halfway between edge and center comes out clean. Cool on wire rack. Serve warm with whipped cream, if desired.

Brown Sugar Peach Crumble Pie (adapted from Sally's Baking Addiction)

INGREDIENTS

· 9" unbaked pie crust (homemade or store-bought)

· 7-8 medium peaches, slightly firm (about 7 cups)

· 1/2 cup packed brown sugar

· 1/2 cup all-purpose flour

· 2 teaspoons fresh lemon juice

· 1/4 teaspoon ground cinnamon

Crumble

· 1/2 cup packed brown sugar

· 1 teaspoon ground cinnamon

· 3/4 cup all-purpose flour

· 1/3 cup unsalted butter, melted and slightly cooled

· Optional: 1/2 cup chopped walnuts

INSTRUCTIONS

Peel the peaches, then cut into 1- to 2-inch chunks. You'll need 7 cups. In a large bowl, stir the peach chunks, brown sugar, flour, lemon juice and cinnamon together until thoroughly combined. Set filling aside as the oven preheats. Preheat oven to 400° F. Roll out chilled pie dough into a 9 x 2 pie dish. Spoon the peach filling into the crust, leaving any liquid behind in the bowl (you don't want all that in the pie). Use a small paring knife to trim excess dough off the edges. Flute the edges.

Make the crumble topping: In a medium bowl, combine the brown sugar, cinnamon and flour. Stir in the butter and walnuts. The crumble topping will be thick and crumbly. Sprinkle over peaches. Place the pie onto a large baking sheet and bake for 20 minutes. Keeping the pie in the oven, turn the temperature down to 375° and bake for an additional 30 to 35 minutes, or until peach juices are bubbling on the sides and the top is lightly browned. Allow the pie to cool for 3 hours at room temperature before serving.

What's YOUR favorite pie? Let us know in the comments below.