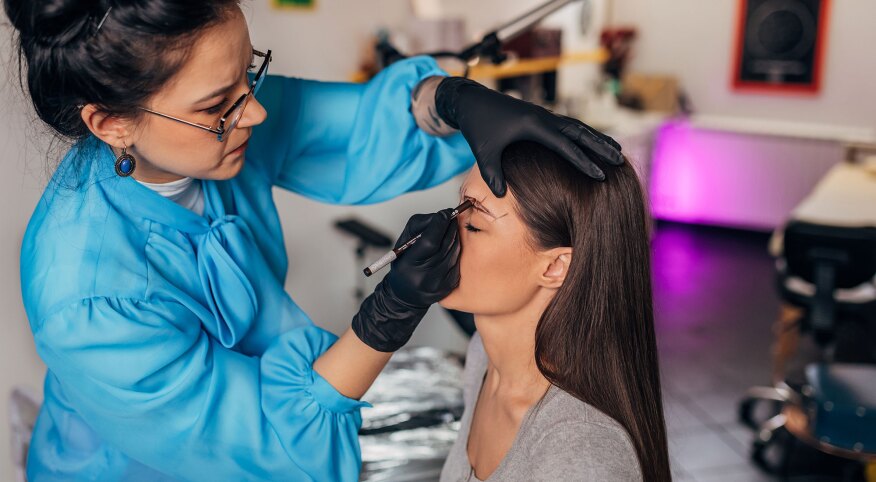 Permanent makeup, aka cosmetic tattoos or micropigmentation, is all the rage — from microblading to lined eyes to pinker lips. It's essentially a tattoo created to mimic makeup, darken your eyebrows, camouflage scars or even out an uneven hairline. The concept is appealing if you don't mind sporting the same look every day: Imagine waking up with your makeup already applied, never having to purchase a new mascara or lipstick again. But what do you need to know before you indulge? How long does it actually last? How safe is it?

Is permanent makeup actually permanent?

There is a lot of confusion surrounding permanent makeup, as it's not always actually permanent. It all depends on the type of pigment used and the technique employed, says Ahmad Chaudhry, a dermatologist with Scandinavian Biolabs in the United Kingdom. "Generally speaking, pigments made from iron oxides are more likely to fade over time than those made from titanium dioxide," Chaudhry says. In addition, pigments implanted deeper into the skin are more likely to last longer than those placed closer to the surface. With proper care and maintenance, most permanent makeup can last for several years, but occasional touch-ups may be necessary.

Finding a good esthetician

The beauty industry is unregulated, meaning anyone may call themselves an esthetician without having any formal training, Chaudhry says. It's important to do your research. Some states license permanent makeup artists as tattoo artists, while other states require technicians to earn a specific certification after receiving their esthetician or cosmetologist license. Legitimate certifications are issued by the American Academy of Micropigmentation (AAM), which administers an exam for qualified, trained, experienced estheticians. Practitioners can also receive a board certification from the Society of Permanent Cosmetic Professionals (SPCP), which proves they took an exam focused on high-level skills and knowledge. Still, some states don't require anything. Ask for referrals, read reviews and check for any licenses or certifications. The technician should be licensed, and have insurance, a portfolio — with before and after unedited and fully healed photos — and experience performing the procedure you're getting. Inexperienced practitioners can use the wrong needle depth or the wrong product, which can be incredibly harmful, says Hannah Taaffe, a semipermanent makeup artist in Liverpool, England. A safety protocol that should always be followed is performing an allergy patch test 48 hours prior to treatment.

Overall safety

The U.S. Food and Drug Administration (FDA) hasn't approved any inks for skin injection, nor does it regulate tattoo parlors. Still, it has researched the effect of permanent makeup, finding that the majority of issues are from allergic reactions to the ink and microbial infections. Overall, however, the procedures have been deemed safe if performed by an experienced practitioner in a medical-grade environment with sterile techniques, says Adam Elshafei, M.D., a board-certified dermatologist of cosmetic medicine.

Microblading

This is the safest permanent makeup treatment, as your eyebrows are in a fairly insensitive area (lips and eyes are more prone to infection, although the majority of permanent makeup is deemed safe). The goal with microblading is to give the appearance of darker, thicker eyebrows, and it's done with fine cuts that are filled with hand-pressed pigments lining up to extend the natural shape and look, says Enrizza Factor, M.D., a clinical dermatologist and researcher. The color should last for about a year or two (all tattoos fade over time, but it happens faster with microblading). "The procedure is generally considered safe, and most people don't have problems," Factor says.

Lips

The most common risk for lip tattooing is a cold sore outbreak, as the trauma to your lip issue can trigger the virus. Permanent lip tints also heighten the risk of fuzzy lines on your mouth, lip scarring, fading of some pigments and other allergic reactions, says Ksenia Sobchak, a dermatologist at Loxa Beauty who doesn't recommend lip tattooing (though she's a fan of all the other permanent makeup options). These will need a color boost every two to five years, Taaffe says.

Eyeliner

The biggest risk with permanent eyeliner is for clients with too many distended capillaries, Taaffe says. Avoid permanent eyeliner if this is the case, as the ink may migrate. You'll need a color boost every two to three years.