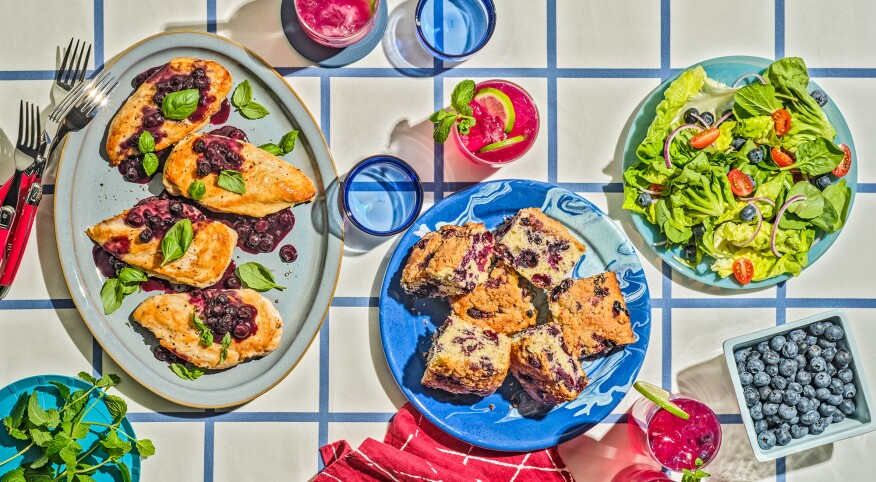 Although grapes have been called nature's candy, for me that title should belong to blueberries. Blueberries have just the right amount of sweetness. Plus, they're high in fiber and low in calories (¾ cup equals 65 calories). They 're perfect for eating raw as a snack, as a topping on cereal or yogurt, or incorporated into everything from smoothies to salads. Blueberries are considered a superfood. Studies have shown they may help protect against cancer and damage to your DNA. There has also been some evidence that eating blueberries may help lower anxiety. While available year-round, blueberries are at their peak in the summer months. So now is the ideal time to try some of the recipes that follow.

Blueberry Mojito (From the website Inspired Taste)

Serves 1

Ingredients

8 blueberries (fresh or frozen and thawed), plus more for garnish

2 tablespoons (1 ounce) fresh-squeezed lime juice

2 teaspoons sugar

8 fresh mint leaves, plus more for garnish

¼ cup (2 ounces) white rum

Ice

2 tablespoons (1 ounce) club soda

Lime slice, for garnish

Add the blueberries, lime juice, sugar and 8 mint leaves to a cocktail shaker. Use the end of a wooden spoon or cocktail muddler to bash (or muddle) the mint into the lime juice and sugar. Add the rum, stir well, and pour the mixture into a glass filled with ice, leaving about an inch free at the top. Add the club soda. Garnish with extra blueberries, mint leaves and a lime slice.


Blueberry Smoothie (From Dinner at the Zoo)

Serves 2

Ingredients

1½ cups apple juice (or white grape juice, dairy milk or almond milk)

1 banana, halved

1½ cups frozen blueberries

¾ cup vanilla Greek yogurt

Fresh blueberries and mint sprigs (optional), for garnish

In a blender, blend the first 4 ingredients until smooth. Pour into glasses; serve topped with blueberries and mint.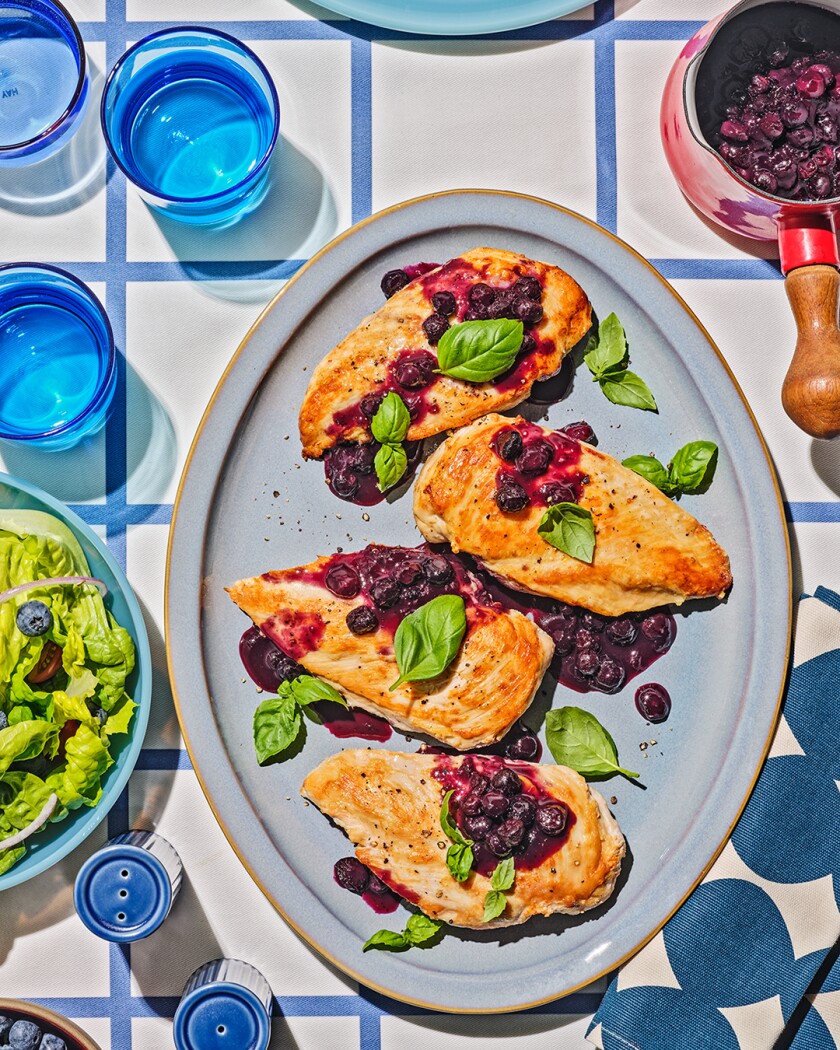 Blueberry-Dijon Chicken (From Taste of Home)

Serves 4

Ingredients

4 boneless, skinless chicken-breast halves (6 ounces each)

¼ teaspoon salt

¼ teaspoon black pepper

1 tablespoon butter

1/2 cup blueberry preserves

1/3 cup raspberry vinegar

¼ cup fresh or frozen blueberries

3 tablespoons Dijon mustard

Minced fresh basil or tarragon (optional), for garnish

Sprinkle the chicken with salt and pepper. In a large skillet, cook the chicken in the butter over medium heat, until a thermometer reads 165°F (approximately 6 to 8 minutes for each side). Remove and keep warm. In the same skillet, combine the preserves, raspberry vinegar, blueberries and mustard, stirring to loosen the brown bits from the pan. Bring to a boil; cook and stir until thickened. Serve with the chicken. Sprinkle with basil or tarragon, if desired.


Blueberry Summer Salad (From Cooking Light)

Serves 4

Ingredients

1/3 cup toasted pecans

1 tablespoon fresh lemon juice

1 tablespoon balsamic vinegar

2 tablespoons extra-virgin olive oil

1/8 teaspoon kosher salt

1/8 teaspoon freshly ground black pepper

4 cups spinach and arugula salad mix

1 cup fresh blueberries (about ½ pint)

1/3 cup crumbled feta cheese

Toast the pecans in a 400°F oven until they're slightly browned and fragrant, about 5 to 7 minutes. In a large bowl, whisk together the lemon juice, balsamic vinegar, olive oil, salt and pepper. Add the spinach and arugula mix, blueberries, pecans and feta cheese, tossing gently to combine.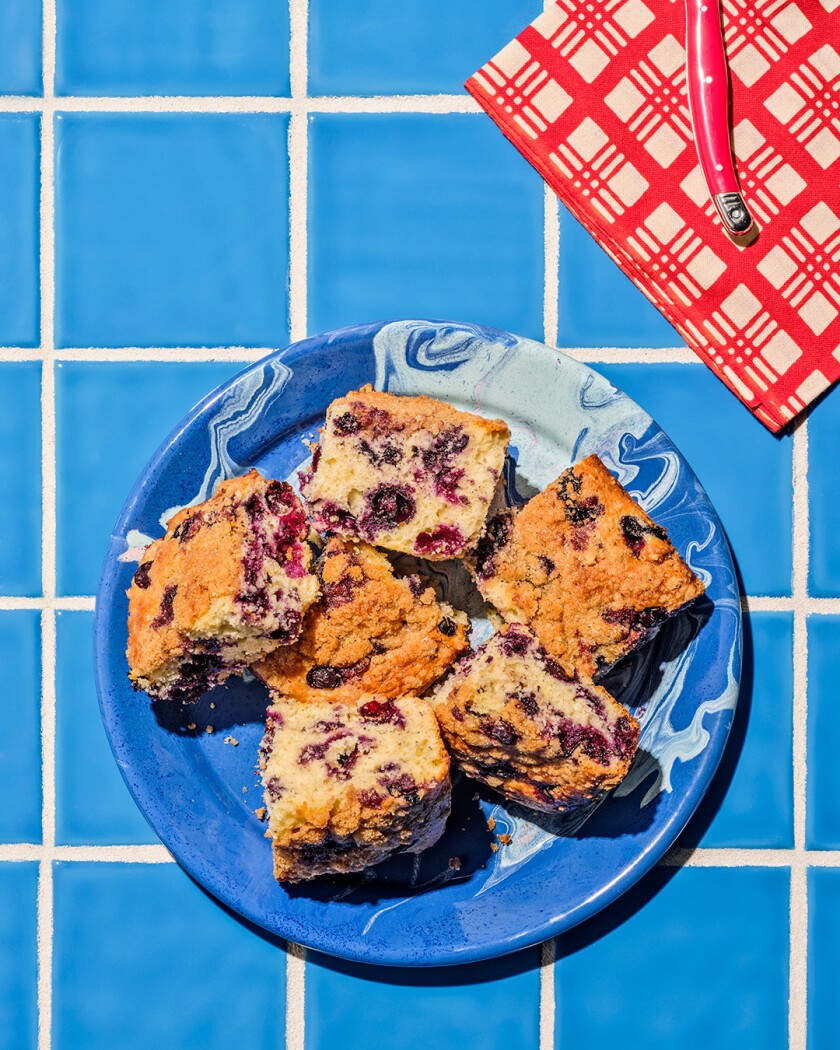 Blueberry Buckle (From Spend With Pennies)

Serves 9

Ingredients

For cake

¾ cup white sugar

¼ cup softened butter

1 egg

2 teaspoons lemon zest

1½ cups flour

2 teaspoons baking powder

½ teaspoon salt

½ cup milk

1½ cups fresh blueberries

1 tablespoon flour

For topping

¼ cup butter + 1 tablespoon, cold

¼ cup brown sugar

¼ cup white sugar

1/3 cup all-purpose flour

½ teaspoon ground cinnamon

Heat oven to 350°F. Grease an 8-by-8-inch pan. In a large bowl, cream the sugar, butter, egg and lemon zest until fluffy. In a separate bowl, combine the 1½ cups flour, baking powder and salt. Add this to the sugar mixture, alternating with milk, mixing just until combined. In a separate bowl, toss the blueberries with 1 tablespoon flour. Fold this mixture into the batter and spread it in the prepared pan. In a small bowl, combine all topping ingredients until crumbly. Sprinkle the topping over the batter and bake for 40 to 45 minutes, or until a toothpick inserted into the buckle comes out smooth.

What's your favorite dish to serve on July 4th? Let us know in the comments below.