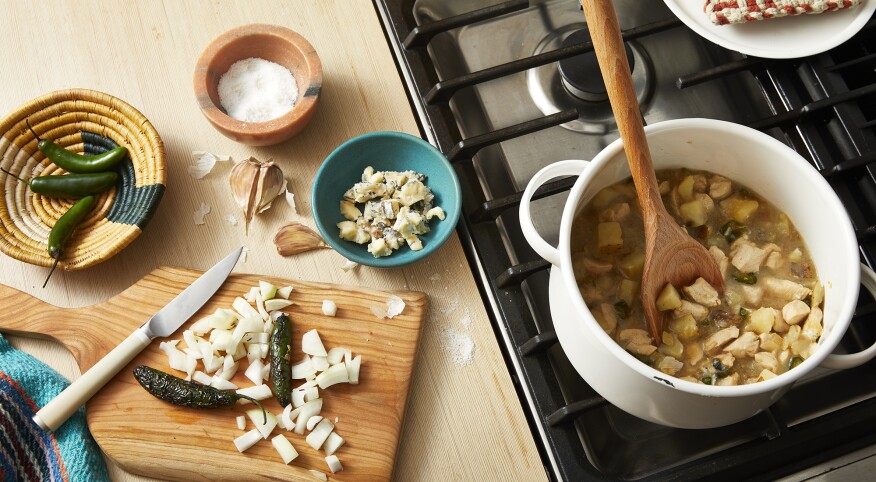 Besides looking forward to lifting scarves and jackets out of drawers when days turn cool, I find myself quickly pivoting to making chili for dinner. It perfectly matches the mood of fall. What I also love about chili is that it's impossible to pin down. Where you're from and how you grew up influences what you call real chili. With so many iterations to try, the chili season will never be boring.

Texas Brisket Chili

Author/speaker/chef "Urban Cowgirl" Sarah Penrod is a seventh-generation Texan who comes from a long line of chefs. This award-winning brisket chili has been in her family for four generations and will instantly transport you to the Lone Star State. To help get this recipe perfect the first time, Sarah shares a personal tip: The best flavor comes from getting a rich brown sear on the meat. Brown the brisket morsels in batches and don't crowd the pan — that way they will brown and caramelize, which adds depth of flavor to your final chili.

Makes 6 servings

Ingredients


4 slices thick cut bacon

3-4 pound beef brisket, trimmed (*Note: Sarah uses the flat, not point, of the brisket)

Kosher salt, pepper, onion powder for liberally sprinkling on meat while browning

2 cups white onion, diced

5 garlic cloves, pressed through garlic press

1 tablespoon paprika

1 tablespoon cumin

3½ tablespoons Texas chili powder such as Mexene or Gebhardt's

½ teaspoon thyme

½ teaspoon chipotle chile powder

½ teaspoon salt

4 cups beef broth

½ cup strong black coffee (you can save this from your morning coffee)

1 (28 ounces) can whole tomatoes, in juice
Toppings

Freshly grated sharp cheddar cheese, diced white onion, chopped cilantro, Fritos chips, tabasco sauce, jalapeños

Clean and trim brisket; cut into ¼ inch cubes. In a large stock pot, cook bacon until crispy. Remove from pot and set aside. Increase the heat to medium high. In the bacon fat, brown the brisket cubes in 3 batches, making sure not to crowd the pan. (You want to develop as much browning on the cubes as possible and browning in 3 batches will ensure that moisture coming from the meat won't crowd the pan and prohibit the browning process.) Sprinkle liberally with salt, pepper and onion powder while browning to season the meat. Remove the previous batch to a bowl before starting on the next batch. You can add additional cooking oil if you need to. Cook all 3 batches and reserve. In the same pot, add the diced white onion and stir in a pinch of salt.

Cook down, scraping the bottom of the pan to release the brown bits and brown the onion. Reduce heat if necessary, to cook the onion down and slightly caramelize it. Add in all of the spices and stir into the onions; cook 2 minutes. Add the pressed garlic and stir; cook 1 minute. Add the seared meat back into the pan. Add the coffee and 2 cups beef broth. Stir well. Open the tomatoes, and using your hands break them up as you add them to the pan. Add tomato juice to the pan. Stirring well, crumble in the bacon. Place the lid back on the pot and cook over low-medium (simmer gently) for 2½ to 3 hours. Add the additional 2 cups of beef broth as necessary. Simmer a total of 4 to 5 hours (stirring every 25-30 minutes), to allow brisket to completely fall apart in the chili. Add water to keep bottom from browning. Finish off with fresh tabasco pepper sauce if desired. Serve topped with freshly shredded sharp cheddar cheese, minced white onion, chopped cilantro, tabasco sauce, jalapeños and Fritos chips.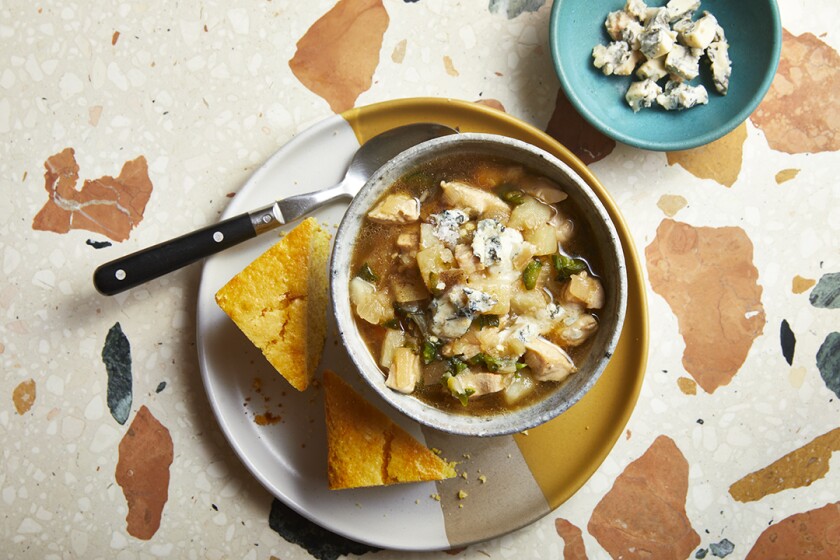 Blue Heaven Chili

Blue cheese in chili? My family loves blue cheese, but until I stumbled on this recipe I'd never seen it with chili. This distinctive variation of white chili from the Chili Madness cookbook comes from author, chef and cooking instructor Jane Butel of the famed Jane Butel Cooking School in New Mexico. She says serving some variety of cornbread on the side is a "must," such as her Blue Corn Parfait Bread. Depending on how many I'm feeding, I typically double the recipe.

Makes 2 to 4 servings

Ingredients


2 tablespoons bacon drippings or butter

1 cup chopped onion

2 cloves garlic, minced

1 large whole boneless, skinless chicken breast, cut into ½ inch pieces (2 to 2½ cups)

3 cups rich chicken broth

4 to 6 fresh green chiles parched, peeled and coarsely chopped, or 1 cup canned or frozen chopped green chiles

1 medium russet potato, unpeeled, diced

½ teaspoon salt, or to taste
Topping

½ cup crumbled blue cheese (Gorgonzola, Roquefort or Stilton work well)

Melt bacon drippings in a large pot over medium heat. Add onion and cook until translucent, about 5 minutes. Add garlic and chicken; cook, stirring, until the chicken begins to brown, about 4 minutes. Add broth, green chiles and diced potatoes to the pot. Simmer until chicken is cooked through and the potatoes can be pierced with a fork, 30 to 40 minutes. Taste chili and adjust seasonings as needed, adding salt to taste (many chicken broths and bouillons are so loaded with salt that none is needed). Spoon chili into individual bowls, and sprinkle blue cheese on top.

Cincinnati Five-Way Chili

This unique chili crushes it, going above and beyond in every way. If a sense of ho-hum begins to permeate the house as the days shorten and cold winds blow, I whip out this recipe to inject some spirit. This showstopping, Cincinnati-style chili by Cooking Light features ground turkey and various serving options, allowing each person to customize their own hearty serving.

Makes 6 servings

Ingredients


Cooking spray

1 pound ground turkey

½ pound ground sirloin

2½ cups chopped onion, divided

2 garlic cloves, minced

1 cup water

2 tablespoons brown sugar

2 tablespoons chili powder

3 tablespoons spicy barbecue sauce

½ teaspoon salt

4 teaspoons white vinegar

¾ teaspoon cumin

¾ teaspoon cinnamon

½ teaspoon allspice

½ teaspoon freshly ground black pepper

¼ teaspoon coriander

½ ounce unsweetened chocolate, chopped

1 (10¾ ounces) can tomato puree

3½ cups hot cooked spaghetti (about 8 ounces uncooked pasta)
Toppings

¾ cup reduced-fat shredded cheddar cheese; 1 (15 ounces) can kidney beans — rinsed, drained and warmed; remaining chopped onion; oyster crackers

Heat a large Dutch oven over medium-high heat. Coat with cooking spray. Add turkey and sirloin to pan; cook 5 minutes or until browned, stirring to crumble. Add 2 cups onion and garlic; cook 5 minutes or until onion is tender, stirring occasionally. Stir in 1 cup water and next 12 ingredients (through puree); bring to boil. Cover, reduce heat and simmer 45 minutes. Serve on a bed of spaghetti. Top with choice of cheese, beans, chopped onion and oyster crackers.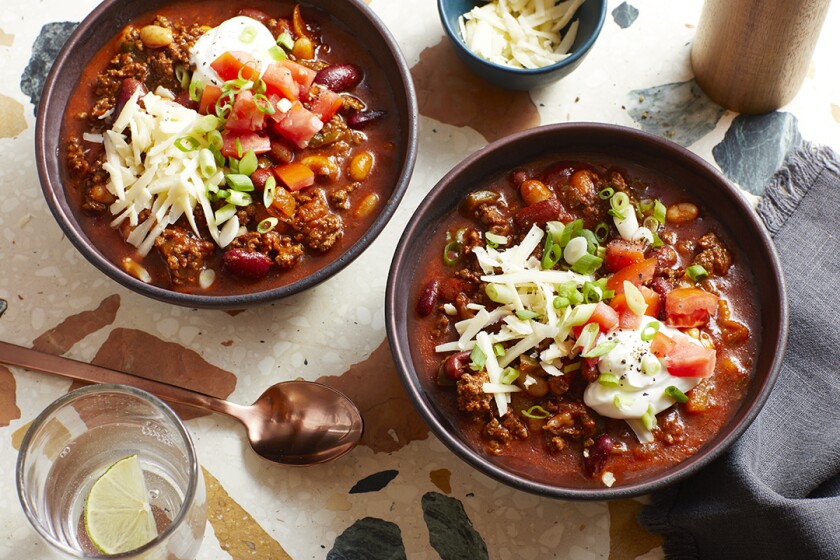 Campbell's 2-Bean Chili

This is the chili I turn to when I can't even. All it more or less requires is the ability to open tin cans. Even more so because … shh, I omit the fresh onion and pepper and rely instead on Mrs. Dash Salt-Free Garlic-Herb for seasoning if a texture-sensitive member of my family is around. I also personally like doubling the recipe, throwing it in my crockpot and forgetting about it until dinner. Leftover chili is amazing — or, I freeze it for another time. However you choose to approach it, the little amount of labor this recipe requires is mind-blowing for such an outsized result. In short, it's a win-win.

Makes 6 servings

Ingredients


1 pound ground beef

1 green pepper, chopped

1 onion, chopped

2 tablespoons chili powder

¼ teaspoon black pepper

3 cups Campbell's Tomato Juice

1 can kidney beans and 1 can great northern beans (15-16 ounces each), rinsed and drained

Toppings

¼ cup each of sour cream, sliced green onions, shredded cheddar cheese, chopped tomato

Cook beef, green pepper, onion, chili powder and black pepper over medium-high heat until beef is browned, stirring to crumble the meat. Pour off any fat. Stir in tomato juice and beans, reduce heat to low and cook until hot and bubbling. Top with sour cream, sliced green onions, shredded cheddar cheese and chopped tomato.

Vegetable Chili With Red Beans

I originally came across this recipe in The Chicago Tribune Cookbook, a gift from my husband early in our marriage. My first go-to in the kitchen as a newlywed, this cookbook was edited by award-winning chef, author and test kitchen director at the Chicago Tribune for 16 years, JeanMarie Brownson. Here, she offers The Girlfriend an updated version of the recipe.

Makes 6 to 8 servings

Ingredients


1 cup dried red beans

1 teaspoon salt

2 tablespoons olive oil

2 medium-size onions, chopped

½ pound fresh mushrooms, wiped clean, thinly sliced

2 or 3 cloves garlic, finely chopped

1 can (28 ounces) crushed tomatoes with added puree

1 can (15 ounces) tomato sauce

3 tablespoons tomato paste

2 or 3 tablespoons medium chili powder

2 small zucchini, ends trimmed, thinly sliced

2 small red bell peppers, cored, seeded, chopped

1 or 2 small jalapeño peppers, cored, seeded, finely chopped

½ teaspoon freshly ground black pepper

1 package (10 ounces) frozen fire-roasted or sweet corn kernels

1 package (10 ounces) frozen lima beans or shelled edamame

Toppings

Crushed hot red pepper flakes or hot sauce, to taste; dollops of plain yogurt or sour cream; crushed tortilla chips; chopped fresh cilantro

Rinse beans. Put into a large saucepan and add water to cover by 2 inches. Heat to a boil; reduce heat to low, cover the pan and simmer until beans are nearly fork-tender, 1 to 1½ hours. (Occasionally check the water level to be sure the beans are covered.) Season with ½ teaspoon of the salt and simmer 10 minutes. Cool. Beans can be prepared up to 3 days in advance and refrigerated in their cooking liquid. Drain beans before using. Note: For a faster version, substitute 1 can (16 ounces) red kidney beans. Heat olive oil in large Dutch oven. Add onions; cook and stir 5 minutes. Stir in mushrooms and cook until slightly browned, about 5 minutes. Stir in garlic; cook 1 minute. Stir in drained beans, crushed tomatoes, tomato sauce, tomato paste and chili powder. Heat to boil.

Reduce heat to simmer and add zucchini, red peppers, jalapeño peppers, remaining ½ teaspoon salt and pepper. Simmer, covered, stirring often, until vegetables are crisp-tender, about 30 minutes. Stir in corn and lima beans. Cook until heated through, about 10 minutes. Taste and adjust seasonings with chili powder, salt and pepper.

Serve chili in deep bowls. Pass the toppings: crushed red pepper, yogurt, tortilla chips and cilantro.