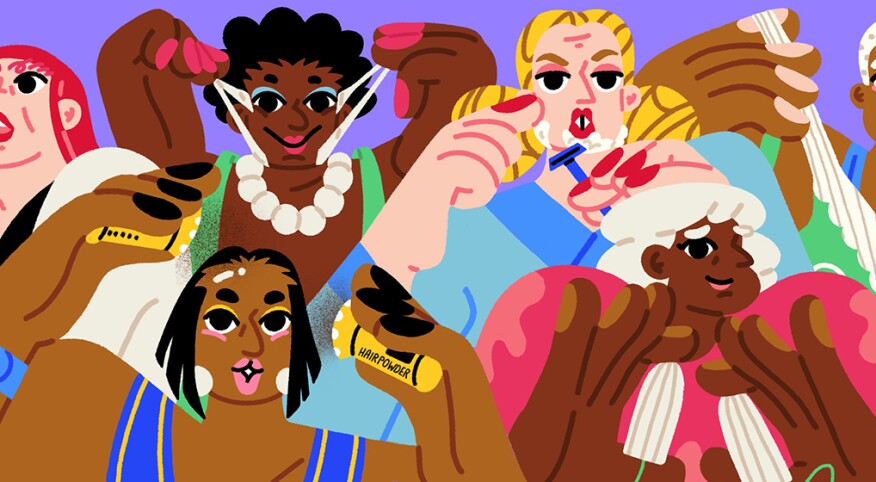 I cannot believe this is what my life has come to, I thought as I stared at my reflection in the bathroom mirror. Lathered-up with shaving cream, my face had never looked less feminine. How in the world have I resorted to shaving my face!? This is one of my little midlife secrets. Something I do that I never in my wildest nightmares imagined I would be doing. Something that I wish I didn't have to do. But alas, the hair grows faster and thicker than any other method can keep up with and I just don't know what else to do! Sometimes, I use Nair. Sometimes, I wax and sometimes, I simply shave it off — much to my own surprise.

Am I embarrassed about this little secret? Hell to the yes, I am! But at the same time, I am curious and ready to discuss it — because midlife is hard, friends. And dealing with things like rapidly growing facial hair or saggy and wrinkly skin is overwhelming and should not be handled alone. Aging is scary and uncomfortable.

I can't help but wonder if I am alone. Do other women my age have midlife secrets? If so, could they actually help me either by giving me solutions to problems I never wanted to have or simply by reminding me that the process of aging kind of sucks and I am not alone. Well, I started asking and guess what? These midlife secrets? We all have them. We are all doing (and hiding) things to help us cope with the unexpected struggles of midlife. Here are just a few of the good ones I picked up in conversations with my bravest girlfriends:

Oldies but goodies

"My parents always listened to the oldies station — their music — when I was young. While I appreciated and even liked some of it, I never thought I'd be doing that in my 50s! By the time I was out of college, I had determined the new music was terrible and now listen to my oldies — '70s and '80s pop and rock — to my heart's content!" — Tami, 52

Over-the-shoulder-boulder-holder

"I'm constantly searching for a supportive, non-wired bra that will hold up my girls and am furious with the lingerie industry for not creating a bra that solves all the problems middle-aged women have — sagging breasts, sensitivity, aching shoulders and backs, increased cup size and band needs." — Mimi, 53

Magic hairspray

"Thinning hair. It's the worst. I discovered a scalp powder that I apply to my scalp almost daily so it appears as if I have more hair. Never in my wildest dreams did I think I'd be doing that." ­— Lizzie, 52

Tape-lift

"I'm a musician (pianist, sometimes singer) and at 66 cannot yet retire. I tape my lower face back [before performances]. It's called Ultra Secret Lift Pro [google it!] and it reduces the Nasio-labial folds (Also called Marionette lines) and it helps me look much younger for performances." — Jazmin, 66

Almost too many to count

"Indeed, midlife blindsided me in so many ways. Here are a few things I do in my late 50s that I never imagined: Focusing on comfort when buying shoes. [I wear] (quality, supportive) gym shoes 90% of the time; tinting/permanently coloring my eyebrows to make them look fuller; finding and using ergonomic pens and special pen toppers.

"WHAT? says my younger self, who wore flip-flops, heels and anything in between so long as they looked good; religiously spent money and time going to a salon to have my eyebrows waxed not knowing waxing could be so permanent and eyebrow styles would fluctuate; and never imagined the impact of 'age-appropriate' arthritis on something so simple as writing. As a writer, this one really bums me out!!" — Mandy, 56

Beloved feminine products

"I still keep my last box of tampons thinking it's not over yet. I went from the days of never wanting my period to the days I prayed I would get my period and now I am not ready to let it go." — Sarah, 49

Unexpected compliments

"I never thought I would be so happy to hear the words is there any chance you might be pregnant? I take it as a huge compliment when they put that bib on me at the dentist and ask if I could be pregnant!" — Gina, 50 years old

Midlife secrets: from plucking grey eyebrow hairs to wearing Depends on long road trips, yes, they are out there; and if you have one or one-too-many of your own, welcome to the club. We're the ones bopping to 70s and 80s music and smiling during our dental X-rays.