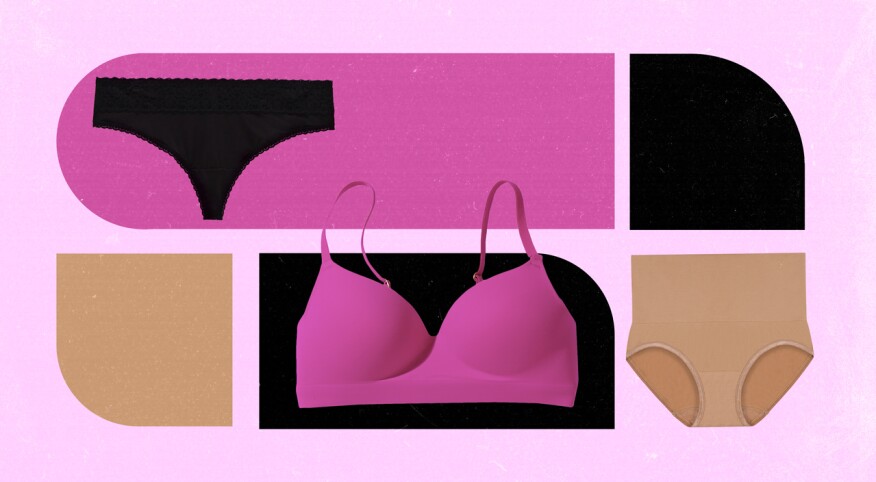 Summertime means busting out the warm weather staples in your wardrobe — white shorts or linen pants, flowy garden party dresses, basic white T-shirts and strappy sundresses. By nature of fabric, color and cut, these summer pieces aren't forgiving — nay, they can be downright risqué without the right pieces lying softly on your skin beneath your ensemble.

Ready to do a deep dive into the mysterious world of undergarments, girlfriends? Here, learn why they are arguably your most powerful weapon, secretly helping you keep your shape together and step out like a boss with confidence and comfort. Turns out, what's unseen and invisible offers critical support to your head-turning summer fashion.

Strapless bra

How can we not start here? From strappy sundresses to strapless bandeau tops, there's a million reasons an epic strapless bra that fits like a glove is central to summer. Los Angeles wardrobe stylist and fashion consultant Brenda Randall says that as with all shapewear, it's essential to match your skin tone, ensure the right fit and choose breathable fabric. She finds the soft, comfortable and sexy strapless number by Skims a winner among the many options. "I've bought it for myself and for my clients, and it never disappoints." This bra is practical and works for most outfits because the straps are versatile. And great news for the voluptuous among us: Randall says that her client — a curvy 36D — loves it.

New York City-based writer Natasha Marsh, whose work includes testing clothing for a living as a fashion editor, totally understands the chore of trying to find the perfect strapless bra. "It's one of the toughest things to shop for," she concedes.

After discovering Victoria's Secret strapless bra, Marsh hasn't looked back. "The nonslip cups and smooth band feel comfy and secure without restricting movement, not to mention my boobs look lifted without adjustment." It's become her go-to bra because — bonus — it can be worn five ways.

A few other bras to consider:

Skims Ultra Fine Mesh Strapless Bra, $52

Victoria's Secret Sexy Illusions Uplift Strapless Bra, $54.95 (on sale for $24.99)

Shaper shorts

There's so much to talk about here — but let's start with the obvious question: Why? Lifelong fashion entrepreneur Sunny Sherman is 71 (I'm not sure I believe it!) and embraces aging and life with style. She says there are times when nothing but shaper shorts will do — such as with sheer white linen pants or a fitted T-shirt dress. Or maybe you just want a little help to hold in that tummy or smooth those thighs, says Sherman, formerly a clothing designer whose brand sold in various stores for 30 years. Whatever the case, her go-to is Spanx's mid-thigh shorts — and for those slipping into a body-con dress, she suggests opting for the high-waisted version.

Randall also vouches for Spanx's shaper shorts because they are off-the-charts comfortable. She says that they hold in all your bits without feeling too constricting and are ultra-thin and lightweight, with absolutely no visible panty lines (VPL).

Shaper shorts prevent chaffing, a key reason modest plus-size fashion blogger Alejandra Urrego is a fan. "Shorts help with shape, tummy control and mostly to prevent rubbing legs during the sweaty summer months." She recently tried and fell in love with ones from Xwaist. Sometimes a cami-style slip is a better layer, liberating your body to be free and breathe during hot months, says Sherman, who loves sheer, flirty boho dresses. Add a mini-length black and nude slip to your undergarment arsenal, she advises, noting that she personally doesn't like the fitted shaper slips, especially for summer. EaseWay offers Sherman's go-to, an inexpensive but excellent option on Amazon with 6,000+ reviews and a 4.5 rating.

A few others to consider:

Spanx Thinstincts 2.0 Mid-Thigh Short, $58

Spanx Thinstincts 2.0 High-Waisted Mid-Thigh Short, $72

Xwaist Mid-Waist Shaping Short, $21

Amazon EaseWay Women's Basic Adjustable Spaghetti Strap Cami, $15.19

T-shirt bra

For 8+ years, Marsh has written on fashion, beauty, natural hair and wellness. Her line of work includes reviewing bras — meaning she's tried hundreds of all types, she says. In the T-shirt category, a bra by Negative stole the show for her. Marsh says it's among the best she's ever tried, citing its baby-soft feel against her skin. "I constantly fall asleep in this bra — which is a complete marvel in the undergarments world," she admits.

A good T-shirt bra promises to be invisible and seamless, offering support and a low cut to accommodate a plunging V-neck, says Sherman. Her fave is Soma's Enbliss, which promises you'll feel like you're going braless. Sherman says it's made with a silky-smooth nylon/spandex and will fit "your girls" — whether you're a 32A or a 42DDD.

Two others to consider:

Negative Whipped Non-Wire Bra, $68

Soma Enbliss Wireless Bra, $48

Tummy-control underwear

Compression thongs are Urrego's preference because of the dreaded wedgie problem. "I tend to get wedgies, my underwear tends to show, and I get rolls here and there." Coupled with the heat of the summer, thongs offer huge appeal. She applauds Target's inclusive range of plus-size options but specifically suggests checking out the leopard-print thong from Torrid.

Sherman is all about a lacy light-control panty by Spanx that promises zero VPL. And if full coverage is your MO but you're not keen on shaper shorts, Randall suggests a traditionally cut shaping brief made by Yummie, which provides solid support and an ideal fabrication combo, making them breathable and pitch-perfect for summer.

A few others to consider:

Torrid Second Skin Mid-Rise Thong Lace Trim Panty, $10.43

Spanx Undie-tectable® Lace Hi-Hipster Panty, $24

Yummie Ultralight Shaping Brief, $12 to $24


Where do you like to buy your bras and underwear? Let us know in the comments below.