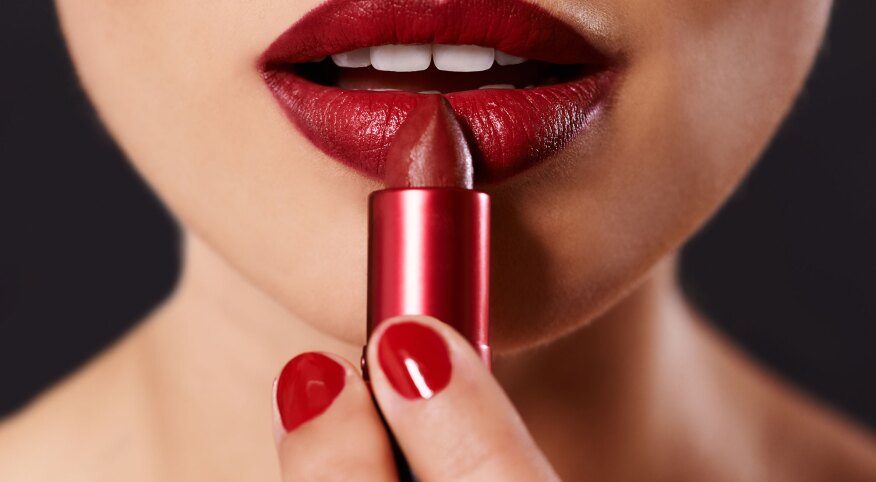 I remember the first time I put lipstick on my thin, small lips. I was in middle school and stole my sister's makeup bag. The only makeup I wanted to put on my adolescent face was a deep, rum raisin shade of lipstick. The tube itself looked feminine and sophisticated, and holding it between my fingers made me feel desirable, mature and confident. I stood in my bedroom looking in the full-length mirror and glided the tinted stick over my lips. The act itself made me feel sexy.

I felt like the older girls at school and the main characters in the teen rom-coms, the ones whom I envied, the ones who got all the boys. A silver tube of the wrong shade of lipstick transformed me from the girl who couldn't get comfortable in her own skin to one who was ready to take on the world. It didn't matter that the rest of the world probably didn't perceive me that way — how could they with that dark, overly done lipstick?! But when I grabbed a tissue and gently patted my lips like I saw my older sisters do regularly, the kiss-marked tissue gave me confidence. It made me giggle and daydream of having a boyfriend for whom I could leave little kiss-marks one day.

That dark lipstick was a staple in my purse for decades. I just loved it. I loved that I had a specific shade I could not live without. I loved that I had discovered it on my own, and that confidence, sexiness and femininity were just an arms-length away at all times.

I guess things were simpler back then. Because something changed over the course of four decades. At some point, the character of my obsession changed. I started to hate my lips. I obsessed about them and the new, unwelcomed vertical lines that adorned them. I grew disgusted with the premature wrinkles that surrounded my mouth. They were the first thing I saw when I caught my own reflection in a mirror. Ugh, I thought, I look like a smoker (and I was for many years). Why didn't I wear sunscreen? How did I not know that my tiny, collagen-less lips could make me look so old and, dare I say, weathered?

The amount of time I spent thinking about them was shameful. I started dreaming about injecting Botox. I stared at my teenage daughters' faces to see if they had any resemblance of these lines, as if to prove that this isn't aging, it's just what lips do. I studied the faces of actresses on-screen, comparing their lips to mine and then Googling said actresses' ages.

Are they 43 like me, or 65 like my lips? I searched and searched for some shred of evidence that would confirm that my lips and I are perfectly, youthfully, normal. But I never found it. I was obsessed with aging, looks and, ultimately, the fear I would never find romance with these dreaded lips! My lips were supposed to be powerful and sexy, but all I saw was old, dull and wrinkled.

If I am being 100 percent honest, the fear that I would not find love looking like this was the motivation behind my obsession. I would hear my sister complain about her own insert-signs-of-aging and secretly wonder why she cared. She has a husband already, I thought. If I were married, I wouldn't mind my lips, wrinkles or gray hair so much. I just need to keep my body looking youthful a little longer … just until I land "the one." Then I can finally let go — exhale, if you will.

Maybe that's why I didn't hate my lips when I was with Ezekiel. Because I thought I had found the one. And being with "the one" was magical. With E, my lips (and everything else) felt like an ageless source of pleasure. They became a gateway to passionate kisses that left my cells dancing; they parted to let out laughter when he made a witty joke; they let out gasps of air as we ran up mountains together. And sometimes those lips — wrinkles and all — stayed perfectly still as we watched the sun set from an abandoned bridge, enjoying the silence and beauty of nature. With E, my lips were the portal to speaking my truth to someone who got it. Whenever I was with him I felt young and alive, and my fears (of being alone, of aging, of being not attractive enough) disappeared.

He loved me on the inside, so the outside didn't have to be a certain way. I stopped staring at the lines, wrinkles and my reflection with judgment. I stopped asking "How old do I look" or "How fast will my wrinkles deepen?" I exhaled.

But then E and I, although we loved each other, just didn't work out. So now it's just me and my lipstick-free lips. I don't wear lipstick anymore. I actually don't remember the last time I did wear it. I prefer a much more natural look. And sometimes when I stare at my reflection, I find that fear creeping in again: fear of being alone, of my lips and wrinkles standing between me and true love. I don't want to be alone. And I sure as hell don't want to be dependent on my lips or my looks to find a partner.

For now, I'm accepting that I'm still suspended somewhere between needing that stick of rum raisin to be confident and being the woman who freaking loves herself fiercely and unapologetically — wrinkles, unadorned lips and all! And I know that I just need to do a little more work on the inside. To find my rum raisin and my Ezekiel there. And exhale. But sometimes, I also can't help but wonder, If I put that rum raisin on my lips one more time ...?