It's the winter vacation unicorn: a warm, beautiful location with sandy beaches … without tourists. A place where you don't have to wake at the crack of dawn to get a spot by the pool or the beach cabana. A safe vacation spot that the entire family will enjoy. Here are some unicorns.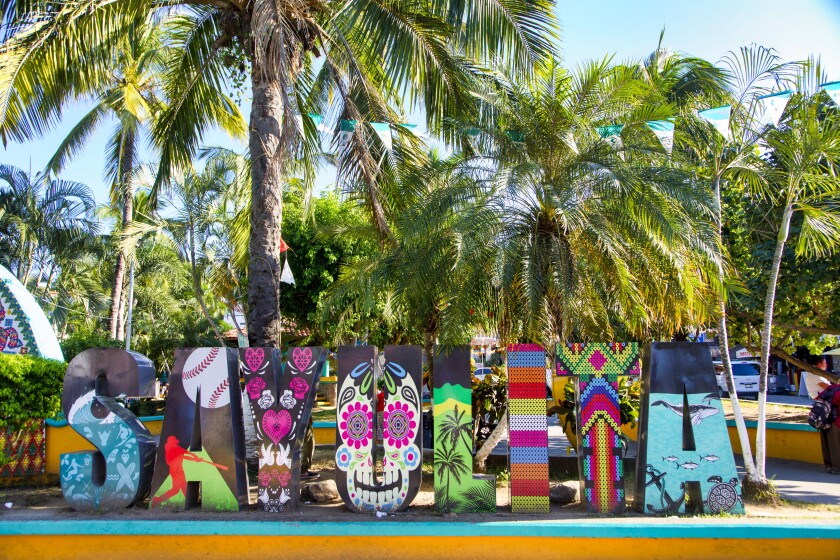 Riviera Nayarit, Mexico

Enveloped between the Sierra Madre mountain range and the Pacific Ocean, this 200-mile coastline is yet to be discovered by the masses. But the beaches on Banderas Bay (Bahia de Banderas) contain the largest natural bay in Mexico, where you can swim, go boogie boarding and surf. While this area is tucked away from tourists, there's plenty to do. Hop on a boat and go a half hour from Boca de Tomatlan to Yelapa, an isolated fishing village. Here, you can go horseback riding, relax near the waterfalls and eat coconut pie (their specialty) on the beach. Take another boat tour through the National Marshes (aka San Blas mangroves), which is wildlife refuge for crocodiles and other reptiles.

Stay at Hotel Ysuri Sayulita — located on the beach and walking distance from restaurants. Still want that resort feeling? Villa del Palmar Flamingos Beach Resort and Spa is an all-inclusive that never gets too crowded. Grand Velas Riviera Nayarit has specular service that you won't find in many of the larger resorts.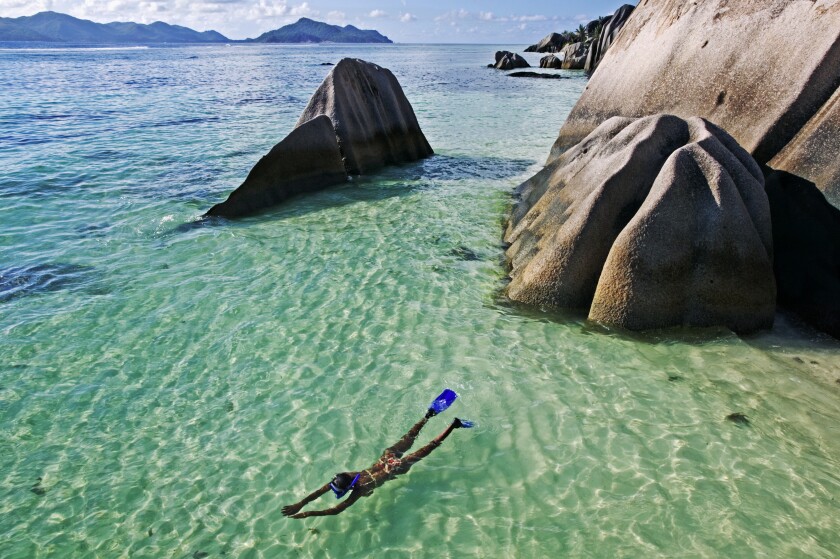 Island hopping in Seychelles

It's a trek to get to the island republic in the western Indian Ocean. (Seychelles is about a 16-hour flight from the United States.) But it's worth it. There are fewer than 100,000 people total, but there are 115 islands, 15 types of mangos, 17 types of bananas and four types of coconuts. About half of Seychelles is reserved for national parks, and there are plenty of beaches and coves to explore. Seychelles has the only oceanic granite islands, and these existed all the way back in the dinosaur ages. There are also rare bird species, giant tortoises and great creole cuisine. Vallee de Mai on the granite island of Praslin often has been described as the original Garden of Eden, and it's essentially unchanged since historic times. The easiest way to explore Seychelles is by yacht, so you can sleep on the boat and be carried from island to island.

Le Domaine de L'Orangeraie is a beautifully secluded resort on a private beach that has 128 suites and villas. If you're looking for something even more hush-hush, stay at Cousine island, which has just six villas on its private island. Le Domaine de La Réserve is more of a resort with a massive pool, but it's still very quiet.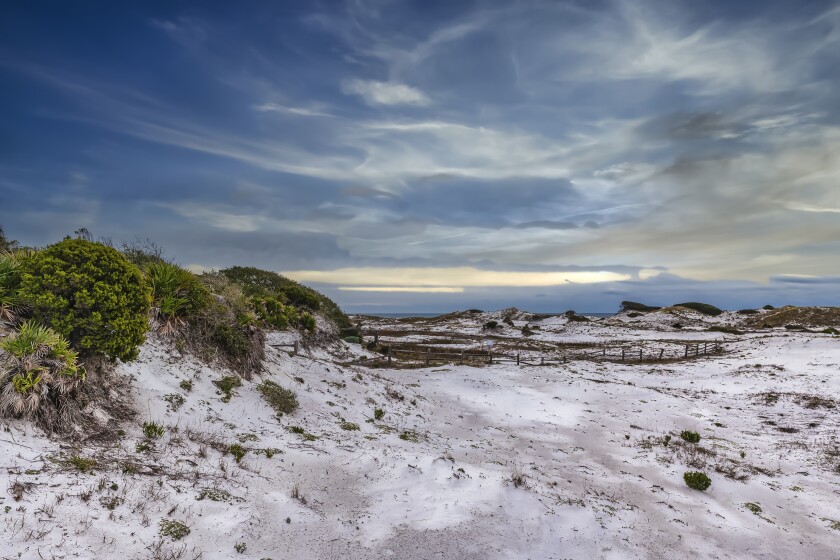 South Walton, Florida

This is basically the opposite of Palm Springs. While South Walton, located in the Florida Panhandle, isn't totally empty during winter break (go here just before or after the schools are on vacation), it's one of the quietest places you'll find in Florida. South Walton has 16 beach towns spanning 26 miles of white-sand beaches. There are also paved trails for hiking, horseback-riding spots and coastal dune lakes.

Stay at Hibiscus Coffee and Guesthouse if you're looking for a quaint bed and breakfast with plenty of charm, or try Hotel Effie Sandestin if you'd like more of a traditional resort feeling. Hilton Sandestin Beach Golf Resort & Spa is a great place to stay that has mini golf, tons of water activities and biking trails. The WaterColor Inn is also a welcoming family-friendly spot.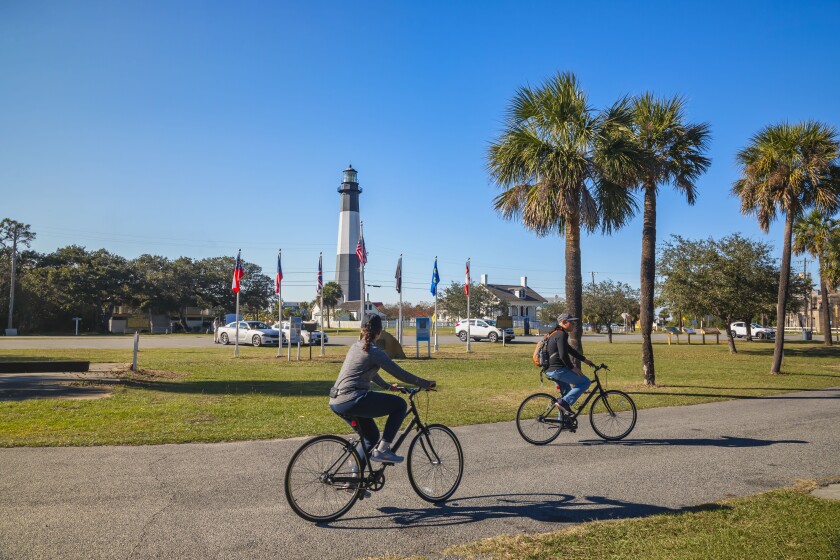 Tybee Island, Georgia

Twenty minutes east of Savannah, this has all the Southern charm without the crowds. Indulge in low country boils, wander along the coastline, check out the lighthouse (the oldest one in the state resides here) and go fossil hunting (you can actually find shark teeth along the shore). If you're here for New Year's, you're in for a treat: Tybee Island tends to have the largest fireworks in the area. The temperature hits about 60 degrees Fahrenheit in the winter months, so don't expect to spend all your time at the beach — but there are plenty of activities to keep you busy, from the Fort Pulaski National Monument to kayaking, biking and hiking to taking a dolphin adventure tour or a fishing charter.

Stay at the DeSoto Beach Hotel, which is directly on the beach. Or, rent a room at The Georgianne Inn & Suites, which is a quaint villa that's walking distance to the beach. Admiral's Inn is a block from the beach and wonderful for families.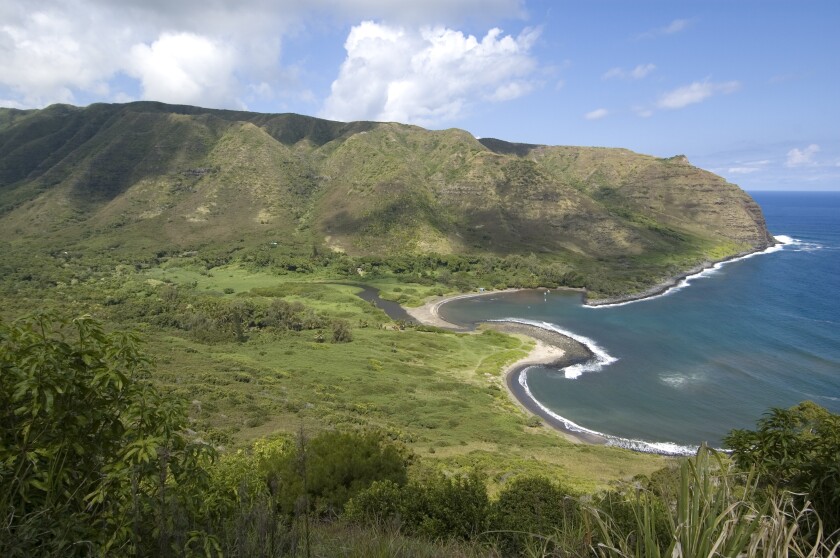 Molokai, Hawaii

It's quiet in Molokai, aka the Friendly Isle. There are no traffic lights, resorts or buildings higher than a story on this 38-mile-long island. Molokai is the birthplace of the hula and has 88 miles of coastline. While Maui has about 2.6 million visitors annually, Molokai hosts only about 365,000 per year. Perhaps that's because Molokai was once a leprosy colony — but of course you don't have to worry about this anymore. Today visitors can relax at Papohaku Beach Park, which at 3 miles is one of the largest white-sand beaches in Hawaii — and it's usually pretty empty. Nature is the thing to do in Molokai, so slow down, take a hike through Halawa Valley, kayak or go canoeing via the Waakapaemua Canoe Club, and take a helicopter tour of the coastline.

Molokai has coconuts everywhere, and you can go to the post office and participate in their Post-a-Nut program. Grab a coconut (you'll easily find one on the ground), decorate it, and the post office will ship it worldwide for $20 or less. About 3,000 coconuts are mailed from Molokai annually.

There are just a few places to stay in Molokai, but you'll be happy with the selections. Hotel Molokai is directly on Kamiloloa beach. It features Polynesian-style bungalows, which are adorably romantic. The Dunbar Beachfront Cottages are on their own secluded beach and offer two bedrooms, one bath — making them ideal for families. Finally, stay in a totally unique spot: Pu'u O Hoku Ranch is an organic biodynamic ranch and farm. You can stay in the lodge or cottages.

Anyone taking a trip this year? Let us know in the comments below.