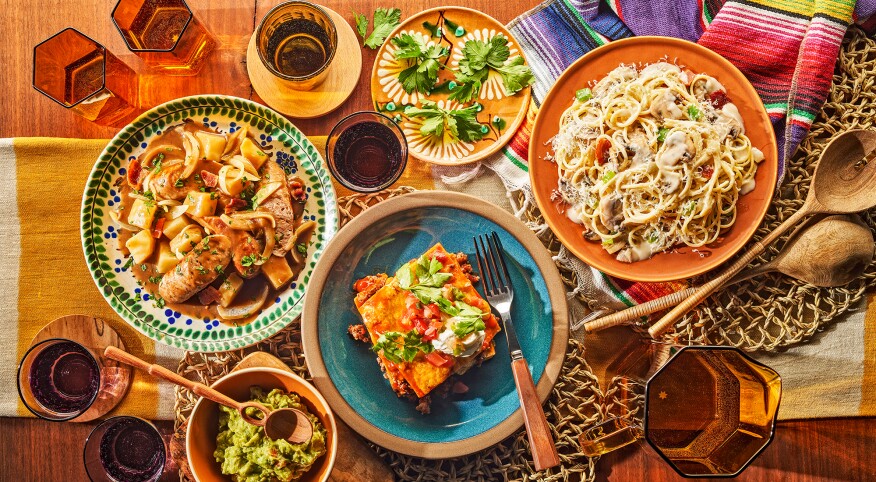 Staying home this summer? Here's a fun way to bring the world into your kitchen.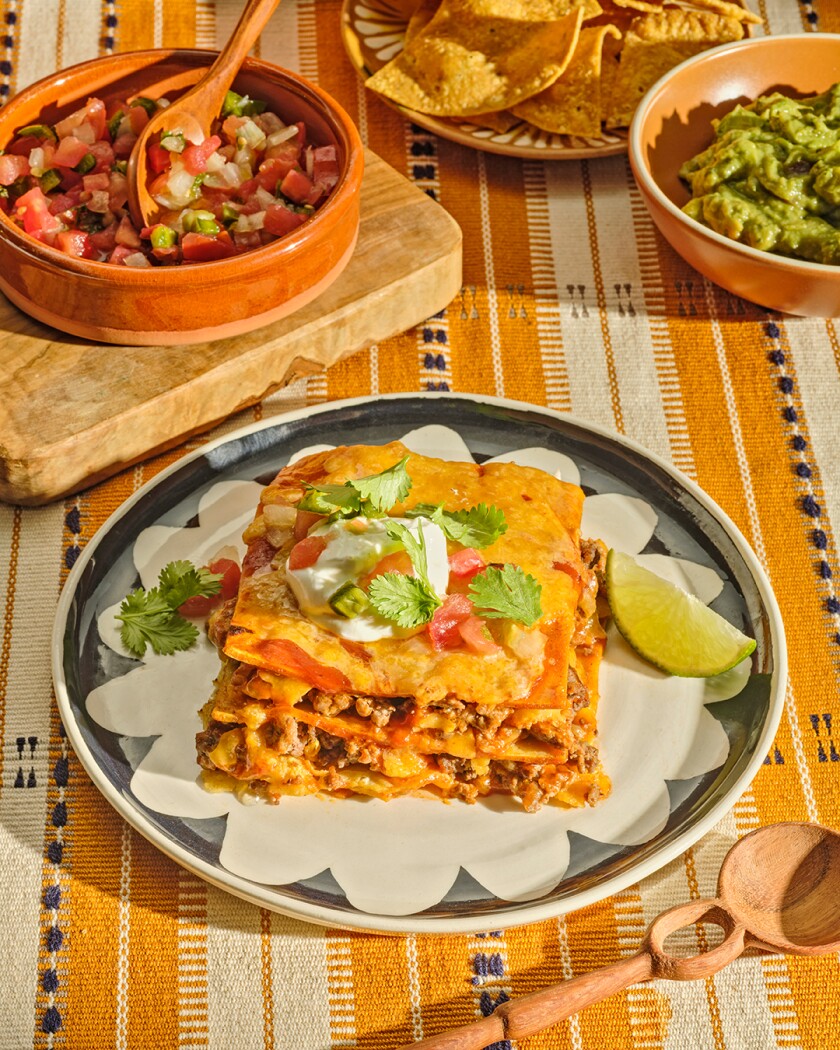 Enchilada Casserole
(serves 4–6)

Ingredients

1 28-ounce can enchilada
sauce

1 package corn tortillas

1 pound ground beef,
chicken or turkey,
browned

1 8 ounces extra-
sharp cheddar, grated

Preheat the oven to 350°F. Cover the bottom of a 9-by-9-inch glass baking dish with a thin layer of enchilada sauce. Top the sauce with a layer of corn tortillas. Top tortillas with half of the ground meat. Cover meat with a layer of cheese. Repeat layers. Bake for about half an hour, or until cheese and sauce bubble. Serve with corn chips, sour cream and
guacamole.

Pasta Carbonara
(serves 6)

Ingredients

1 pound thin spaghetti

4 eggs

1 pint light cream

4 strips bacon, cut into pieces

¼ cup diced onion

10 mushrooms, sliced

½ green pepper, diced

8 ounces Parmesan, grated

Be sure to have all ingredients prepped and ready to go, as the pasta mixture cooks fast and you'll have to stir constantly. Cook spaghetti per package directions and set aside. In a bowl, mix eggs with light cream and set aside. In a large frying pan over medium heat, sauté bacon for about 5 minutes, then add in all veggies and cook until soft. Add cooked pasta to veggies and bacon and mix well. Add half of the Parmesan to pasta mixture and stir until cheese is melted. Reduce heat to low. Add egg-and-cream mixture to pasta, stirring constantly so that eggs don't scramble. Add remaining Parmesan, and cover for 3 to 4 minutes, or until all the cheese is melted.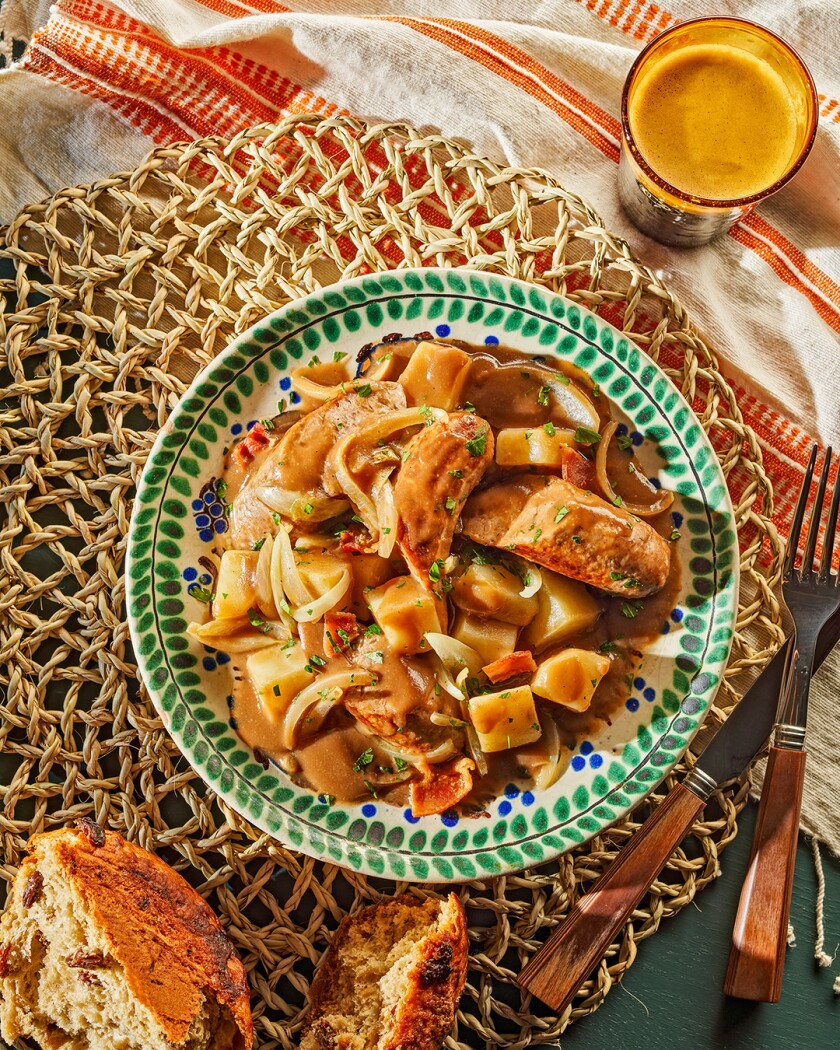 Irish Sunday Roast
(serves 4–6)

Ingredients

1 pound thick-cut bacon, cut into 1-inch pieces

1 pound pork sausage links

1 tablespoon all-purpose flour

12 ounces stout beer (optional)

4 pounds roasted potatoes, peeled and chopped

2 large onions, sliced

3 cloves garlic, minced

3 tablespoons fresh parsley, chopped

2 bay leaves

Salt and pepper to taste

2 cups beef or chicken broth

Preheat the oven to 300°F. In a large, oven-safe Dutch oven, cook bacon over medium heat until crisp, about 5 minutes. Remove bacon and drain on paper towels, leaving grease in pot. Add sausages to pot and cook until golden brown on each side. (You don't need to cook them all the way through.) Remove sausages and slice. Reduce heat to low and add in flour. Cook for 2 minutes, whisking constantly. Remove pot from heat and whisk in the beer. Add half of the potatoes to pot, followed by half of the bacon, sausage, onions, garlic and parsley, plus one bay leaf, and season with salt and pepper. Repeat with the remaining ingredients to make one more layer. Pour broth over the top, and cover with a tight-fitting lid. Bake for 2 to 5 hours.

Fresh Spring Rolls
(serves 8)

If you are looking for something light and fresh to serve on your deck or patio, these Thai spring Rolls are a perfect choice. They are great on their own or pair well with grilled chicken or beef skewers.

Ingredients

2 ounces rice vermicelli

1 teaspoon toasted sesame oil

¼ teaspoon fine sea salt

¼ cup thinly sliced green onions

¼ cup fresh cilantro

¼ cup fresh mint

8 spring roll wrappers

1 cup butter lettuce, torn with ribs removed

1 cup thinly sliced red cabbage

1/2 cup matchstick carrots

1 small cucumber thinly sliced

2 medium jalapenos, ribs and seeds removed, thinly sliced

Bring a pot of water to a boil and cook noodles according to package directions. Drain and rinse under cool water and return them to the pot. Turn off the heat and toss with sesame oil and salt and set aside. Fill a shallow pan with an inch of water. Place a lint-free towel next to it and have your filling ingredients within reach. Combine green onion, mint and cilantro in a bowl and stir. Place one spring roll wrapper in water for about 20 seconds or until the sheet is pliable but not floppy and lay on a towel. Leaving about 1 inch of open rice paper around the edges, cover the lower third with butter lettuce, followed by a small amount of rice noodles, cabbage, a few strips of carrot, cucumber and jalapeno, then sprinkle with herb mix. Fold the lower edge over the fillings rolling upward until the filling is completely enclosed. Fold the short sides inward, then roll it up. Repeat until all rolls are finished.

Peanut sauce

⅓ cup creamy peanut butter

2 tablespoons rice vinegar

2 tablespoons soy sauce

2 tablespoons honey

1 tablespoon toasted sesame oil

2 cloves of garlic, minced

In a small bowl, whisk together the peanut butter, rice vinegar, soy sauce, honey, sesame oil and garlic. Whisk in water as needed to make a smooth, creamy sauce.

What's your favorite global cuisine? Let us know in the comments below.