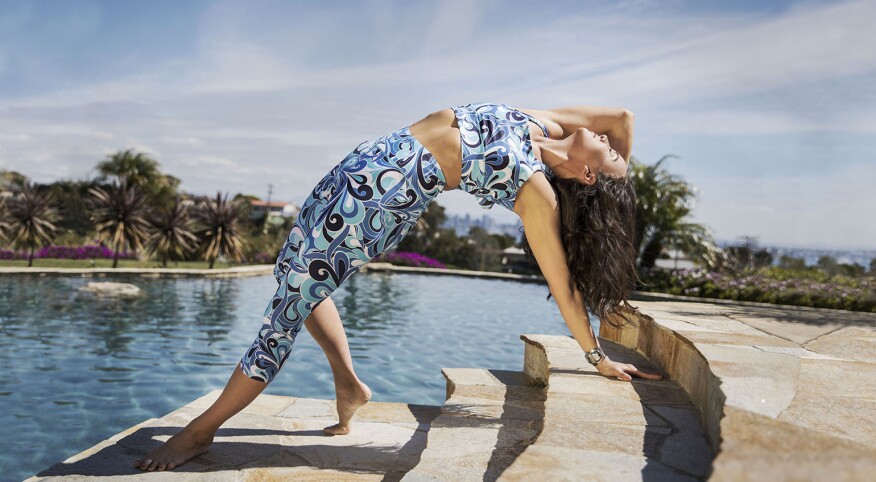 As if the '80s didn't have enough awesomeness already with its fab music and cheeky street fashion, think back for a second about what women back then were actually wearing to the gym and step aerobics class. If only totally bitchin' high-cut, shiny purple leotards worn over nude shimmer tights were a thing these days, I'd be ecstatic! Unfortunately, most of today's workout fashions lack both color and style, and we've long been served simple black yoga pants as our go-to choice for activewear.

But a few options are standing out from the rest, and for the modern active woman looking for one outfit that can go from her barre class to her lunch meeting, and from the market to a casual evening at home (or even a last-minute trip to the movies), I've got just the places to shop for all your athleisure needs.

Mercury Mile (mercurymile.com)

Love the convenience of having a personal stylist help dress you and ship the goods right to your doorstep? Mercury Mile is the Stitch Fix of workout gear, and though it's described as "curating personal style that fuses fashion with function for all runners," trust me — it is NOT just for runners. Users will be asked to create a personal-style profile, and then the pros at Mercury will take it from there. They will make sure to dress you perfectly for not only your body type and size, but also your activity level and what your daily workouts may consist of. Outfits are adorably coordinated and just may be the incentive you need to confidently walk into the fitness center and the boardroom.

KiraGrace (kiragrace.com)

This 100 percent female-owned company boasts itself as "curating elegant workout wear with a luxurious quality," and offers a large and very stylish variety of yoga pants that go well beyond black and boring. Try the Sevari Track Pant that will mimic classic pinstripe dress pants but can be worn to yoga and Pilates, and will even hold up to a stint on a treadmill — all with a compression waistband, lean legs and pockets for phones and earbuds. Nobody at the office will ever know you're wearing activewear!

Beyond Yoga (beyondyoga.com)

One of the first things you will notice when you click around the Beyond Yoga website is the fact there are real body shapes represented. Not everyone there is a size 2, no bodies are retouched or reshaped in Photoshop, and sizes range from XXS to 3X. You'll find gorgeous drape cardigans, full-support compression undergarments, and even hoodies your teenager will never want to borrow. They are all on style point, and trendy enough to wear outside the gym — without looking like you actually came from the gym.

Sweaty Betty (sweatybetty.com)

One of the most successful athletic-wear shops for women is located in the United Kingdom, but is currently making its presence and offerings available to customers in the United States. Meet Sweaty Betty, the super chic and definitely "not just for working out" clothing company. You'll find stylish outfits for everything from tennis to snowboarding (yes, middle-aged women snowboard!), and be sure to browse the "sports luxe" category for lounge sweaters made of Merino wool and sweatpants made of Italian fleece that will have your peeps in Pilates class (and the boardroom) doing a double take.

Lolë (lolelife.com)
This Canadian company wins the stunning website award, but beyond its fabulous photography is its blog — featuring entries that cover topics from outdoor trips you may take with your BFFs to how to practice self-care. With a philosophy that offers "feminine and fashion-forward designs that move with you" and a commitment to the intelligent consumption of consumer clothing, Lolë is just one of the latest fashion companies trying to meet not only the workout needs of its shoppers, but also their environmental and wellness concerns as well.