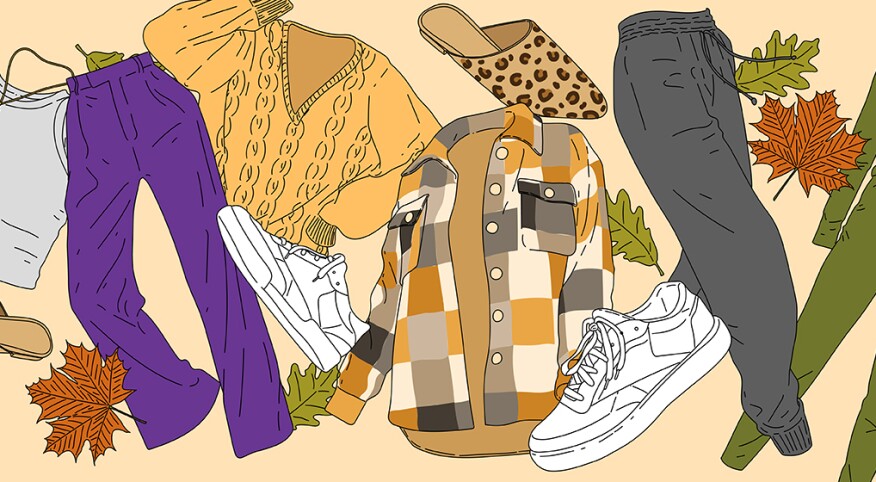 This past year has started some new fashion trends, and it seems like everyone is loving the new comfy, loungy look. Everywhere I shop, I see clothes that look really comfortable and make you feel like you are wearing pajamas. Yet they have an edge.

I see an off-the-shoulder sweatshirt; a dress that's flowy with no waistline; a lounge suit that can be dressed up with heels and a blazer, yet looks great with your favorite sneakers and flannel when it gets chilly.

I think the people have spoken: This is how to dress going forward. We want to be comfortable and we want to look good. And autumn is the best time to get cozy when it comes to getting dressed. Here are 10 must-haves for your closet this fall.

Shacket

The shirt-jacket combo is one of those pieces that makes us look forward to the cooler weather. It's not a structured piece, so it can be really casual thrown over a tank top and your favorite leggings.

However, it also looks adorable over a favorite dress and booties. Roll up the sleeves and add some jewelry, or pair it with jeans and tie at the waist.

Shackets were huge last year and they aren't going anywhere. Make sure to get a few prints and colors so you will have the perfect item to keep the fall chill away with any outfit.

Black blazer

The black blazer has been around since I was reading my mother's Redbook magazine in the early '80s. We've seen it fitted, oversized, with shoulder pads, and adorned with oversized buttons.

A blazer looks great with dress pants or a skirt, but I've always loved the look of a blazer paired with jeans and a T-shirt. There are so many different styles out there, and anything goes with this classic piece. They are oversized, cropped, super sleek and fitted, or you can find more of a menswear style if that's your vibe.

Faux-leather leggings

I invested in a pair of these a few years ago, and they are my go-to when I'm going out but don't

want to wear pants. They look fantastic with boots, sneakers, slides or heels. I like pairing them with an oversized sweatshirt or sweater and adding a necklace and a dressier shoe. That way I never feel like I can't wait to get home and change, and I love how I look.

The faux leather takes your legging game up a notch and is the perfect material to transition into cooler weather.

Layering tanks

Ever wake up on a fall morning and you are chilly, but then the sun comes out and you want to peel off your sweater? Then it gets chilly again as soon as the sun goes down? Cotton layering tank tops are the perfect solution. They aren't bulky and can be worn under flannels, sweaters and sweatshirts. I also love the look of a fitted tank under a slouchy cardigan. Since they are inexpensive, get a few different neutral colors. That way you can have a layering piece for every outfit and occasion.

Joggers

The thing I appreciate about joggers is I can wear them to a yoga class, then slip on some flats (and that black blazer) and meet my friends for lunch. They are so versatile and can take you from a relaxing Saturday afternoon lounging and reading to a nice dinner — as soon as you slip on some heels or platforms and your favorite top.

We all like an elastic waist, and joggers are so cute dressed up or down.

Jumpsuit

The one-piece suit is all the rage right now. You can get a long-sleeve suit or an all-denim suit, and they even come in sweatsuit material. The great thing about these onesies is they take the guesswork out of matching an outfit, and you can spend more time planning which shoes and jewelry you will be wearing.

Sneakers

A comfortable sneaker or slip-on isn't for casual wear. Everyone is wearing them with dresses or skirts now. Remember the movie Working Girl? Nobody at the office ever wanted to take off the sneakers — they wanted to wear them all day long. Today it's not just a comfort thing; it's a statement.

Wide-leg pants

Wide-leg, high-waisted pants are back. Remember the palazzo pants that made an appearance

in the early 2000s (after first becoming a popular trend in the late 1960s and early '70s)? They are here again, and we appreciate the versatility and comfort. I love them with button-downs, great belts and heels. They look fantastic with flats and a cute printed T-shirt.

They are loungy with an edge and the perfect item to have in your closet if you are going to an event and your body is telling you skinny jeans just aren't going to happen today.

Oversized sweater

A soft, oversized sweater always feels like a warm hug. I can't get enough of them and always want to wear them with my cutoffs at the beginning of the season when the days are still a bit warm but there's a crispness in the air. They are great to pair with a pencil skirt, feel like home with a favorite pair of jeans and flats, and can be worn over a favorite dress.

I also love wearing my large sweaters pulled down over one shoulder with some leggings or joggers.

Slip-on flats

Slip-on shoes feel like freedom. They are so much more comfortable than stuffing your whole foot into a leather flat — yet your toes are still covered for those cooler days and nights. They come in so many fun colors and prints that it's hard to choose. (I have some animal print Vans as well as an embossed pair that resembles crocodile skin.) The good news is you will wear them with everything from your favorite jeans to dresses because they go with absolutely everything. And hey, you don't even need to have a pedicure to rock them.

Autumn is my absolutely favorite time to get dressed. You don't have to bundle up, yet you don't have to worry about showing too much skin if you are more comfortable being covered up.