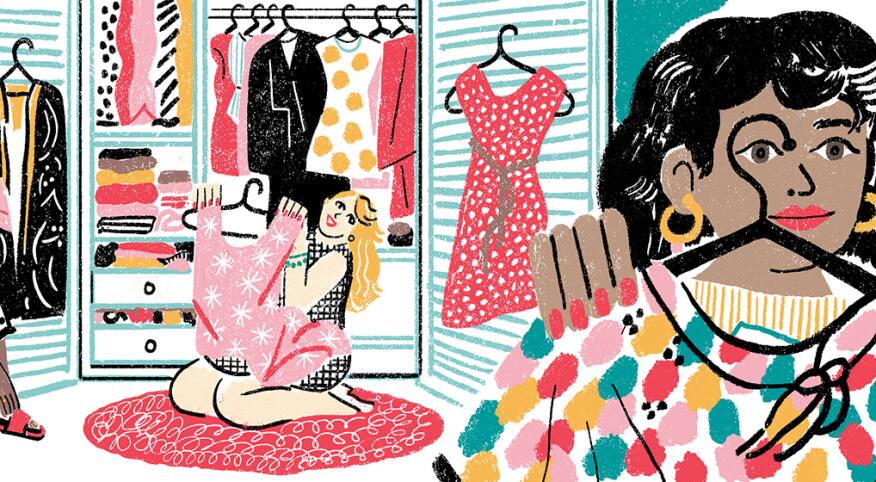 The warmer weather means fewer clothes and more skin. For some of us, that's a dreaded combination. Sure, we all like to maintain a comfortable body temperature, but more importantly we want to feel good in our skin while we are walking around the beach and pool or sitting in a lovely outdoor space enjoying good food and drinks.

Regardless of the time of year, we want to look pulled together without spending hours getting ready. Here are our top picks for wardrobe pieces you must have this summer.

Slides

Slides are a terrific way to be casual and comfortable, as well as dressed up a bit. They are a great glow-up for our usual flip-flops, and can be worn to the beach just as easily. Slides come in lots of different styles and colors, and will look first-rate with everything from denim cutoffs to a fitted dress. Feet have a tendency to swell in the warmer months, which means heels can be uncomfortable for a lot of us. Slides are the perfect solution.

These slides (Amazon, about $20) are different from any others I own. They have a comfortable cushioned bottom, and I can wear them for a day of shopping or walking around without my feet getting sore or tired. The tops are buttery soft, and the cutout detail gives them an edge. They also come in a bunch of different colors.

Stay cool with these water slides (Lands' End, $53) that are easy to slip on and have a rip-and-grip strap for adjustability. They are available in violet rose or navy. The classic adidas Adilette Aqua slides (Kohl's, $27) feature a single-bandage upper, and soft cushioning adds plush comfort. The Almost Pink pair is a perfect match for summer.

Kimonos

Kimonos are beautiful and flowy. The best part about them is you can throw one on if you want a bit more coverage, but they are so sheer that they can be worn all summer. I love seeing a kimono rippling in the wind at the beach over a suit. They also look great as a blazer in the warmer months with skirts, shorts and dresses and will add elegance to your favorite jeans and tank top. Kimonos are easy to keep in your beach bag or your luggage for a trip, since there's not a lot to them. Once you roll them up, they barely take up any space.

I love this kimono (Amazon, $28), because it has a front tie to make it more versatile. It can be worn over a bodysuit as a dress or around the house like a robe. It comes in so many different prints that you easily can find one that fits your unique style.

You can go casual or dressy with this black-and-white embroidered kimono (Chico's, $149) made from lightweight fabric with deep side slits. Saachi's Lasdon Ruana kimono (Lord & Taylor, $49) is soft and breezy, fun and flirty — as well as a treat for the eyes with its lovely springtime floral pattern.

Palazzo pants

Not everyone likes to wear a dress or skirt, and the good news is wide-leg, flowy pants are so in vogue right now. With so many styles to choose from, we don't have to put on a dress or skirt if we don't want to. Palazzo pants are easier to wear in the summer than in the winter, as they can be paired with a little strappy heel or a pair of slides. Most of the pants have an elastic waist, so it feels like we are wearing our pajamas while out and about — which is glorious.

You can pair them with a tank top, a T-shirt for a more casual look, or a favorite tailored blouse. I love this georgette fabric pair (Nordstrom, $85) because of the overlay, which makes them a bit dressier. These wide-leg pants with big flowers (JCPenney, $30) also will be a fun statement at the beach or a more casual event.

Here's another pair to check out. These linen pants (Venus, $54) look breezy and playful with a paisley trim at the waist and hem.

Maxi dress

A maxi dress is one of those pieces that is classic and will always be in style. I had some in elementary school, and I still wear them (in my late 40s!). You can go super basic with an all-black style or choose something floral and flirty. I love this dress (Venus, $49) for a wedding or party; the tie around the waist gives it a bit of shape. It's the perfect length to wear with heels or flats.

This maxi dress (Lands' End, $45) is more casual and can be worn to the pool but also will smarten up nicely with some jewelry. The best part is there are side vents — so you know you will be extra comfortable and cool if you wear it to a barbecue or party.

And here are some maxi dress options from Target, including sleeveless, open shoulder and maternity.