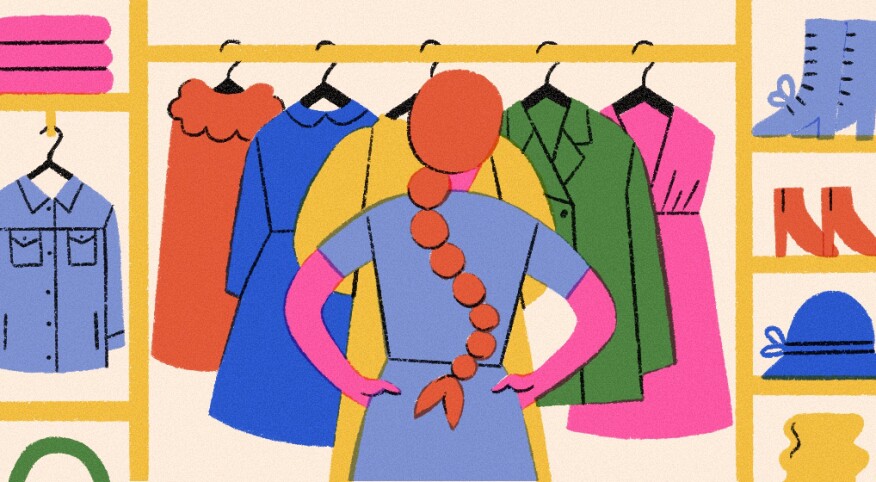 The millennials have made it known that we are not to wear skinny jeans anymore. LOL. Sick of changing your wardrobe every time a millennial — or a fashion expert — has a change of heart? Here are some staple wardrobe items that every woman 40 and older needs … which you will be able to continue wearing for years to come.

A classic denim jacket

Was there any time a denim jacket wasn't necessary? "It's the ultimate outfit topper for your favorite shorts and tank top or strappy sundress," says Alison Lumbatis, a blogger and stylist in Dallas, and the creator of Outfit Formulas, a capsule wardrobe membership site specializing in outfits for women over 40.

Try these:


Rumors Denim Jacket ($98 at nordstrom.com). This soft, worn-in denim jacket is lightweight enough for summer evenings, and adds a cool, stylish vibe to your tees and joggers.

Icon Denim Jacket with Washwell ($80 at gap.com). It's an environmentally friendly jacket, made via a water-saving program. This dark indigo-wash jacket is machine washable.

A midi dress

The midi dress is the new maxi dress, says Lisa Sanchez, the fashion editor of The Nines. "Midi dresses are fantastic because they are incredibly versatile," Sanchez says. "You can dress them up with some jewelry or shoes for a formal occasion, or you can just put one on in a nearly effortless way to get dressed to run a few errands — and look great doing so." Midi dresses come in a variety of styles, so choose one that fits your own look.

Try these:


Elevated sportswear

This is a win for everyone: It's super comfortable, looks great and is easy to wash (no dry cleaning necessary). "Riding the coattails of comfort dressing we've become accustomed to in the past year, designers have taken this trend to the next level," says Jackie Condura, a personal stylist and fashion blogger. Matching sets of coordinates created to be worn as casualwear is another way society is transitioning back into getting dressed while still looking put together and super stylish. It's a step-up from loungewear that we can wear on the daily.

Try these:

• Offline Real Me High Waisted Crossover Legging ($45 at ae.com). Pair the leggings with a matching sports bra and throw a sweater over it, and you've got yourself a cute, comfy outfit.


A blazer

Not necessarily for work. Try a cotton, stretchy and fitted blazer over a fitted tank top, and wear it over leggings for an adorable put-together look. We especially love striped blazers over a black tank and black leggings. This can be a great outfit for work and for errands.

Try this:

• Banana Republic Classic-Fit Washable Blazer ($179 at bananarepublic.gap.com) We especially love this one because you can toss it into the washing machine.

Straight leg jeans

These never really went out of style, even when skinny jeans were hot. They're your standard jeans that essentially go with everything. But they're also coveted because they're just so incredibly versatile, says Joe Flanagan, founder of 90s Fashion World, a blog about fashion, entertainment and culture. "They are comfortable and look super flattering on all body types, plus they are also slightly retro, so they fit the general '90s revival we are living in quite well," Flanagan says. "To top it off, they look great with comfy outfits like sweatshirts, sweaters and loose blouses." Feeling like dressing up? Add a heel.

Try these:


• Levi's 501 Straight Jeans (starting at $98 at freepeople.com). The classic straight jeans are the Levi's straight jeans. These are a closet staple.