The 9 Essential Skin Products To Get You Through Winter
We love them. And we think you will, too.
For many of us, winter means fuzzy sweaters, hot cocoa by the fire and snow days. It also may mean drier skin that is more prone to irritation, flakiness and redness due to a drop in air moisture. Plus, as we age estrogen decreases, leading to drier skin and hair. It's not a winning combination. That's why it's good to rethink your beauty and skin-care routine as the temperature drops.

The good news is that there are plenty of products on the market made with ultra-hydrating ingredients that will moisturize and soothe your delicate skin from top to bottom. Here are a few of our faves along with other cool options.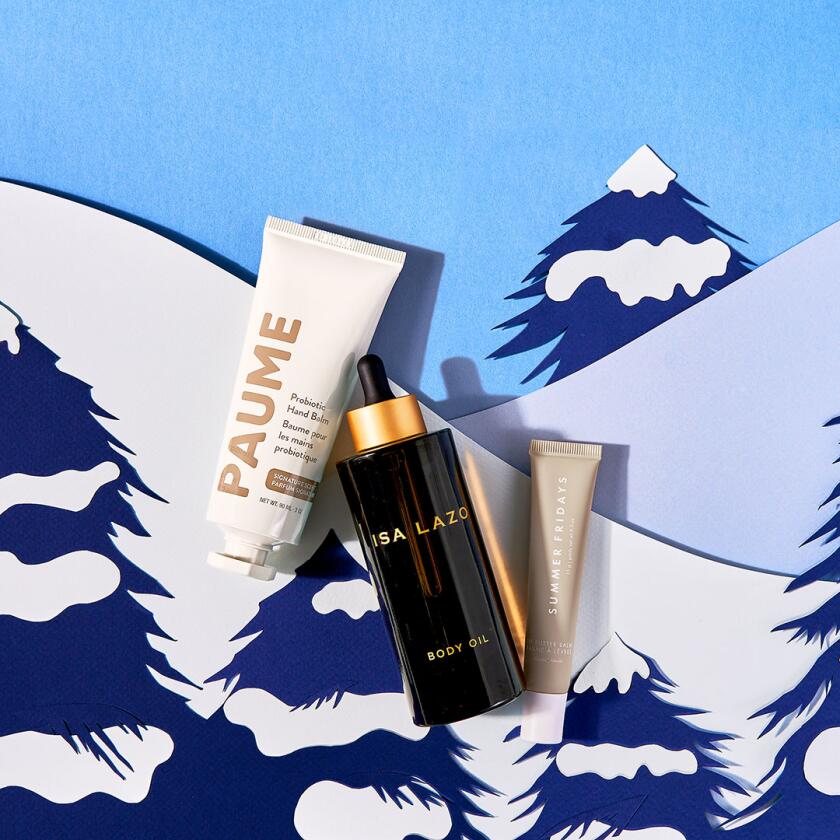 Hand balm

The rich, fast-absorbing Paume Probiotic Hand Balm has natural probiotics to help restore the skin's natural microbiome after cleansing and sanitizing. It's also packed with moisturizing plant-based ingredients that improve skin tone, elasticity and texture, and it has a lovely fragrance thanks to a signature blend of essential oils. Bonus: The 3-ounce tube is made with 75 percent PCR. $24

Other hand balm options include Laura Mercier Ambre Vanillé Hand Crème, $25; Glossier After Baume, $28

Body oil

To really lock in moisture, we like to apply Isa Lazo Body Oil right after a shower or bath while our skin is still slightly damp. This luxurious oil is made with primrose, Rose Damascena oil and grapefruit seed oil, and — unlike some other oils — absorbs quickly while leaving the skin glowing a little bit. The rose oil is especially hydrating and thought to also relieve stress and promote circulation. Note: a little goes a long way! $126

Other body oil options include CHANEL Paris Coco Mademoiselle The Body Oil, $80; KORA Organics Noni Glow Body Oil, $60

Lip balm

Even though it has summer in its name, the Summer Fridays Lip Butter Balm Vanilla is one of our go-tos while braving the elements. Use this vegan lip balm with shea and murumuru seed butters during the day for a bit of shine or overnight to replenish lip moisture. Available in three hint-of-color shades. $23

Other lip balm options include Yves Rocher Nutri-Plumping Lip Balm, $18; Taos AER Organic Lip Balm, $16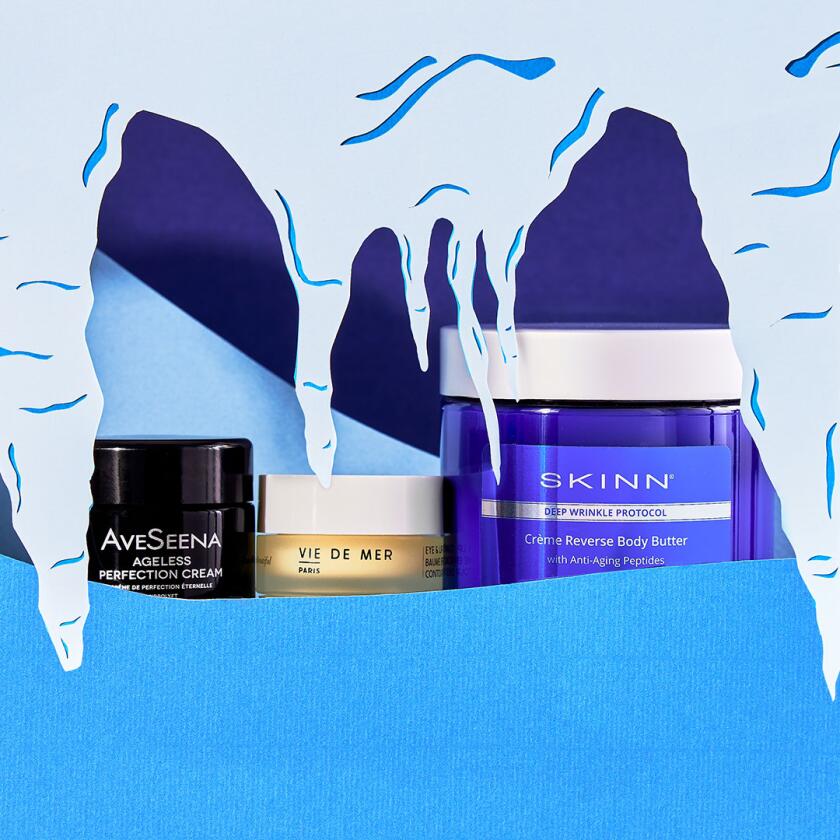 Moisturizing cream

The AveSeena Ageless Perfection Cream is ultra-concentrated to instantly immerse your skin in soothing hydration to combat multiple signs of inflammation. It uses niacinamide and vitamins E, B5 and C to support firmness, radiance and suppleness. It also has nutrient-rich plant and flower oils that help soften and calm the skin, as well as snow mushroom to help supply intense hydration. $157

Other moisturizing cream options include Caudalie Paris Premier Cru The Cream, $119; LANEIGE Water Bank Blue Hyaluronic Cream Moisturizer, $40

Eye and lip contour balm

The skin around our eyes and lips can be especially delicate, which is why Vie De Mer Paris Eye & Lip Contour Balm is great in winter. It's formulated with a nourishing dose of vitamin E to reduce inflammation, puffiness and dark circles, and calendula oil to reduce the appearance of fine lines and crow's feet. Pat on a few small dots around eyes, on eyelids and on lips before you drift off to sleep, and wake up to more hydrated skin. $144

Other eye and lip balm options include Sisley-Paris Eye and Lip Contour Balm, $155; Leland Francis Lip and Eye Balm, $42

Body butter

We love a good body butter — and one that is packed with peptides, nourishing oils and other powerful natural ingredients like squalane, white tea extract, and Kakadu plum and Goji berry extracts is even better. What's better on a chilly winter night than slathering yourself with a treatment like the SKINN Crème Reverse Body Butter that deeply hydrates, moisturizes and soothes skin? $52

Other body butter options include OSEA Undaria Algae Body Butter, $48; Supergoop! Body Butter SPF 40, $38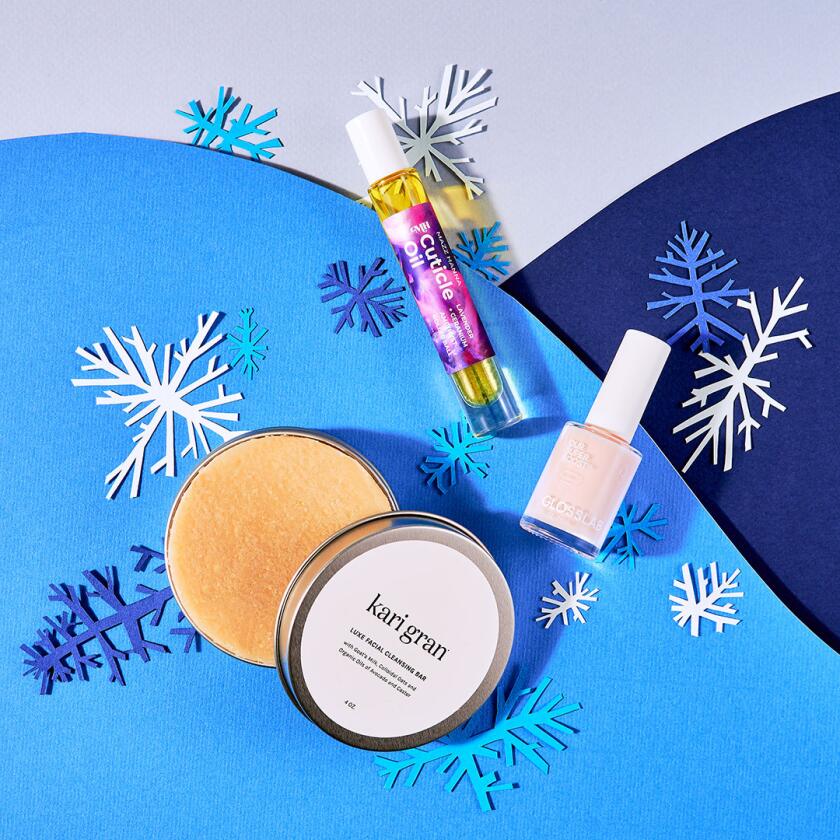 Facial cleansing bar

As winter approaches, you may want to swap out harsher skin cleansing products for ones that are gentler and have plenty of hydrating ingredients. The kari gran Luxe Facial Cleansing Bar wowed us with deeply moisturizing ingredients including coconut, avocado, and olive oils; goat's milk; and soothing colloidal oats and calendula flower. Plus, it comes in its own eco-friendly and portable tin. $21

Other facial cleansing bar options include Peach not Plastic Hydrating Facial Bar, $12; Kiehl's Ultra Facial Hydrating Cleansing Bar, $18

Cuticle oil

Don't neglect your cuticles this winter! Keep Mazz Hanna Cuticle Oil nearby and use its amethyst roller ball to apply a nourishing blend of organic jojoba and hemp seed oils and vitamin E to your nails to promote health and growth. Plus, we dig the great smelling lavender and geranium essential oils. $29

Other cuticle oil options include Londontown kur Nourishing Cuticle Oil, $20; French Girl Nail and Cuticle Eco-Luxe Botanical Oil, $24

Nail treatment

The GLOSSLAB Our Superboost adds strength and hardness and is packed with moisturizing and potent ingredients like biotin, hyaluronic acid, vitamin E, rosemary and safflower oil. With a flattering sheer pink hue, it can be used alone between manis or on top of an existing mani. It's also nontoxic, vegan and cruelty-free. $10

Other nail treatment options include Côte Nail Strengthener, $15; elle+mila Nail Care, $10