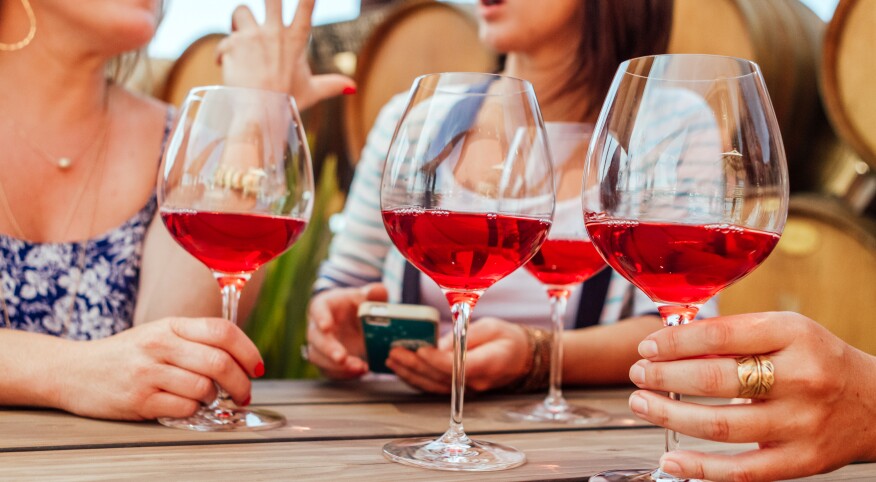 One of my favorite summer indulgences is to spend an afternoon poolside with my best girlfriends having a glass (or two) of rosé.

As Roman Roth, winemaker at Wölffer Estate in Long Island, New York, explains, "Rosé screams summer because the flavor profile is both fruit-driven and refreshing."

The company named its signature rosé Summer in a Bottle for that very reason. "It's an authentic taste of summer," says Roth. "Perfect to drink by the pool, at the beach or with fresh seafood or light dishes."

The 411 on rosé

A popular misconception is that rosé is a blend of white and red wine. Rosé is produced similarly to red wines, usually with red grape varietals from various regions. A wide range of grapes can be used to produce a rosé, including Sangiovese, Syrah, grenache and pinot noir. A rosé can be a singular varietal (using one type of grape) or a multivarietal.

"There are strict regulations in Provence (France) on how much and what red grape variety is allowed to make rosé," explains Roth. But in other countries that produce rosé, the rules vary. For example, Wölffer Estate uses both red and white grape varietals in its Summer in a Bottle rosé.

The major difference between making a red wine and a rosé is timing.

When making wine, the grapes are crushed and the liquid that comes out (of both red and white grapes) is clear. Wines get their color from the grape skins bleeding into the juice. The longer the skins macerate in the liquid, the darker the hue.

Unlike red wines that can age for years, most rosé wines have the grape skins sit in the liquid for two to 24 hours, thus the pink color.

Cassandra Rosen, a wine and cocktail expert for FK Interactive, explains, "Rosé can vary from being bone dry and crisp, to juicy and sweet. I always recommend getting to know both your grape varietals, as well as certain regions, in order to choose the right rosé for your personal preference."

Why rosé is having its day

While it may feel like rosé just arrived on the scene, it actually has been around for centuries. Tyler Balliet, founder of Rosé Mansion, an interactive wine-tasting experience, says, "The French wineries used to make rosé wine as a by-product of the red wine production, and the makers would just drink it themselves. Then they realized they could sell it and pink (rosé) wine became its own wine category."

Adds Roth, "Wineries used to make sweet white zinfandel rosés with a heavier alcohol content, and as a result, the category was never taken seriously. (In recent years) the quality of the rosé wines has improved dramatically."

There are several other reasons rosé is having its day (or rather season) in the United States.

Easy to understand

"Generally, consumers know what flavor they are going to get with a rosé," says Balliet. "It's a lot less intimidating than picking a red wine from a wall full of options."

The wine industry promotes it

Because it doesn't take as long to produce as red wine, rosé is an agricultural winner. Balliet explains, "It only takes a few months from harvest for grapes to become a rosé wine. In contrast, grapes harvested in fall of 2020 for red wine production won't come to market for several years."

Affordable

Balliet says, "You can get a killer rosé for $12 to $15."

How to serve

"Rosé is a fun drink," says Roth, "so there is no need to make it overly complicated." He suggests serving it chilled at around 55 degrees Fahrenheit. Any wine glass will work, although clear is preferable since the pretty pink color is part of the allure. If you want to get creative, you can try making frosé, a slushy treat for grownups. In a blender, combine a bottle of rosé, frozen strawberries, ice and a sweetener such as sugar or honey. Rosen advises, "Make sure to choose a bolder, more fruity rosé so that it will still stand out in the frozen drink."

Rosé also can be used in place of white or red wine in a sangria. "Just add your favorite fruits, a bottle of rosé, and two ounces of orange liqueur to a pitcher. Chill it for at least six hours and serve over ice with a splash of sparkling water," Rosen says.

As for what food to serve with rosé, it goes with almost any flavor profile. Balliet says, "The low acidity makes it ideal for drinking alongside anything from seafood to pizza. Pairing a sparkling rosé with grilled steak cuts through the fat."

How to drink rosé all day

There is nothing wrong with drinking rosé while sitting at the fireplace in December (just as there is no rule against drinking a hot toddy by the pool in July). It's just that in both cases, it doesn't seem as pleasant. "A summer day and rosé are just a perfect pairing," says Balliet. There is something about the pink color and the way it shines in a beautiful glass as the warm sun hits it.

Rosé tends to be lighter than red wines and contain a lower level of hangover-causing histamines. In general, drier rosés tend to have fewer calories and a moderate alcohol level of around 12 percent per glass.

Still, if you plan to drink rosé all day, pace yourself. Consider adding a little seltzer and making a wine spritzer. Be sure to drink plenty of water in between glasses. Roth says, "The key is to take little sips and enjoy!"

I'll drink to that. Cheers!