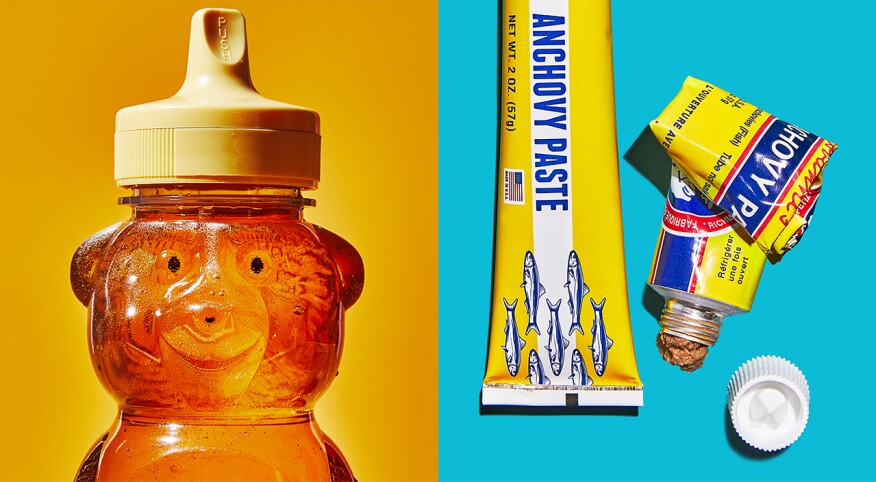 In a dinner rut? Sick of the same flavor combos (Every. Single. Night.)? Wonder how chefs always seem to make food taste so good? Turns out, their culinary inspo lives in their pantry, where they always keep a stash of their fave staples on hand just in case their meals are a little blah, or don't come out totally as planned. It happens to the best of us.

A little dash of this or a sprinkle of that, and an entire dinner can be saved. Pantry staples are the equivalent of food superheroes: They live forever, they're always there when you need them, and they can totally save a ruined dinner (or turn a good dinner into a superb one).

Here are the pantry staples chefs typically keep on hand.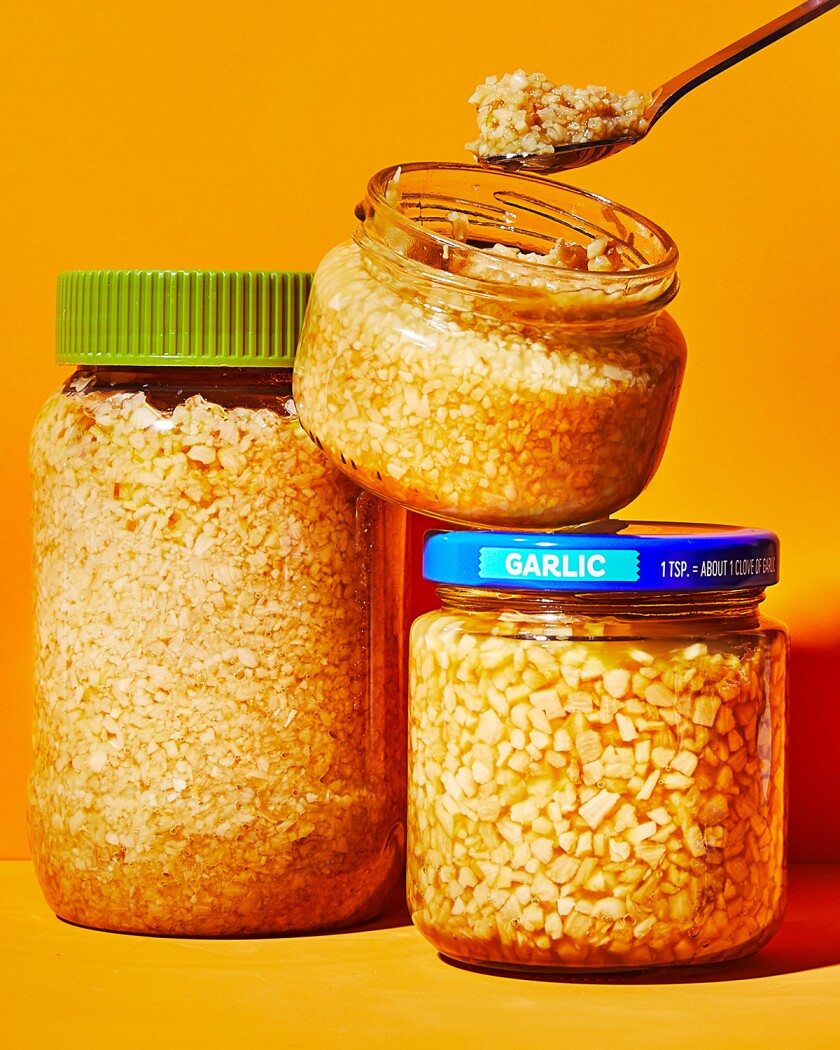 Jars of minced garlic

Fresh garlic is great, but it's not always practical to have on hand, especially if you're short on time, Smith says. Minced garlic is a great alternative, and it's a quick and easy way to add flavor to any dish. Smith uses it in stir-fries, sauces and roasted vegetable dishes, and adds it as a punch of flavor to a simple salad dressing.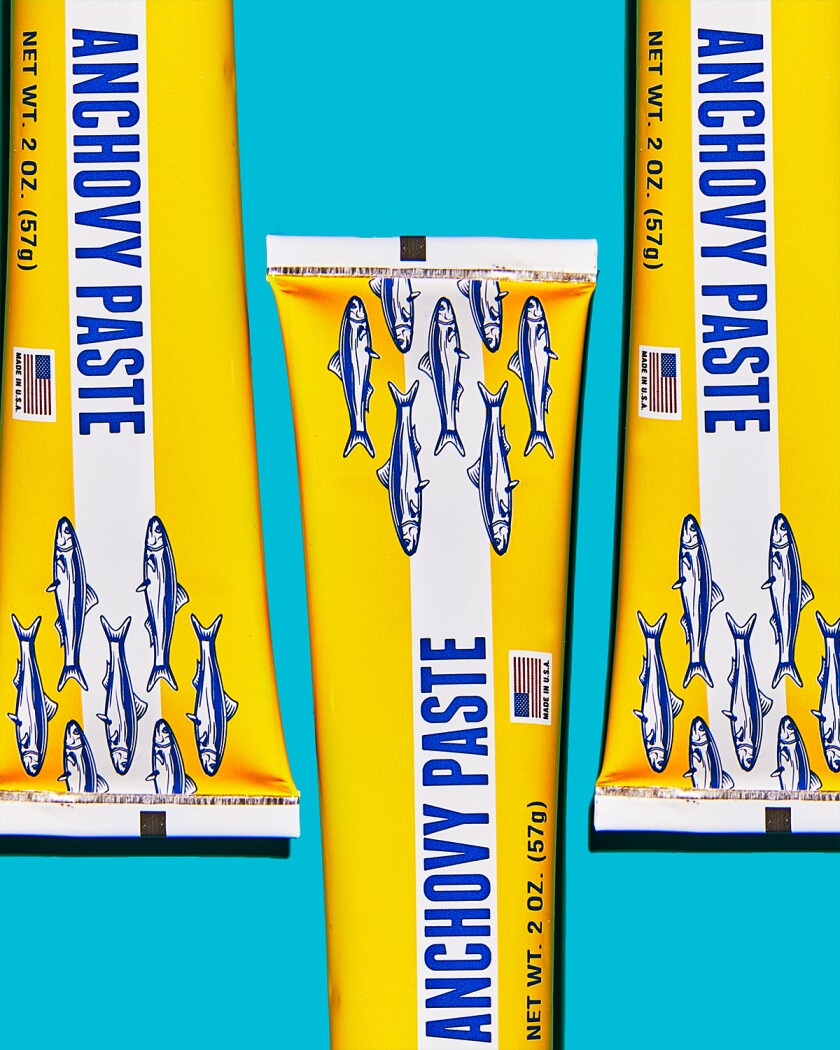 Anchovy paste

Don't knock it till you try it. Norah Clark, a chef who has worked in numerous hotels and restaurants worldwide, says she always has anchovy paste in her pantry, and describes it as "a secret umami-boosting ingredient that adds depth to pasta sauces, salad dressings and marinades." It's crucial to start with a small amount, adjusting to your preference, as it can be overpowering, Clark warns. She typically starts with half a teaspoon for a standard-sized pasta sauce or salad dressing and adds more after tasting. "Anchovy paste is a perfect way to elevate the flavor profile of your dish while still keeping the ingredient list simple," Clark says.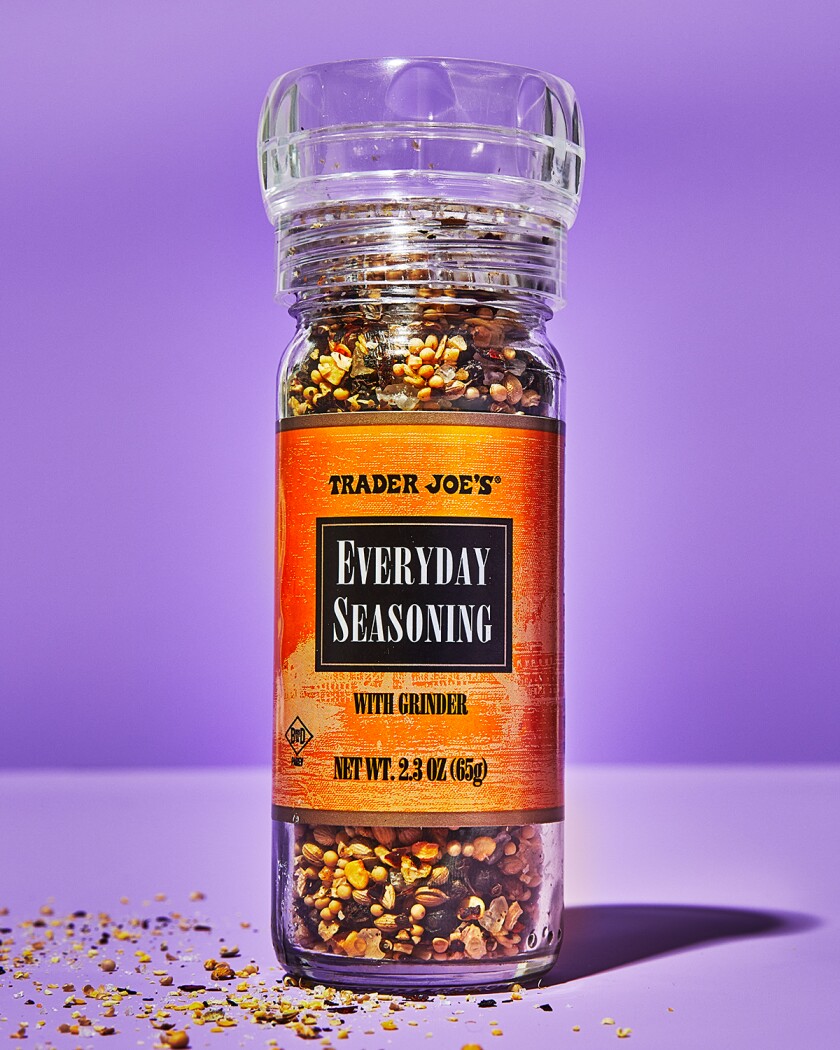 Trader Joe's Everyday Seasoning

Chefs: They're just like us. We put this pantry staple on everything from hard-boiled eggs to avocado toast, and Jasmine Golden, the owner and chef at Golden Truffle, a blog featuring brunch recipes, agrees. "It's an incredibly versatile pantry staple that can be used to enhance almost any dish," Golden says. The all-purpose seasoning mix contains sea salt, mustard seeds, black peppercorns, coriander, onion, garlic, paprika and chili pepper. "Whether you're sprinkling it on pizza, stirring it into soup or just sprinkling it over your eggs for breakfast, this seasoning will add a delicious kick," Golden says.

Be sure to try Trader Joe's Everything but the Bagel Sesame Seasoning Blend, too. They're sibling rivals.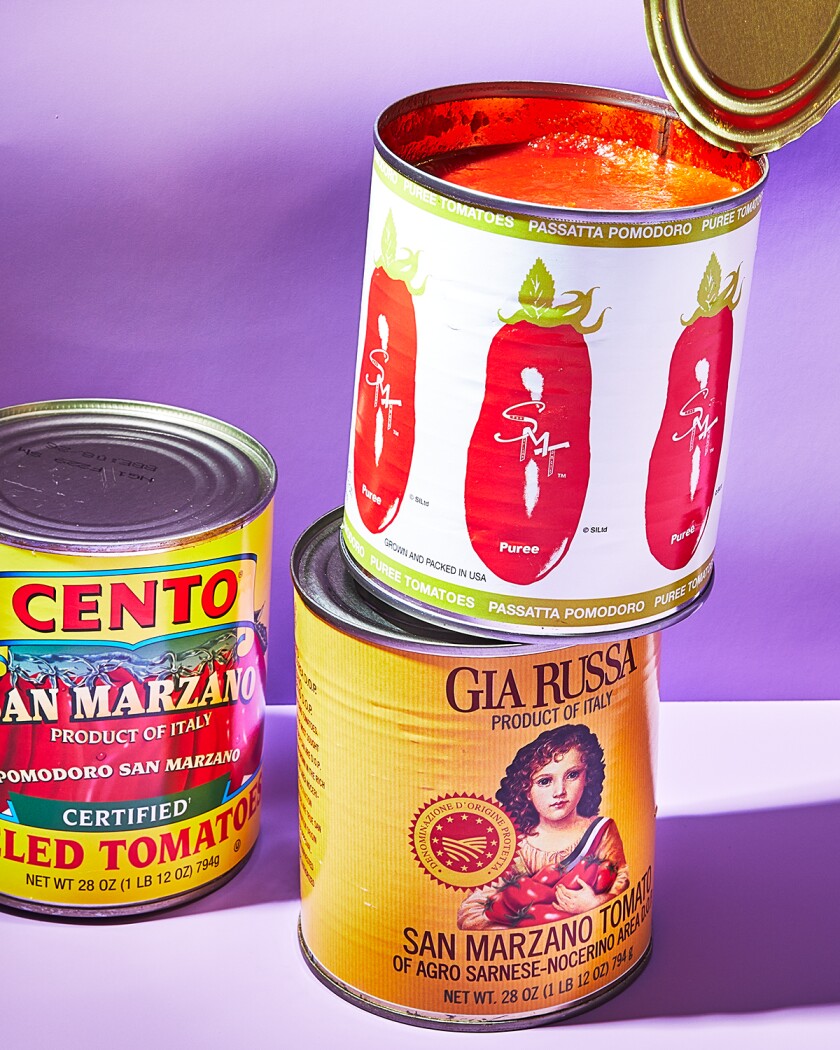 Canned tomatoes

These are an easy and affordable way to add intense flavor and brightness to any meal, Golden says. You can pop canned tomatoes into soups, stews, casseroles, sauces and even as a topping for pizza. They're already peeled and diced, so you don't have to waste time chopping fresh tomatoes.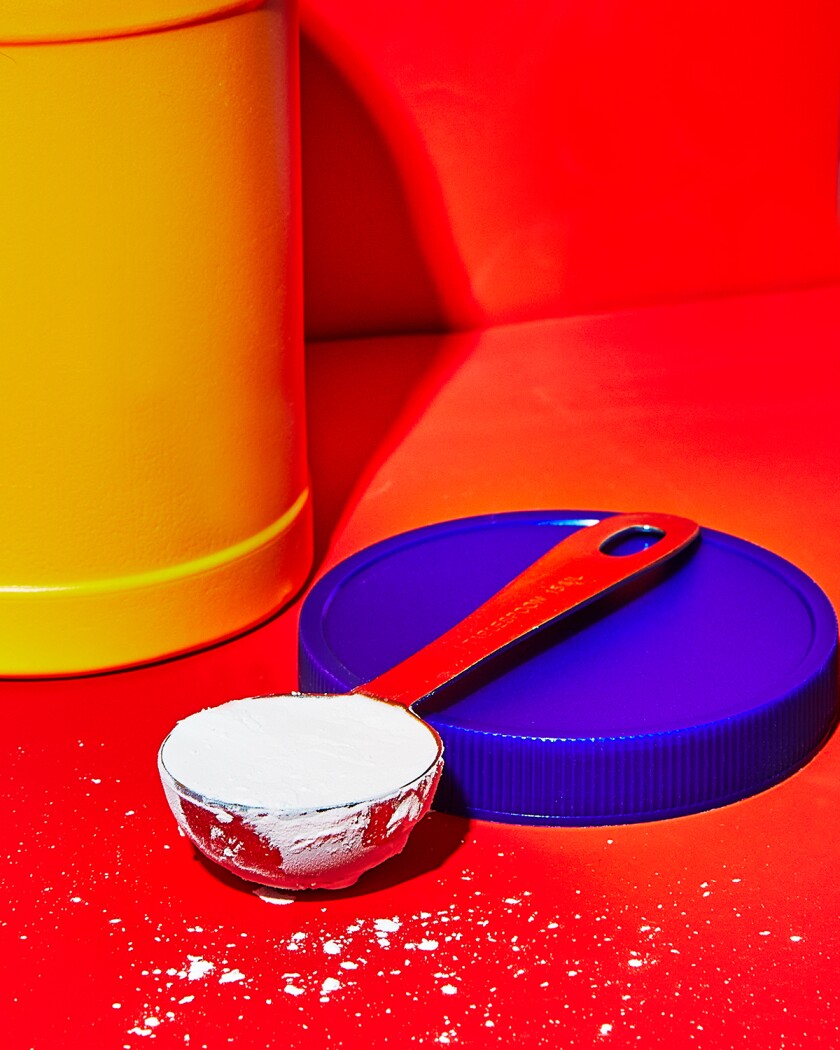 Cornstarch

"I love this stuff," gushes Dee Broughton, a food writer and recipe developer for Gimme From Scratch, a blog that provides tips, inspiration and recipes to help families cook at home. Broughton says cornstarch is particularly useful for thickening sauce, gravy and soup — but she also uses it to thicken desserts like pudding, as well as for pan frying meats, seafood and vegetables. "It's such a versatile ingredient, and I don't go even just a few days without using it," she says.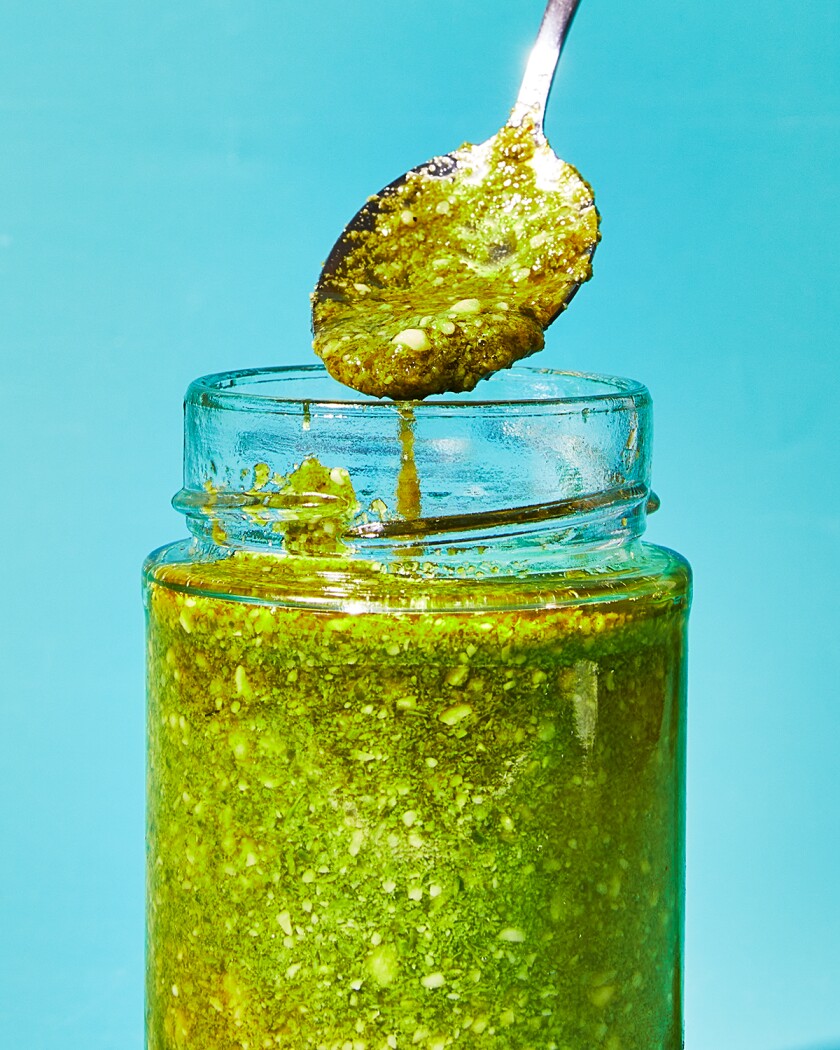 Jarred pesto

Pesto isn't just for pasta, says Steve Chiappetti, the executive chef of The Albert restaurant in Chicago. Rub pesto sauce generously on your steak or chicken just before roasting in the oven, or popping them on the grill, Chiappetti says. You can also drizzle pesto on salmon after you've finished cooking, he says.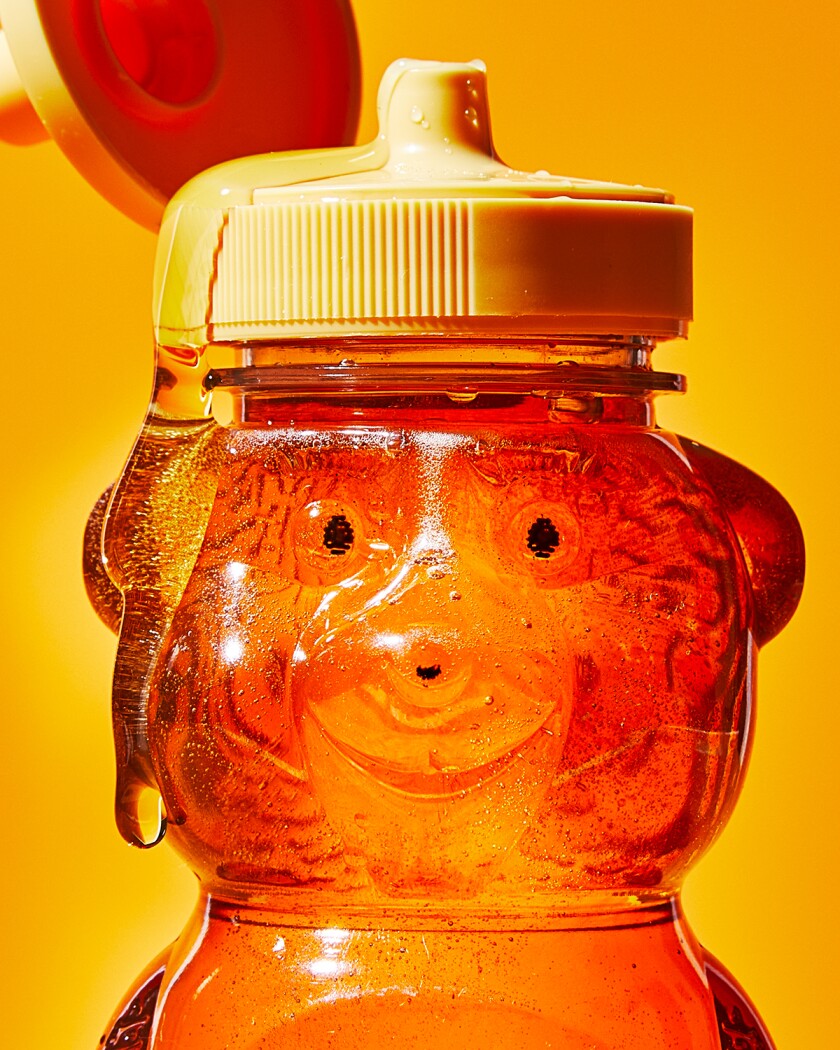 Honey

Honey has the ability to provide just the right amount of sweetness, Chiappetti says. You can use it as a base for salad dressing or even add it to mustard and sriracha for an unforgettable chicken glaze. "I'll often drizzle honey on a crostini bite smothered with ricotta, which is a big crowd-pleaser when entertaining at home," he says. You can also drizzle honey on a lemon pound cake, or use it to take any flavors over the top.

Soy sauce


If a soup or sauce is lacking a little oomph, Jennifer Pallian, a registered dietitian and food scientist in Vancouver, says she often sneaks in a bit of soy sauce instead of defaulting to salt. "Rich in naturally occurring glutamates, soy sauce imparts a deep umami flavor," she says. If you only use a teaspoon or so, it is imperceptible as soy sauce in a dish — but it takes gravy, chicken noodle soup or even macaroni and cheese to the next level in a fantastic way, Pallian says.


Which of the above staples do YOU always keep on hand? Let us know in the comments below.