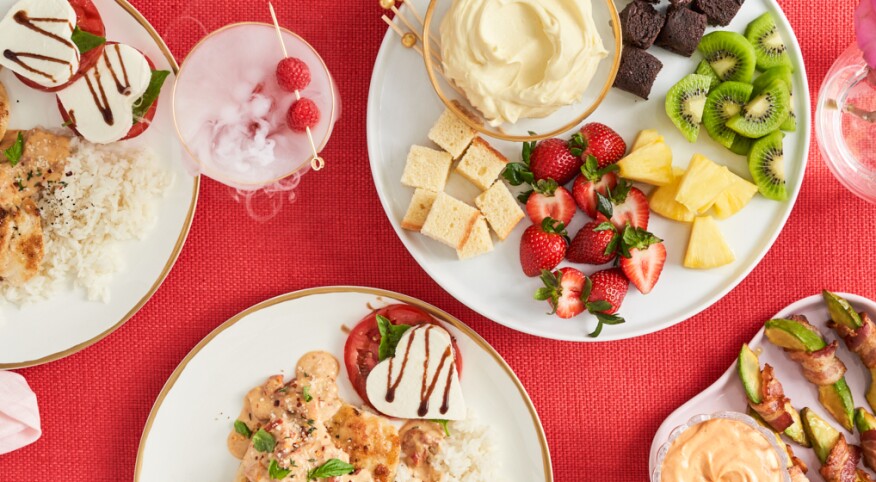 Love is in the air. As is the scent of sweet chocolate. But so is inflation. And winter. Cold nights. And too-early sunsets. All of which is enough to make even the happiest of couples stay warmly and comfortably home this Valentine's Day.

The good news is: There is a recipe for that. In fact, there is a whole menu for that. So if low bank accounts and chilly nights got you down, here are some easy to make, delicious and romantic recipes to jazz things up. Whether you cook together with your partner, split the menu or let your better half do it all (wouldn't that be nice), be sure to do it with love, a smile and a heart full of gratitude.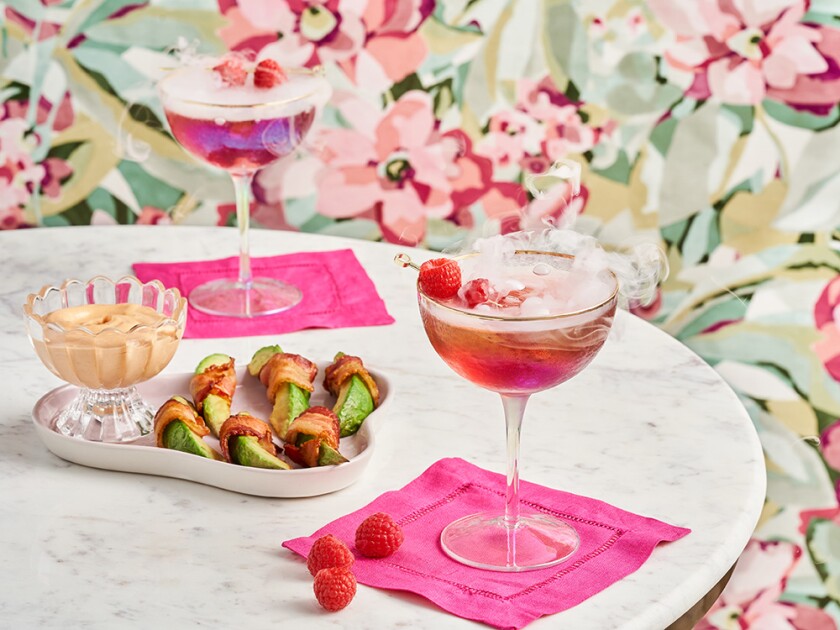 Drink Up: A Vampire's Kiss

Don't skip the bubbly this year, just make it more romantic with this red and luscious recipe.

What you need:


1.5 ounces of vodka

¾ ounce of raspberry liqueur (Chambord)

Red sugar

1.5 ounces of champagne

Raspberries

Dry ice (optional)
What you do:


Chill a martini glass and coat the rim with red sugar.

Mix the ingredients over ice in a shaker and strain into the martini glass. (Or, for a non-alcoholic version, replace the ingredients above with equal parts grape juice, lemonade and ginger ale.)

Add a raspberry or two as garnish.

Drop in a cube of dry ice for that wow factor. (But be careful when handling dry ice.)
Cheers, mon amour!

Pass the App: Love-Wrapped Avocado Fries

This is a keto-friendly appetizer, and who doesn't love avocados (and bacon!)? Add a little crispy bacon to your avocado and you've got yourself a tasty appetizer that can double as breakfast when you wake up in bed together the next morning.

What you need:


2 large, ripe avocados

One package of bacon

An air fryer
What you do:


Heat air fryer to 400° F.

Slice the avocados in two and scoop out each half. Slice each half into 4 pieces.

Cut bacon slices in half and wrap around the avocado slices.

Place in the air fryer until crispy, about 6 to 8 minutes.

Serve with your favorite dipping sauce (sriracha aioli, ranch or marinara) and enjoy.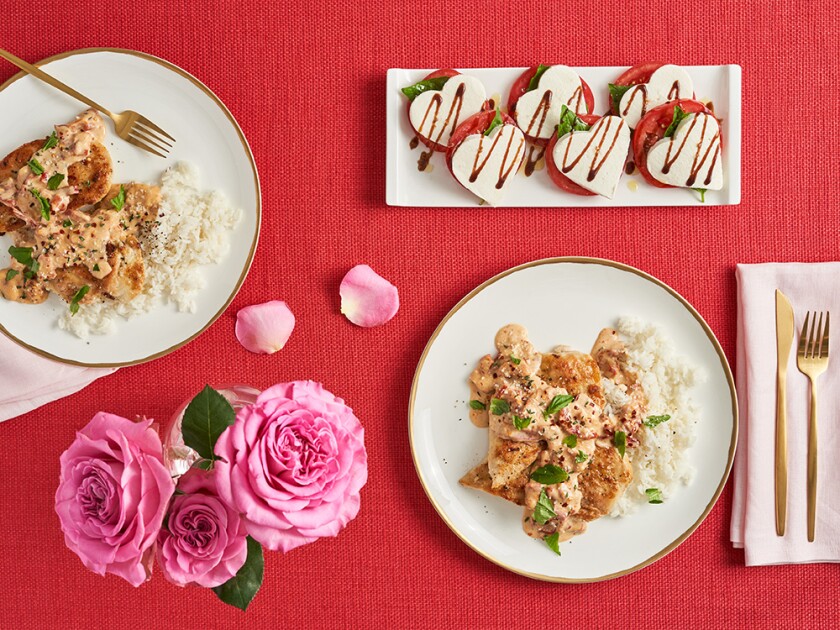 Caprese Salad: Shaped With Love

A simple and elegant twist on this traditional recipe will have your loved one oohing and aahing and reaching for more.

What you need:


Tomatoes

Fresh mozzarella (whole or sliced)

Basil leaves

Balsamic vinegar

Olive oil

Small heart-shaped cookie cutter
What you do:


Use the cookie cutter to create heart-shaped slices of mozzarella.

Slice the tomatoes and place on a serving tray.

Top each tomato slice with a basil leaf and one piece of heart-shaped mozzarella.

Drizzle vinegar and olive oil on top to taste.
Then simply declare your love by saying, "I love you from my head to.ma.toes" and serve — with love, of course.

The Main Dish: Marry Me Chicken

Who knew there was a dish so delicious that (according to folklore) it turns your boyfriend into your husband? It's certainly worth a shot on Valentine's Day, don't you think?

What you need:


3 large, boneless and skinless chicken breasts (slice them in half, so they are not too thick)

½ teaspoon salt

¼ teaspoon ground black pepper

6 tablespoons all-purpose flour

2 tablespoons butter

2 tablespoons olive oil

3 cloves garlic

1 cup chicken stock

1 cup heavy cream

½ cup Parmesan cheese

1 teaspoon chili flakes

¼ teaspoon oregano

¼ teaspoon thyme

1/3 cup sun-dried tomatoes (chopped)

1 tablespoon fresh basil leaves

What you do:


Season the chicken with salt and pepper.

Dredge in flour and shake off any excess flour.

Heat the oil and butter in skillet on medium.

Brown the chicken on each side, then remove from the skillet.

Add the garlic to the skillet for about 30 seconds (until fragrant).

Add the chicken stock (scrape any bits stuck to the bottom of the pan and gently stir).

Reduce the heat to medium-low and add the heavy cream and Parmesan cheese.

Let simmer for a few minutes

Add the chili flakes, thyme, oregano and sun-dried tomatoes.

Add the chicken back to the skillet.

Remove the chicken when it reaches 165 degrees (3 to 6 minutes).

Garnish with basil leaves and serve!

Pairs best with rice or pasta

The only thing left to do is prepare for your proposal!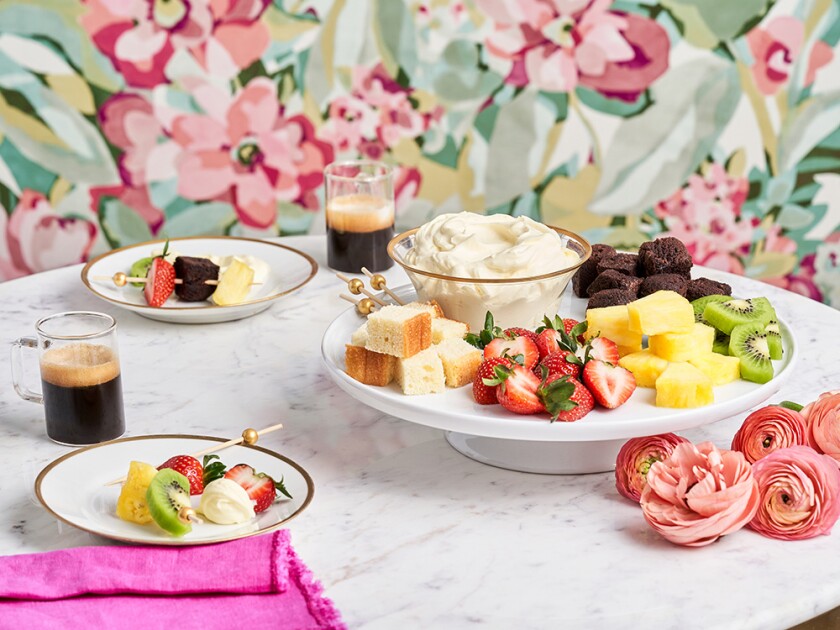 Dessert for Two: Cheesecake Kiss

Chocolate-covered strawberries, red velvet cake and traditional cupcakes are all great options for romantic desserts, but this cheesecake dip is made for lovers. It is light, creamy and oh-so-easy to prepare. Two ingredients and an electric beater is all you need!

What you need:


1 package cheesecake-flavored instant pudding (Walmart and Amazon sell this online)

3 cups heavy cream
What you do


Combine the ingredients in a bowl.

Whip with handheld beaters until stiff.

Serve with your favorite fruit, pieces of cake or chocolate, or use it as a filling in puff pastry!
Then, go ahead and feed each other— 'tis the season, girlfriends! Seal it with a kiss or two or three! And that part doesn't cost a thing.

What do you make when you want to cook a very special dinner? Let us know in the comments below.