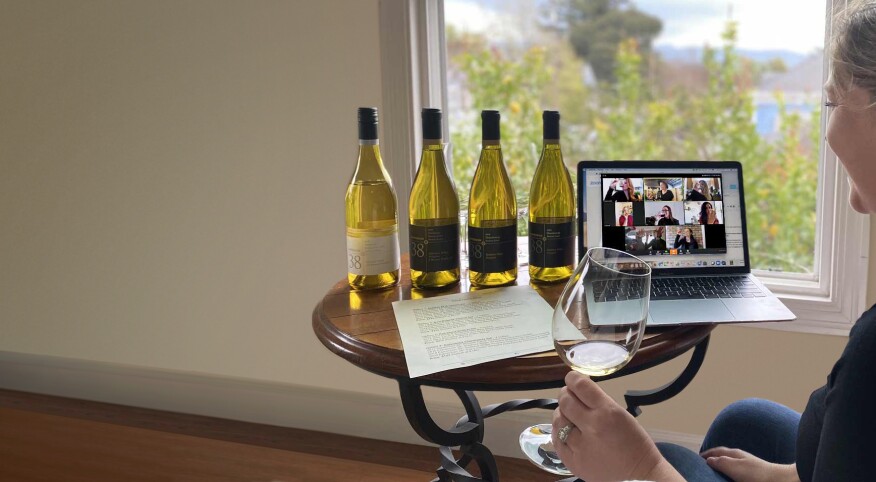 You know what we miss most these days? Pouring a glass of wine and settling in for a night of vino and venting with our girlfriends.

Sure, there may be fewer ladies' nights, but we can still convene and toast one another thanks to a few clever companies now offering virtual wine, beer and whiskey tastings for groups of all sizes. Cheers!


Priority Wine Pass


This is a great place to start. Not only do they have beer and whiskey tastings as well, but you also can enter your location and budget to find bottles best suited to you. You're buying the wine directly from the wineries, which eliminates extra costs. Once you pick a vineyard and order the wine — either full bottles or small tasting packs — you can schedule your video call.


City Brew Tours


This is just a fun idea for a small group or a larger birthday party. You can completely customize your "Beer and Cheese Pairing Happy Hour" experience by selecting your budget, group size and whether you want to have their beer and cheese pairings shipped to you or buy them yourself. If you're looking for a deeper dive, you can also enjoy the "Live Homebrew Experience," which includes a homebrew essentials kit and a live three-hour instruction and entertainment course that will help you brew 2.5 gallons (a case of beer) to share with friends or keep for yourself!!


Wine.com


How it works: Every week, there's a different tasting option — "The Pioneers of California Wine" or "Grenache from Around the Globe," for example. Each one is run by a group of wine experts and vineyard representatives who will talk you through each bottle. There's a button to click to order the wines to taste along, and they'll be shipped to you. Prices vary and you are under no obligation to buy anything. Just make sure you order early enough that they arrive on time. Each session starts at 7 p.m. ET and lasts about an hour.


Passalacqua Winery


Located in Dry Creek Valley in Sonoma, California, the Passalacqua Winery is owned by fourth-generation winemaker Jason Passalacqua. We love that they offer a "Sample Sips" package with three 2-ounce pours of their new releases. Click to schedule your tasting, and they'll email you a list of questions so they can best tailor it to you.


Seneca Lake Wine Trail


Check this site regularly because they offer some pretty cool virtual options, including a wine and cheese tasting where they'll mail you the selections. Rather than one vineyard, the page represents several vineyards along the Seneca Lake Trail in New York. Look for listings of virtual tastings in the events section.


Matthiasson Winery


If you purchase their Tasting Pack (six bottles), they'll ship it for free and schedule a complimentary private virtual tasting to share the stories behind the wines and answer your questions. The Napa Valley winery offers known varieties "like Chardonnay and Cabernet Sauvignon and some rare like Ribolla Gialla and Refosco.