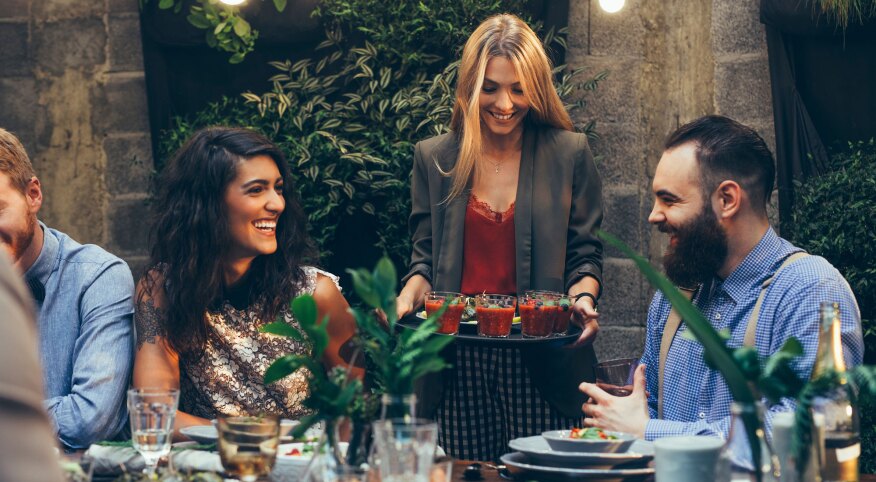 Some of my favorite childhood memories were of my parents' dinner parties. Our home was brimming with family, friends, onion dip, my mother's famous prime rib, and Herb Alpert & The Tijuana Brass on the turntable. My parents enjoyed entertaining. But hours before the first guest arrived, my mom would be completely freaking out in the kitchen. I have since learned that entertaining doesn't have to be stressful to be successful. Whether you're hosting your first dinner party or feeling a little rusty and want to improve your hostess prowess, these tips will make you look like a seasoned pro.

Plan in advance

Prep as much as you can days ahead: Set the table, choose the dishes, platters, bowls and serving utensils you'll be using, shop for groceries, stock the bar, chill the wine (vodka and tequila too), make flower arrangements (change the water daily to keep them fresh), assemble cheese boards and crudité platters, bake dessert. The most seasoned hosts know to balance preassembled dishes and dishes that need to be cooked, otherwise you'll be in the kitchen the entire evening. Before planning your menu be sure to inquire if any quests have any dietary issues (vegan, dairy-free, gluten-free?). And don't forget music. A great playlist can create the perfect party mood.

Make guests feel welcome

Offer a drink when they arrive, and be sure to provide nonalcoholic options as well. For an instant "wow" factor, create a special cocktail to match the theme of the occasion: cranberry mimosas, pumpkin spice martinis or mistletoe mules. To free up your time so you can tend to the kitchen or mingle with friends, set up a beverage station with ice, glasses and bar essentials so friends can help themselves. Also, set up snacks ahead of time: nuts and fruit crudité, so they have something to nibble on while you're in the kitchen or answering the door.

Keep it easy on yourself

Accept help if someone offers and say "yes" if they ask to bring something. And don't be shy about being specific. If you spent all night making dessert, ask for a cheese board, side dish, dessert or wine. Stick with your tried-and-true recipes — this isn't the time to try something new. If you're like me and still developing your culinary skills, consider using a reputable caterer or have food delivered from your favorite restaurant that you can easily reheat. Be sure to order more food than you need. Better to send a guest home with leftovers than an empty stomach.

Allow yourself more time than you think you need

When in doubt, add an hour to your start time. This allows you to deal with any last-minute issues, squeeze in extra primping time or be ready just in case a guest shows up early. A stressed host makes uncomfortable guests. It is inevitable that something may go wrong, but don't let that spoil the fun. Don't be so fixated on everything being perfect that you forget to enjoy yourself or your loved ones.

Remember what's most important

At the end of the evening, guests won't care how flawless your soufflé was, how fancy your dishes are or how clean your baseboards were. They will remember if you made them feel comfortable and welcome in your home.

In addition to the above, a 2019 survey uncovered 30 other factors that make an amazing host. They include:

— Not making a fuss if something gets spilled or broken

— Having a well-stocked drinks trolley

— Using special serving platters for the occasion

— Ensuring all guests have a comfortable place to sit

— Sitting the right people next to each other to create a good conversation

Cheers!

Have any other tips on how to be a fabulous hostess? Let us know in the comments below.