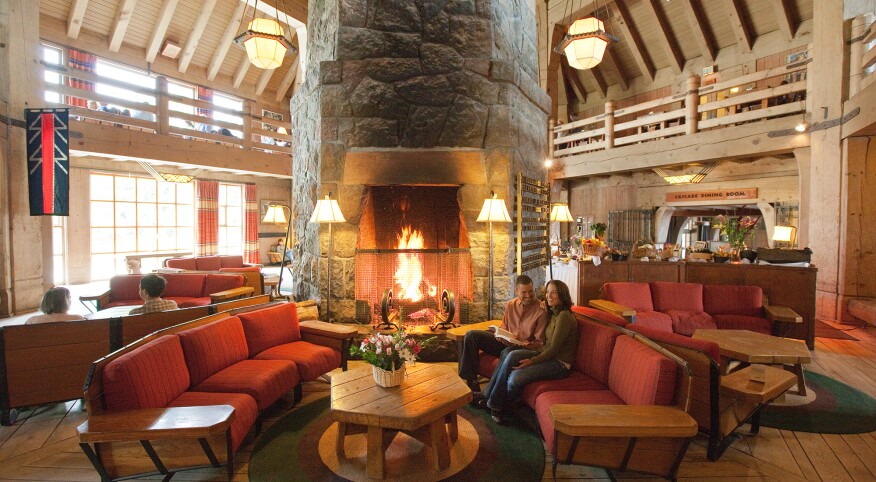 Roaring, wood-burning fires have long held a seductive power, drawing us in close to congregate around them. After all, who can resist the flickering soft light and the staccato popping, hissing and crackling? And don't forget the aroma, which can bring back a flood of memories of camp bonfires from long ago. Fireplaces also soften the atmosphere, helping us emotionally relax and unwind, lowering blood pressure and stoking romance. We feel safe and are willing to share — am I wrong? You won't be surprised that hotels are well aware of the power a good fireplace exerts over guests, offering a cozy atmosphere like nothing else to quash chills, elevate calm and boost good feelings. Here are a handful of our favorites that offer glorious roaring fireplaces. Cue up the hygge vibes, come in from the cold and join us around the fire at these fabulous hotels!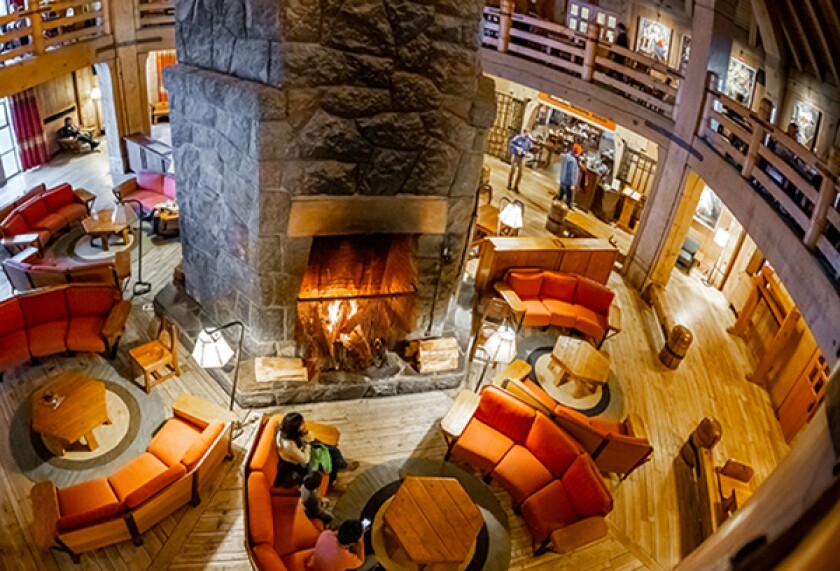 Timberline Lodge, Mt. Hood, Oregon

Since 1937, Timberline Lodge, perched at 6,000 feet on Mt. Hood, has been an inviting stop for skiers and snowboarders as well as a destination for those pining for a relaxing wintry getaway or a fairy-tale wedding venue. The National Historic Landmark property boasts a stunning three-story-high stone chimney and six blazing fireplaces — three in the lower lobby and three in the upper Main Lobby Headhouse. Creating a formidable presentation, the fireplaces are embellished with andirons made from twisted rails in a ram's horn pattern. In the hexagonal Main Headhouse, with its spectacular 55-foot ceiling, you'll find guests gathered around the fireplaces, reading books borrowed from the hotel library, playing games or sipping the lodge's signature "Snowcap Dream" hot cocoa. The Main Lobby chimney at this winter wonderland is a whopping 92 feet tall, 14 feet in diameter, and required 400 tons of stones to build, so there's plenty of warmth to go around.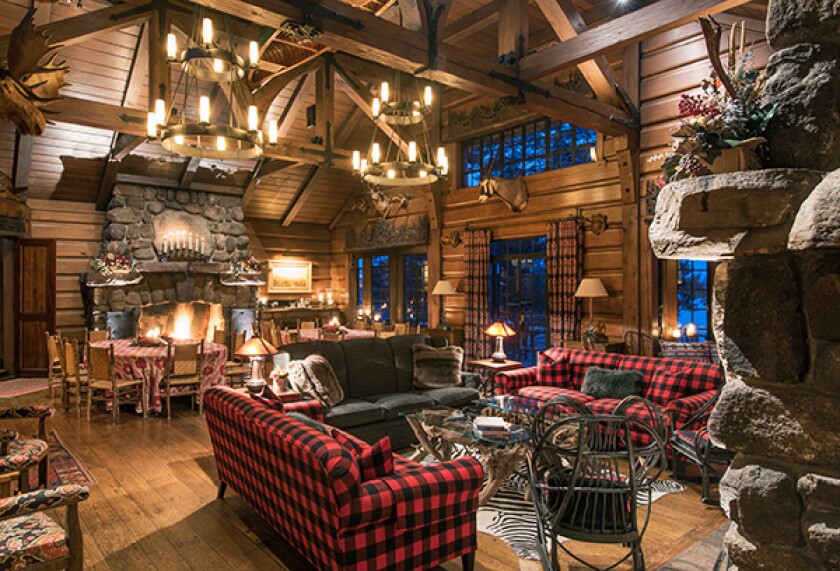 The Point, Saranac Lake, New York

This exquisite inn — the first Relais & Châteaux property in the United States — which sits on Upper Saranac Lake, was built during the height of the Adirondacks' Great Camp era by William Avery Rockefeller II. The 11-room estate evokes the Gilded Age, and its Great Hall is centered around two large fireplaces that burn an average of 25 logs a day — an irresistible setting for reading and snacking on the lodge's signature truffle popcorn. This is the heart and soul of the inn. Twice a week, seven-course communal black-tie dinners are served, harking back to the inn's storied traditions. A nearby bar makes it easy to linger late into the night with after-dinner drinks by the fire. Outside the snow may be swirling, but in the charming Great Hall, guests have even been known to slip into their PJs and play charades, noshing on sumptuous cheese platters.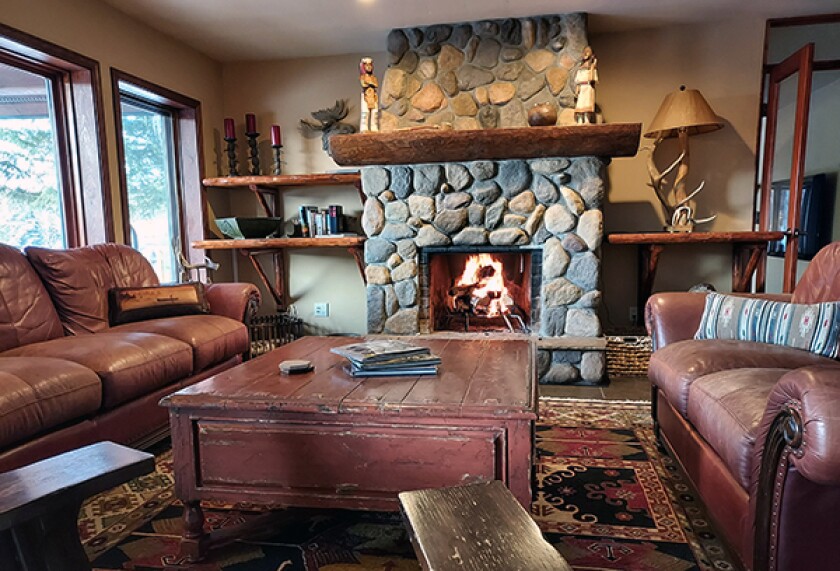 Dog Creek Lodge, Olney Montana

The secluded Dog Creek Lodge keeps the fire going year-round in the main lodge house fireplace, the multiple woodstoves in the dining room and restaurant, and the outdoor firepits peppered about the property. The intent is as much to provide all the good feelings a fire naturally stirs up as it is to keep the guests warm and cozy. The lodge, known as a premier Nordic skiing destination in the state, burns through about eight cords of wood each winter. The main lodge house fireplace is beautifully positioned so you can relax with views over Dog Lake and still feel that connection with nature. Although snowshoeing and other winter activities are available, the property is particularly popular with cross-country skiers, and the lodge's ski shop provides all the necessary gear. With 27 kilometers of groomed Nordic ski trails crisscrossing 80 unspoiled acres of rolling snowy land, it's easy to see why this is a favorite destination for ski enthusiasts. After vigorous exercise in the elements, the lodge's fireplaces beckon. But indoors or out, the dancing flames serve as gathering spots for reading, sipping libations, roasting marshmallows and hot dogs — and, of course, creating lasting memories.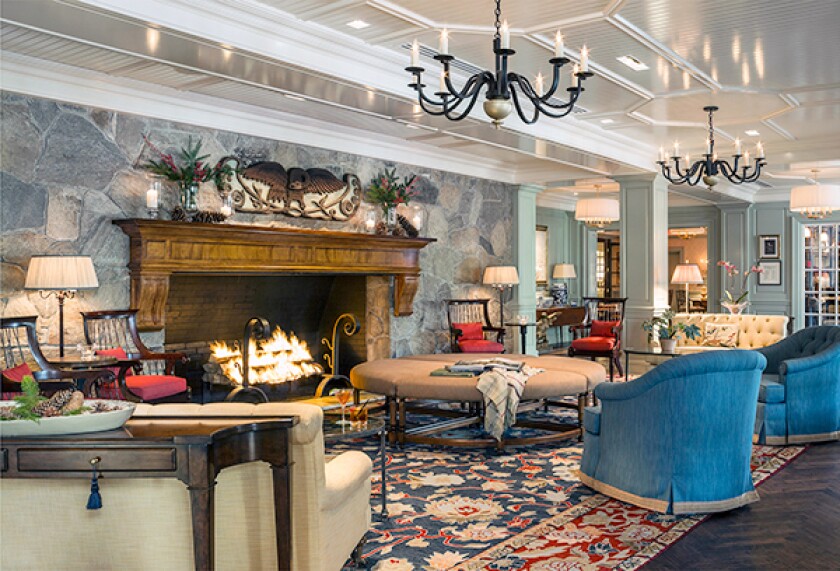 The Woodstock Inn & Resort, Woodstock, Vermont

This historic year-round estate was once home to Laurance and Mary Rockefeller. Today, as the best address in town, it anchors the storied village of Woodstock. Cherished for its historic significance, the inn's New England Federalist-style structure has undergone periodic renovations and today offers 142 guest suites. However, the hotel's gathering point is around the lobby's massive wood-burning fireplace, where guests can tuck into tea, coffee and cookies daily at 4 p.m. After a day spent walking in the snow or engaging in a winter activity, this homey space captivates those looking for some peaceful quiet. For those instead looking for some friendly competition and laughter, there's the Retro Game Room — which also has a large wood-burning fireplace — with pinball, pool and shuffleboard.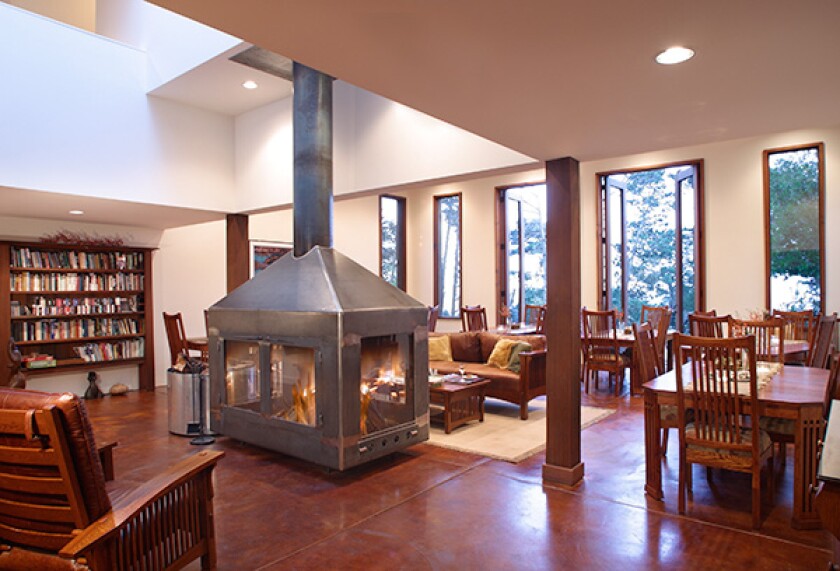 Brewery Gulch Inn, Mendocino, California

Enter the Great Room at the Brewery Gulch Inn in Northern California, and you'll find natural light streaming in from the three-story high skylight and, as the room's centerpiece, a cheery fire crackling in a glass and steel encased fireplace crafted by a local shipbuilder. The overstuffed furniture is Arts & Crafts style, with Shupaca-alpaca blankets draped about for snuggling. Shag rugs warm the space, presenting an alluring retreat. A series of 13-foot redwood-trimmed French doors feature ocean views, an awe-inspiring way to begin and end each day. The inn serves made-to-order breakfasts in the Great Room, and at day's end, wine is offered alongside custom-made bento boxes filled with finely crafted appetizers. Snuggle up with a book from the property's mini-library or get social and pick up a game from the extensive collection, with the soothing wood fire sizzling and popping in the background.

Where's your favorite getaway in winter? Let us know in the comments below.