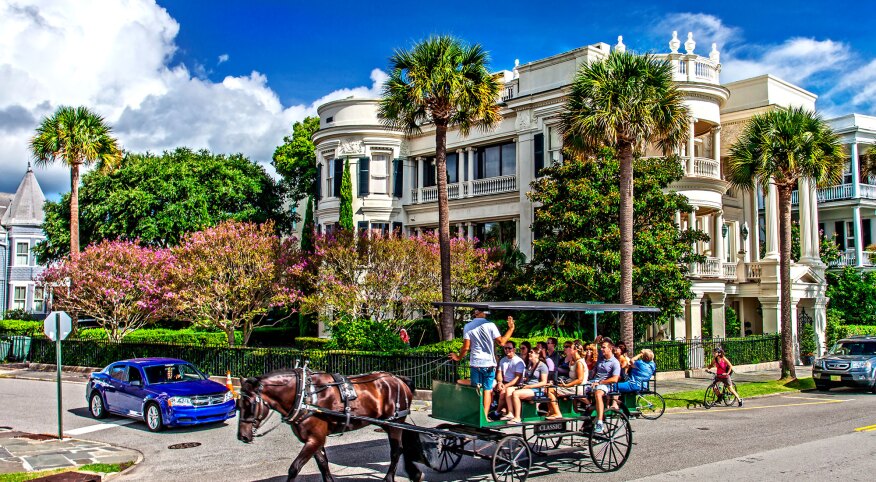 I can't recall another springtime where the desire to simply TRAVEL anywhere and everywhere has been felt so deeply by myself and my girlfriends. To put it simply, after a two-year hiatus from vacationing together, we're all more than ready to get away from it all. And there is perhaps no better time of the year to grab your besties, a stack of sexy beach reads and your bikini — yes, you can still wear a bikini at your age — and jet off for a good old-fashioned spring break.

But at middle age, the desire to be among the craziness of traditional spring vacay destinations like Cancun or Clearwater Beach is likely not very appealing to the pinot grigio crowd. And that's just fine by us, because there are more than enough hidden-gem hot spots that are perfect for a grownup break. No tequila required.

Palm Beach, Florida

Yes, that Palm Beach — and no, it's nowhere near and nothing like the insanity and crowds of Fort Lauderdale. Only about an hour drive north of the Fort Lauderdale airport, the Palm Beach area boasts unparalleled shopping, dining, spas and more subdued beach environments, as well as several luxurious hotel options. This is far from bunking in a motel with 10 of your sorority sisters, and more like splitting a swanky suite at The Breakers Palm Beach or The Ritz-Carlton, both of which would make this destination very much a posh and self-care/high-end pampering type of stay. You may not even feel the need to leave the beachfront hotel, and as long as they keep bringing you chilled towels and pina coladas poolside, why would you?

Where to stay: For less pricey options than The Breakers or The Ritz-Carlton, but still upscale, check out The Chesterfield (chesterfieldpb.com). This historic boutique hotel option is just five minutes from Worth Avenue's chic shopping center, and you'll be treated like royalty at this small yet elegant hidden gem. Wanting a feather bed and a spa bath inside your room? You can find both at AAA Five Diamond Award-winning Eau Palm Beach Resort and Spa (eaupalmbeach.com).

Charleston, South Carolina

The past decade has seen Charleston go from an off-the-beaten-path, Lowcountry vacation spot to one that now boasts exquisite restaurants, a sophisticated cultural arts scene and tony, boutique-style hotels, all while still maintaining that sweet level of Southern charm and hospitality. Visiting this antebellum town means you're likely not to stay idle. Rather, there are so many enjoyably walkable routes and secret gardens to discover, historical monuments to learn about and waterfront parks to enjoy that you'll hit 10,000 steps before lunch. When your legs give out, hop into a horse-drawn carriage — and don't miss the shopping on Broad Street, known for its trendy boutiques and picturesque storefronts. Temps in April and May hover in the 70s, so don't fret, bikinis are still an option.

Where to stay: Nobody does boutique hotels quite like Charleston, so indulge if you can afford it. Bunk up in the refined Market Pavilion Hotel (marketpavilion.com) and enjoy the rooftop pool and its close proximity to downtown. Need more glamour and luxury? Split a suite with your BFFs at the elegant Hotel Bennett (hotelbennett.com), which was named the No. 1 luxury hotel by USA Today.

Santa Barbara, California

Sandwiched between the San Ynez Mountains and the Pacific Ocean, Santa Barbara has long been referred to as the "American Riviera," and for good reason. This spectacularly gorgeous coastal town is one of California's most popular weekend getaway spots, and an easy hour or so drive from Los Angeles International Airport. With the same access to fine wines as Napa but without long bus tours, Santa Barbara also has plenty of hiking and biking trails, sun-dappled beaches, absolutely perfect daily temperatures, bougie-shopping options, and that recognizable Spanish/Moorish architecture that just makes you want to stop and stare. As far as where to stay … well, if you've never done an Airbnb, this may be when you want to start, because the housing options are endlessly amazing. They run from chic, hippie abodes to stunning oceanfront homes. And, please, say hi to Oprah for me.

Where to stay: For Pacific Ocean views from the hills and gorgeous Spanish architecture, check into El Encanto (belmond.com/hotels/north-america/usa/ca/santa-barbara/belmond-el-encanto) which is also proud to be Santa Barbara's oldest hotel. Want to be beachfront? Look no further than Hotel Milo (hotelmilosantabarbara.com), which offers all the amenities a quintessential California beach vacay should — beach-cruising bikes included.

New Orleans

Just hear me out on this one, because I promise there won't be any lifting of shirts for beads involved. The weeks following Mardi Gras just happen to be the perfect time to visit the Crescent City, and this is one trip that can scream both, "Why yes, I do want that 40-ounce pink drink," and also, "What time does the lecture on 20th century literature start?" NOLA offers just about every kind of girlfriend vacay experience you'd want to have, and most of them are all within walking or trolley distance of the French Quarter. The spring festival calendar includes the historic Jazz Fest and French Quarter Fest, and for lit lovers, the acclaimed Tennessee Williams Literary Festival. And if it's superb culinary options you want, well, nobody can compete with NOLA's many eclectic and Michelin Star offerings. This vacation getaway can certainly be low-key but also high-energy — and totally both. The French Quarter seems to do that to people.

Where to stay: Located in the lower garden district and away from the partygoers in the French Quarter, the historic Pontchartrain Hotel (thepontchartrainhotel.com) is just glamorous enough to make you feel pampered, but with a rooftop bar so you can still embrace your inner 20-something. If you dare want to stay deep in French Quarter's party central, try the Prince Conti (princecontihotel.com). It's just steps from Bourbon Street but still classy and quiet enough for a relaxing stay.

Guanacaste, Costa Rica

If you're ready to finally bust out your passport again but want a tropical beach feeling without the 20-year-old partygoers, try Costa Rica. Although it does get its share of the college crowd, it has world-class resort options that cater to the needs and wants of grownups, not beer-guzzling coeds. Guanacaste is known for ecotourism, meaning you'll have access to an abundance of natural waterfalls, estuaries, pristine beaches, volcanoes and, of course, rainforests. And after a day of trekking on a peaceful, guided nature tour, sliding into a plush bathrobe at the hotel's spa will be just what you and your BFFs will be craving. A Costa Rican getaway is part adventure, part indulgence and part beachfront lounging, with a side of international flair we've all missed these last two years. Siestas included!

Where to stay: It's beachfront. It has air-conditioning. It's adults only. It's the Sueño del Mar (sueno-del-mar.com), and if you don't require high-end luxury it's just the right place. On the other hand, if you want a spa, concierge services, swanky dining and other upscale amenities, try the Hyatt-owned Andaz Costa Rica Resort at Peninsula Papagayo (hyatt.com).