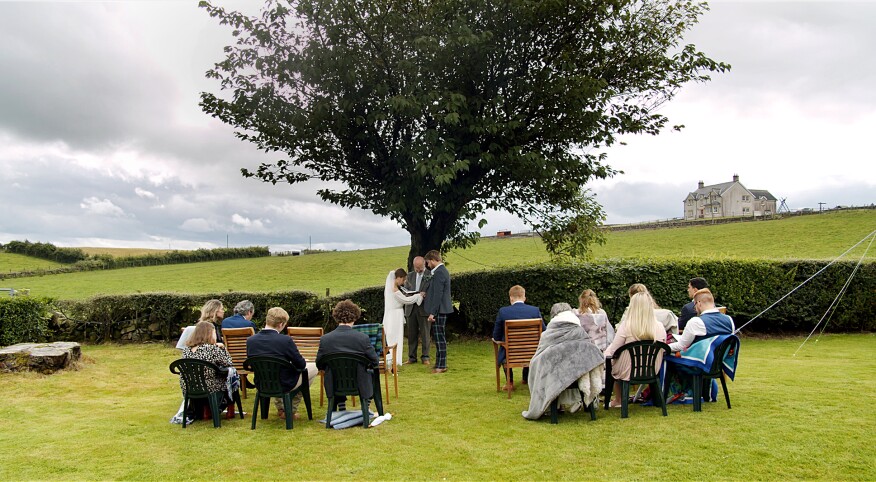 If you'd have told me cows would be a significant theme at our daughter's wedding and that I'd be shoveling manure the week of the wedding to clear a barn for revelries, I'd have called it "crazy talk!" Two bulls skirmishing the morning of the wedding near the chosen site of the outdoor ceremony, causing the farmer to worry? Nah, as mother-of-the bride I'd have day-of concerns (my hair! my makeup! my dress!), but frisky bulls wouldn't have come to mind, I promise.

But at my daughter's summer pandemic-era wedding in Scotland, all of the above happened. There were far more cows than guests present. Do I have your attention now?

At the close of a year when we've faced a drumbeat of bad news, when good things have happened, I've found they gleam all the brighter. Like you, I cling to the few sweet spots of 2020 that remind me to be grateful, savoring them like a cozy blanket to stay warm until things improve. I've returned to photos and the wedding video a million times and remember the bursting joy, sacrifice, love, and yes, the cows.

We never doubted our daughter's wedding would be in Scotland, a country she'd fallen in love with after four years of university and importantly, the beloved homeland of her fiancé, her college sweetheart. But the summer wedding everyone had imagined included kilts, bagpipes and a ceilidh (traditional Scottish dancing), a grand celebration with our American family and friends meeting the groom's Scottish family and friends.

Yet when the pandemic took hold around the globe, my daughter and her Scottish fiancé watched their wedding plans go poof, right out the window, buh-bye, a story shared by countless others. To meet health guidelines, their wedding would certainly be small, but every other detail was in flux, utterly unknowable. The couple scrambled, drafting Plans B, C, then D and asked that everyone conduct a strict two-week quarantine prior to the event. Together with those of us traveling from the U.S. who were already under the U.K. quarantine mandate, everyone hoped to mingle safely and be at ease with one another. The couple wanted hugging to be safe.

They also wanted standing shoulder-to-shoulder shoveling cow manure to be safe, because the winning wedding plan found us on a hilltop farmstead outside of Glasgow, generously offered by family friends. The cow barn had never been used for a wedding before but it had the bones of a full-throated rustic country wedding reception venue that are all the rage right now. This one was so authentic, in fact, it was full of cows upon arrival.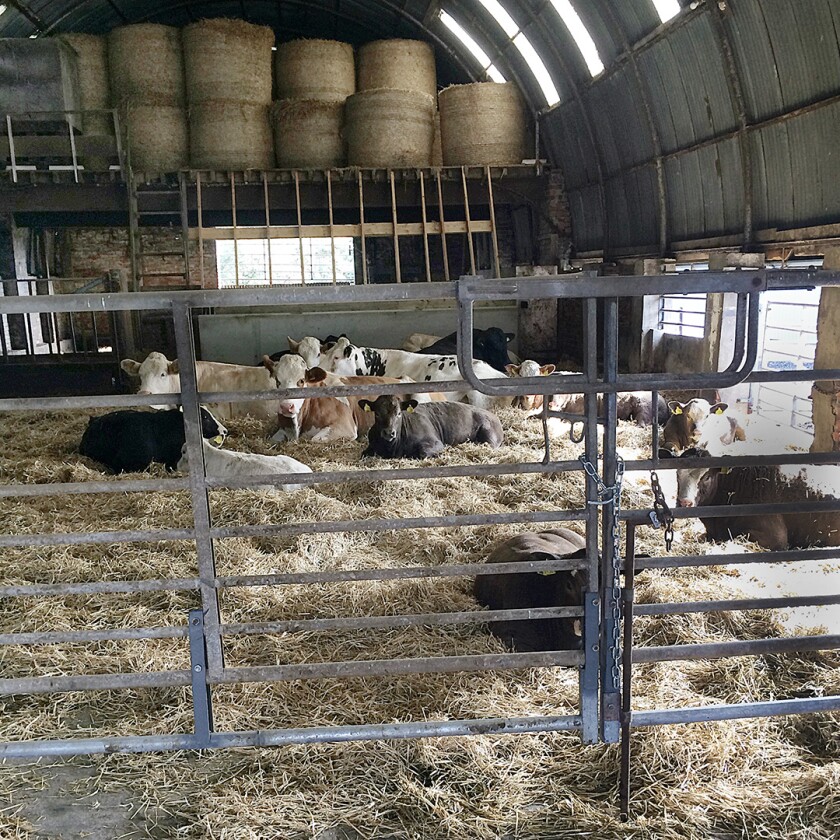 The cows were released to pasture and Farmer William moved hay bales to help insulate the barn, while the small group of us shoveled manure away before power-washing the barn floor, hanging fairy lights, artistically positioning dozens of potted flowers dropped off by empathetic neighbors, building a wooden bar for the cache of some of Scotland's finest whisky, setting up a grilling area for food (steak, sausage, salmon, anyone?) and in a prominent place, displaying the American and Scottish flags side-by-side. The groom's talented mum created the bridal bouquet and boutonnieres for the guys, his sister gave manicures the morning of the event as we sipped mimosas, a lifelong friend baked the multi-tiered cake, and a trusted university roommate with a degree in film was tasked with capturing every moment. It was a small village, but it took a village, as the saying goes. Everyone played a part.

The weather forecast was concerning. In western Scotland, blustery rainy weather is always part of a normal summer day and my daughter had her heart set on exchanging vows beneath a sweet unassuming tree under the open sky. One of the advantages of a small family wedding with no outside help is that we could adjust the schedule per the weather — no one cared if we started a bit early or late. We stood by and magically, the rain stopped for a brief spell and everyone was ready to proceed.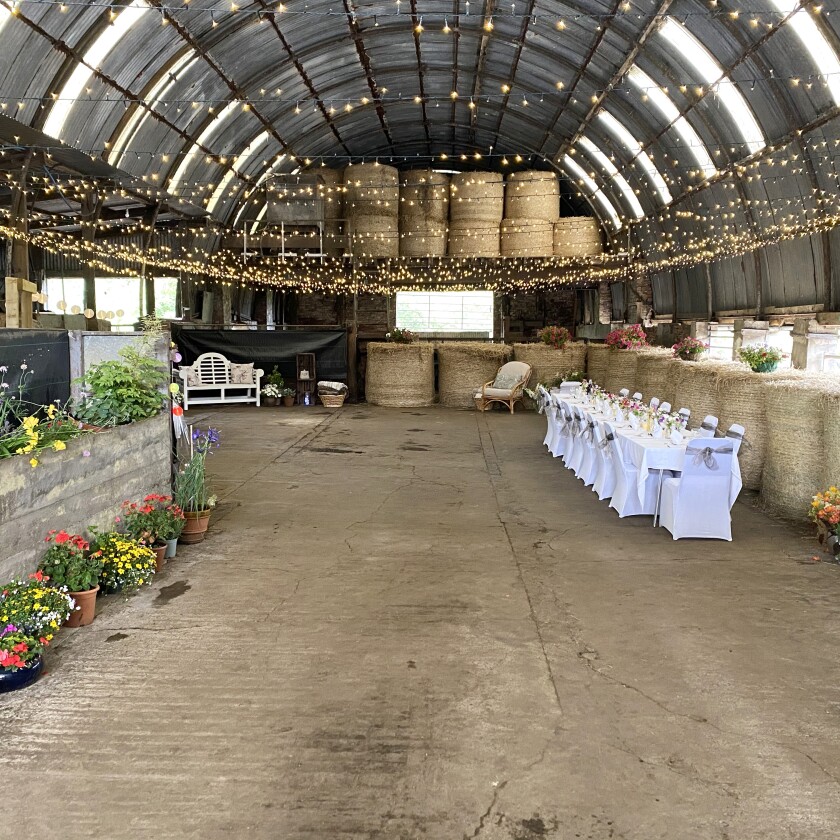 Tears and applause erupted when the bride — in an inexpensive white long-sleeve Bardot maxi dress she found online — walked through the grass toward her tartan-clad groom with cows mooing in the distance.

With breezy 50-something temperatures, we made use of the blankets that were placed on each folding chair and through tears, reveled as witnesses of this small miracle happening before our eyes. The groom's father, a minister in the Church of Scotland, led the service, sacred in its simplicity. We sang "Amazing Grace" together with Glasgow winking in the distance before rain closed in, encouraging our retreat to the cow barn for speeches, feasting and dancing.

The ongoing pandemic has worked to reshape priorities, cutting through the usual array of wedding trappings. Once cherished expectations for the event had faded in importance against the deep desire to simply be there in person to witness this special event — COVID-shaggy hair and all.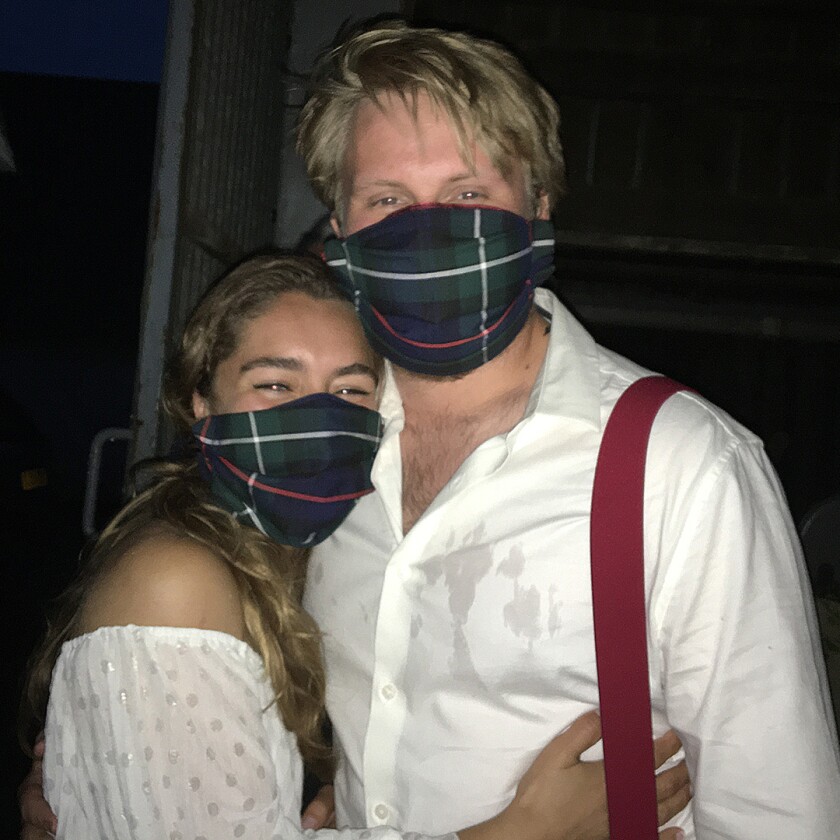 The tremendous relief that we were actually there in spite of the pandemic-produced challenges made the simple, home-spun, joy-filled day all the more tender and enchanting, producing a mashup of emotions difficult to describe.

When the evening drew to a close, wearing their wedding wellies decorated with "bride" and "groom" and matching tartan face masks, the couple vanished in the dense rain with their car's headlights jumping across the muddy farmyard, bathing the field in its path with light and surprising a cluster of cows.