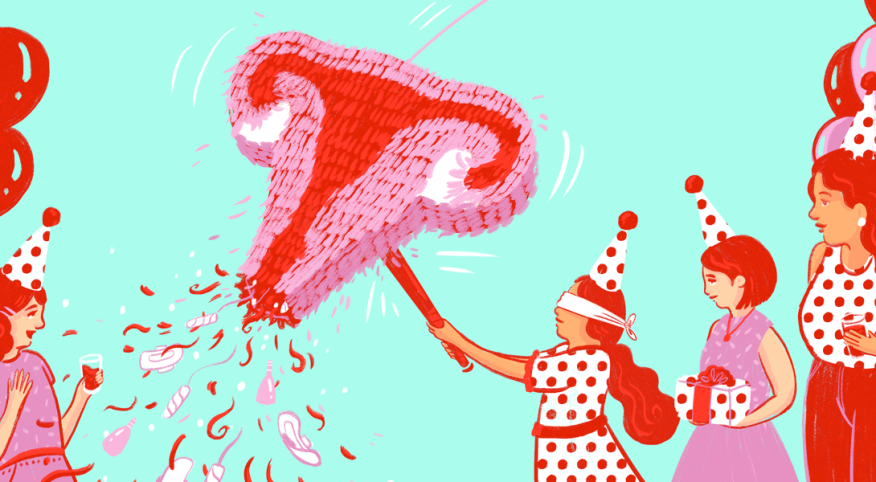 I can distinctly remember the moment I got my first period when I was 13. It was a cold winter day and I was home from school for President's Day. Though my mom had given me "The Talk," I was still surprised to find that faint splotch of red on my underwear. With very little fanfare, I grabbed a maxi pad the size of a small pillow (they only came in one size back then) and tried to be nonchalant as I exited the bathroom.

I can't even remember when or if I told my mom that Aunt Flow had finally visited me. And, except for the fact that maxi pads were in regular stock under my bathroom sink for the duration of my teenage years, my mom and I never discussed my entry into womanhood.

And she certainly didn't throw me a Pinterest-worthy party to celebrate the fact that I'd leak through supersized pads and had cramps once a month.

The first time I heard of a family "celebrating" the onset of menses was back in the '80s. On The Cosby Show, Claire Huxtable, played by Phylicia Rashad, excitedly announced a "Woman's Day" celebration when her youngest daughter Rudy got her period. During the episode, Rudy was allowed to play hooky from school and choose a special New York City destination for her big day. I remember thinking back then that, though it was pretty awesome of Claire to make a big deal of one of life's biggest changes, I was pretty sure I didn't want my entire family to drag me to New York when all I wanted to do was lie on the couch with a heating pad.

Nowadays, "period parties" are a thing, and I admit I was taken aback when I heard the extent to which some moms go to usher in their daughters' onset to puberty.

For those not in the know, "Period parties focus on educating young girls about menstruation and teaching them the lessons they may not receive in sex education classes at school," writes Lucy Devine in the New York Post. Girls gather for a celebration and an opportunity for parents to answer questions and allay fears that the girls might have as they enter this new chapter of puberty. And they eat cakes in the shape of a uterus.

There are invitations with catchy phrases like, "Don't string us along! Join us for Suzie's period party!" A quick search of "period party" on Pinterest shows everything from cakes designed to look like vaginas and white iced cupcakes with strawberry sauce drizzled on top. You can even download printable party games for your guests. Oh, and don't forget to fill a huge hurricane glass with tampons for your guests to take home!

I'm not going to lie, ladies: I've totally dropped the parenting ball on this one.

Because, on the day my daughter got her period, I panicked. I pretty much did everything wrong, and I can assure you I did not present her a "Congrats on your period!" cake.

Rather, on that fateful day, I was rushing around trying to get ready for a Girls' Night Out. As I hurriedly looked for my keys, my daughter came walking into the kitchen and simply said, "Well, it happened. I got my period."

As I stood there, I felt the weight of the moment on my shoulders. I always knew this day would come, that my daughter would go through the same body changes I did when I was 13. And I always secretly hoped I'd handle it like Claire Huxtable: I'd be the cool mom.

Instead, in that moment, for reasons I still can't explain, I high-fived my daughter and said, "Do you think we should hug?" We awkwardly hugged in the kitchen, and I asked her if she wanted me to stay home. She contemplated my question for a moment and said, "Nah. Judging from the look of panic on your face, you look like you could use a drink with your friends."

And that's how our period party played out.

Ladies, when it comes to celebrating your daughter and the changes her body is going through, by all means, you do you when it comes to your ovulation celebration. And if I receive an invite that says, "Don't cramp our style, join us for Jenny's period party!" by all means, I'll show up and support your daughter. I'll even be a good sport and bake red velvet cupcakes.

But, being a mother means knowing what your kid needs in those big life moments. And, though my daughter probably deserved more than my deer-in-the-headlights look and a high five, she and I celebrate her womanhood daily on a simpler level. We talk, I answer questions, and she knows she can come to me in those messy moments when her bedsheets are stained.

And on those nights when we are snuggling with our heating pads watching tearjerkers and binging on my secret stash of chocolate, I smile because I know that's the kind of period party she doesn't mind attending.