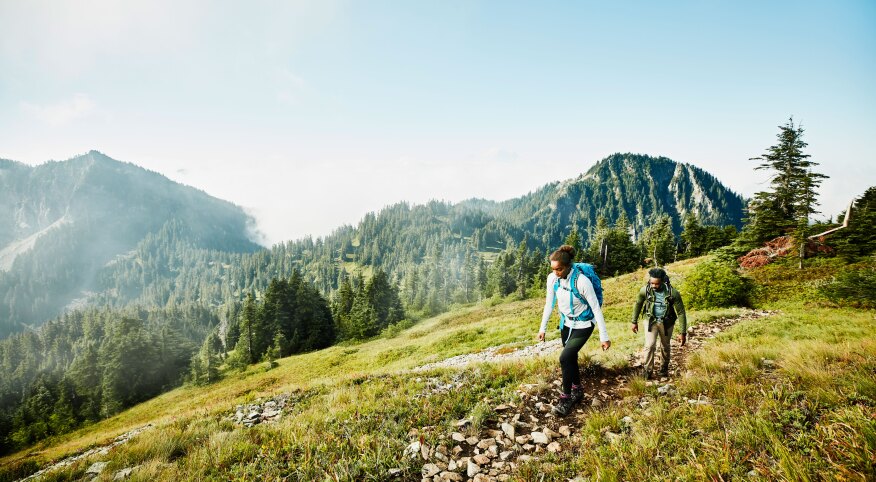 "Look, mom! I made you some soup!" my 8-year-old daughter yells from across the backyard, running over to share it with me. For the past half hour, I've watched her stir and smash leaves, dirt, berries, grass and rocks in a bucket filled with water from the hose. She's doing what comes naturally to children when they're left to entertain themselves — flexing her imagination muscle.

This outside time is something I've consciously made a priority for my kids after noticing that even on days when the weather was fine to be out in, we were spending most of our time inside.

And what were we doing inside? Let's be real — we weren't doing all of the things I imagined doing with my kids in my preparental Pollyanna daydreams, like baking, board games and crafts. More often than I'd like to admit, the TV was on in the background and at least one of my kids was glued to the screen (TV, smartphone or video games).

Growing up in the 1980s with two parents who worked outside the home, I had a lot more freedom than most kids have today. I rode my bike around the neighborhood; walked to and from friends' houses and to school; and spent a lot of time having unstructured, imaginative play or reading a book in the space I cleared out for myself under some low-hanging tree branches. We lived in Montana, and my parents were both athletic and outdoor enthusiasts. Weekends were spent camping, hiking, fishing, canoeing or cross-country skiing, and those adventures are some of my very best memories.

My kids, on the other hand, are dropped off in the carpool lane at school. They're in organized sports and clubs. They take standardized tests and work on Chromebooks instead of books and notebooks. They don't bike around the neighborhood solo, and their friends aren't a few blocks away but in other parts of town. My now 12-year-old son was diagnosed with ADHD and learning disabilities in first grade, and we have been struggling for years with managing his symptoms.

We're hearing a lot about the negative effects so much screen time is having on our kids' development: ADHD, depression, anxiety and even obesity as the screen has replaced physical activity — and there are studies to prove it. As we're replacing a life out and about with screens, our kids are losing important survival skills — not just the physical kind, but significant spiritual, mental and emotional ones, too. In his book Last Child in the Woods, child advocacy expert Richard Louv links these issues directly to the lack of nature in today's wired generations, coining the term "nature deficit disorder."

At the same time, nature therapy, ecotherapy and forest bathing are all wellness buzzwords.

People are tuning in to the positive restorative effects that spending time in nature can have for our physical and mental health.

Many studies show the positive impacts of nature in children's social, psychological, academic and physical health. The more I reflected on these ideas, the more I recalled some of the positive effects that my time outside growing up had afforded me. It made me self-confident not only because I was unafraid of nature, but also because I knew how to pitch a tent, row a canoe, stay safe on a hike. I learned where food came from and about our food systems by helping my mom in our garden. I learned about the wildlife in our ecosystem and how each has a key role. Chiefly, I learned the importance of being a conservationist and taking care of our planet so future generations would be able to live. And I had fun, too.

Back in my own living room, even though I was aware of how we were spending our time, I also somehow felt powerless to change it. I didn't want to deal with the inevitable backlash I'd get from taking away my kids' beloved screen time. But watching them waste their childhood in front of a screen was even more disheartening.

A perpetual list maker, I sat down with a piece of paper and wrote down all the great memories I had as a kid spending time outdoors. I included places I went and what we did. Memories like the time my dad tried to use Velveeta as bait on his fishing line and it was stolen by crafty chipmunks. Lessons I learned from the things we did (like why it's really important to have a life jacket when boating and it's cold out). Then I made a list of the lessons I wanted my children to have. I wanted them to be in tune with the natural world's rhythms, cycles and processes. I wanted them to know about the phases of the moon and see a night sky full of stars. I wanted them to experience beauty in a field of wildflowers and have a rush of accomplishment when they hiked to the top of a mountain to take in the view.

We started small. We went to a nearby bike path and took a short walk to a river, where we found crawdads and threw rocks in the water. Then we progressed to a longer hike, where you'd think my kids were taking a forced march they complained so much. (M&Ms helped.) On another hike, my daughter went running into a lake when I told her not to — and then scurried right back out with her legs covered in leeches (yeah, they remind me of that one a lot). We've been caught on a trail three miles out in a surprise thunderstorm that soaked us to the bone. We've learned a lot of lessons and made great memories horseback riding, practicing archery, learning to fish, canoeing and kayaking. In time, my kids started to say things like, "I want to learn to do stand-up paddle boarding next!" and "That was really fun, can we do it again sometime?" They've even invited friends along, and have asked if we can invest in a conversion van for camping. And they can hang in the backyard — helping with the garden, making soup or chilling under a tree with a snack and a book. When we do watch a movie on TV, it feels like real quality time together instead of a 24-hour feed of garbage. We're still growing, learning and planning the activities we want to do next.

I feel that I'm giving my children a huge gift. As an adult I'm able to appreciate the lessons I learned and who I became, and draw from the sense of peace nature gives me. It's essential that we allow our kids unsupervised time outdoors, where they'll take risks, learn problem-solving and a love of nature, and become conservationists — in fact, our future depends on it. Besides, it's one hell of an adventure.