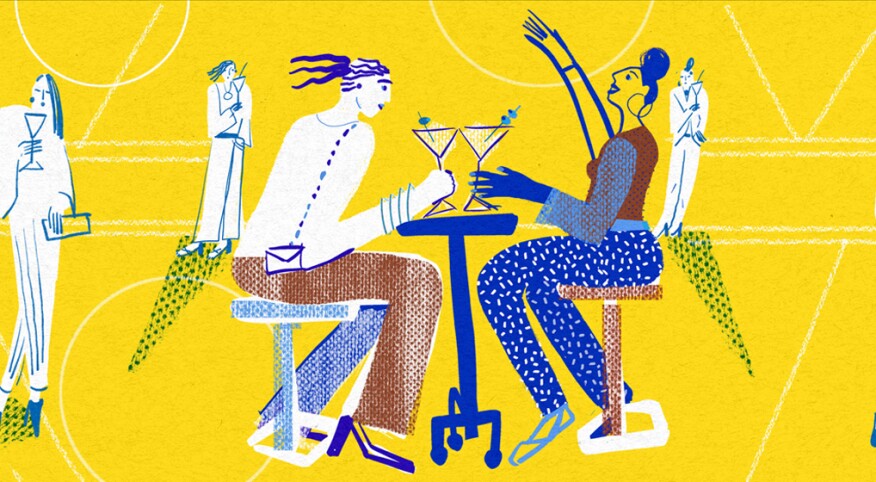 "Make new friends, but keep the old. One is silver and the other's gold."

We all probably have heard that song before, but the reality is some of us may not have been able to "keep the old." As we get older friendships can fade, friends can pass, and physical distance can be a factor — to name just a few reasons why we will lose old friends over the course of time. While there's nothing like a friend that knows all about you and finishes your sentences, sometimes it's necessary to venture out and make new ones. Here are some great ideas on how to do just that.

There's an app for that! If you're technologically inclined, join a friendship app (no romance included) such as Bumble BFF or Friender. There are at least a dozen or so out there, and some are especially suited to certain interests. Another app is Peanut, which allows you to meet, chat with, and learn from like-minded women.

Ask around! Call on your friends to be included when they're out with their other friends. After all, isn't that the best reference you could find? Then, of course, you might have the opportunity to meet their friends, thereby broadening your friendship circle and increasing your chances of meeting a lifelong friend.

Join! Check out a craft circle, a book club, a class at a community college — the list is virtually endless. Make a friend while at the same time pursuing something you've always wanted to try or try again. Find out what's happening in Make New Friends Meetup groups. These groups are in all parts of the United States. Join one that shares your interests.

Volunteer! Be part of a church group, a local political organization, an elderly residence — this list is also virtually endless. Make a friend while making the world a better place.

Get healthy! Make a new friend at a yoga class, the gym, cooking classes, a walking club. Not only might you make a new friend, you'll be fitter and happier with your new activities.

No one is saying it's easy to make new friends, especially as we age, and certainly do continue to value your old friends. In fact, consider reaching out and rekindling a relationship with a long-lost friend. Turn that virtual reconnection on Facebook into real companionship.

Sometimes we get lucky and hit the friendship jackpot when we meet someone who right from the start feels like an old, dear friend. As it says in "You Can't Make Old Friends," the Dolly Parton/Kenny Rogers duet: "When somebody knocks at the door/Someone new walks in/I will smile and shake their hands/But you can't make old friends."

Remember, all old friends were at one time new friends. You can't have an old friend until you've first welcomed them as a new one and nurtured that friendship.

And after all, don't forget that study after study suggests a multitude of reasons why friendships are particularly important for us as we age. Among them, they increase our chances of living longer and happier, boost self-esteem, reduce stress, augment our health and memory, bring purpose to life and provide emotional and physical support. Cheers to making new friends!