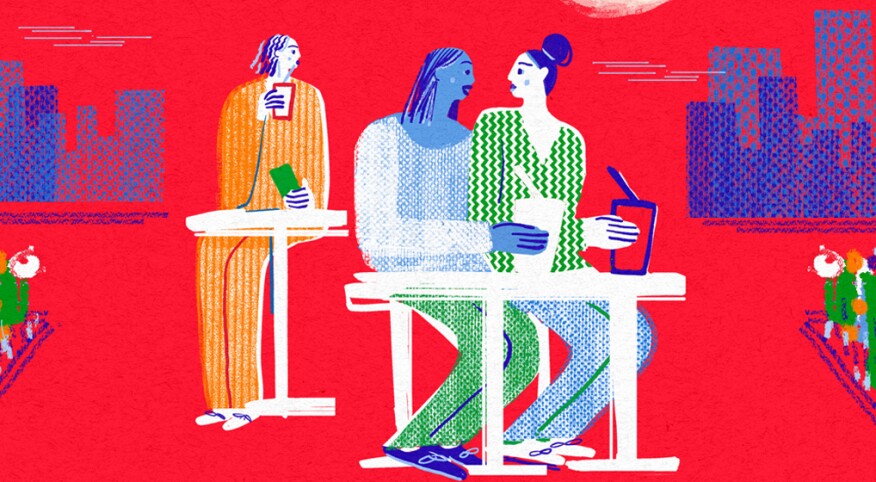 Several years ago, I found myself isolated. I had lost contact with friends from college, worked long hours but didn't socialize with my coworkers, and then got a divorce. The divorce pulled the rug out from under me and made me realize just how solitary I had become. I started going to therapy, and there, I had one person with whom I could talk. She gave me some tips about reconnecting with people, which helped me build a new network of friends. There is no easy fix; building a network of friends takes time, but the rewards are worth it. Girlfriends — as we all know — will get us through thick and thin.

If anything, a year and a half of quarantine has reinforced the difficulty of meeting new people, especially for those of us who are more introverted. Here are a few tips to ease back into social life and make some new friends along the way!

Open up

When I was going through my divorce, I realized that I had many acquaintances, but I didn't have a go-to person to confide in. I kept my troubles to myself until they became so overwhelming that I just broke down. My therapist helped me to realize that I was not as alone as I had imagined. Those acquaintances have lives, too, and some of them have been through divorce as well. Opening up about my situation and learning from their experiences turned out to be extremely helpful. Be open and willing to share how you are feeling with others. It may be uncomfortable at first, especially for introverts, but you will find you are not alone. You might be surprised how easy it is to tip the balance from acquaintance to trusted friend once you open up.

Your regularly scheduled program

It takes time and patience to build trust, so I have found that setting up regular times for walks or coffee is a great way to connect. It's easy to get together once in a while, but you need consistency to build a meaningful relationship. I have one friend with whom I walk every Thursday at noon. We have built this time into our calendar and schedule around it as much as possible. Building friendships when we are not in crisis will make it easier to have someone to lean on when things get crazy.

Just say 'yes'!

Another piece of advice I received from my therapist was to say "yes" to invitations. We have all had a great excuse to say "no" for the last year, and we may need to give ourselves a little nudge to start accepting. If, during one of your scheduled walks, your friend mentions that she wants to give rock climbing a try and asks if you want to join, say yes! Shonda Rhimes' book Year of Yes drove this point home for me. We hold ourselves back with that voice in our head — it has an excuse for everything. Push it aside and just say yes. I have enjoyed some of the most incredible experiences, from wall yoga to hiking Mount Whitney, because I said yes when I wanted to say no. These experiences helped me build stronger relationships and shared memories with some special friends.

Building a social network will take some time, but we all can learn how to come together again. Connect more deeply with people you see frequently — including neighbors, classmates or coworkers — by opening up to them. Build a consistent routine. If you don't hear from someone in a while, check in or follow up if you know they just had a vacation or family emergency. Say yes to opportunities, and before you know it you will make new memories with your myriad of new girlfriends!