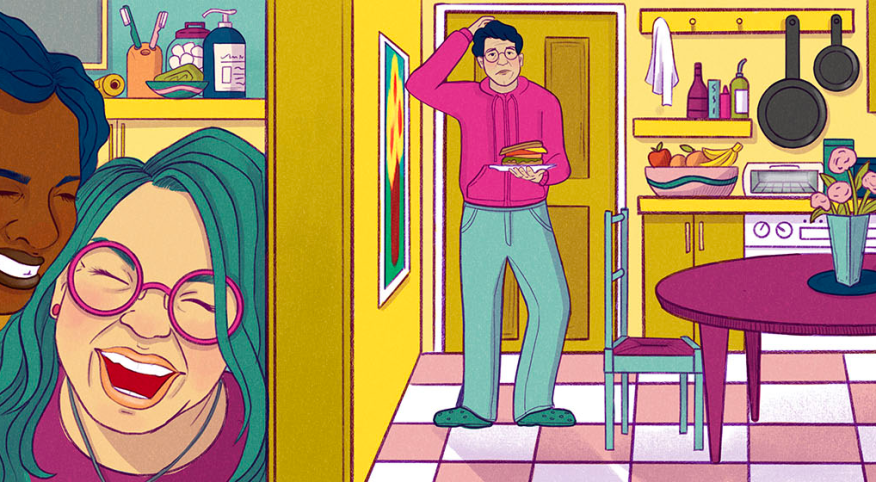 The other night, I was at my best friend's house visiting in the kitchen when her husband came in to make a sandwich and join the conversation. When I got up to leave, I pulled her into the tiny powder room to talk about a private issue so he couldn't hear. As I did this, we started giggling like two sly schoolgirls while her husband yelled, "Are you two seriously in the bathroom together? Wait, is someone actually peeing?"

My bestie had to go … so she went while I was talking. Her husband didn't understand why two grown women would do such a thing.

I explained that over 20 years ago — before he was around — his lovely wife stood outside my bathroom door and offered to come in and stick a suppository up my rear end. I was drugged up and constipated while recovering from surgery, and although I declined her brave offer, I absolutely KNEW she would do it. I don't think there is anything more personal than that.

Her husband agreed. I also recalled how I helped her shower after she shattered her elbow in a biking accident and said that through all these years, we've cared for one another through multiple surgeries and serious sicknesses, so peeing in a powder room together is nothing to us.

We met 25 years ago, side by side on a stair stepper at the gym, where we naturally became fast friends. She was married and raising her three kids, and I was single having just moved into town. When I got sick and didn't show up for our daily workouts, she worried. A few days later, she actually arrived at my door with homemade chicken soup, rolls and peanut butter pie.

She hadn't even known where I lived, as we hadn't stretched our friendship beyond the gym barrier that confined our special bond. There were no cellphones offering limitless virtual information with the touch of your finger, and I wasn't listed in any phonebooks. (Remember those?) She tracked down my sister, who taught at one of the local high schools, and called to ask her where I lived. My sister was a bit leery of giving out my address to this seemingly kind stranger, but eventually she did.

I answered the door, wearing three-day-old pj's, stinking like sickness, embarrassed and utterly surprised to see her standing there with a bag full of food. She told me she assumed I wasn't feeling well — since I hadn't been to the gym — and wanted to bring over some home-cooked nourishment. She knew I lived alone, and she also knew I rarely cooked. I'd been living on canned soup and crackers, cereal and frozen food. I thanked her for being so thoughtful, so generous, so kind. And when I closed the door and staggered into the kitchen to open the bag, I began to cry, realizing how grateful I was to find such a friend. I just couldn't believe she did all that for me.

From that day on, we started spending time outside the gym more and more, taking a deep and lasting dive into doing life together. Through all these years, we've journeyed side by side through life-changing turns and all the various roads we've traveled in between. From my own wedding and the births of my kids to her kids' weddings and the grandbabies that followed, we know pretty much everything about one another. She gets me. I get her. We know what brings our greatest joys and we know what hurts our hearts the most. We have an arsenal of inside jokes and can laugh hysterically at our embarrassing mishaps and quirky ways that only we know. And more times than not, we will often say, "Oh my gosh, me too."

We've held each other with heaving sobs when facing the unbearable unknown, during agonizing loss and heartbreaking divorce, through debilitating diseases and terrifying diagnoses. We've comforted each other through wrecked relationships and fragmented friendships, difficult decisions, and chronically ill kids. We've carried each other to the other side of all those dark days when we didn't have the strength to make it on our own. And through it all, we've grown to understand every beautiful and broken piece of who we are and all the cracks in our hearts that will take a lifetime to heal.

We have helped each other build and rebuild our evolving lives and know every piece of scaffolding we each are standing on today. We celebrate and commemorate every part of it because we are so proud and utterly grateful that we've come this far. We've covered a lot of life together since that fateful day when my friend showed up at my door with her delicious home-cooked meal. I don't know what I did to deserve her, but I know I can't imagine doing life without her. Our friendship has been the one constant thread stitched through the tapestry of our timelines, threading our love and support and unwavering presence through the fabric of our lives.

After 25 years, we're so much older now. We both have lived long enough to know how very fast it all goes and how abruptly it can all end. So, if and when the time comes, we've promised to write each other's obituaries, because there's no one who knows you like a best friend.

The next morning she texted, "I'm still giggling, thinking about us in the bathroom." I responded with "Oh my gosh, me TOO! I love us." And I really, really do.