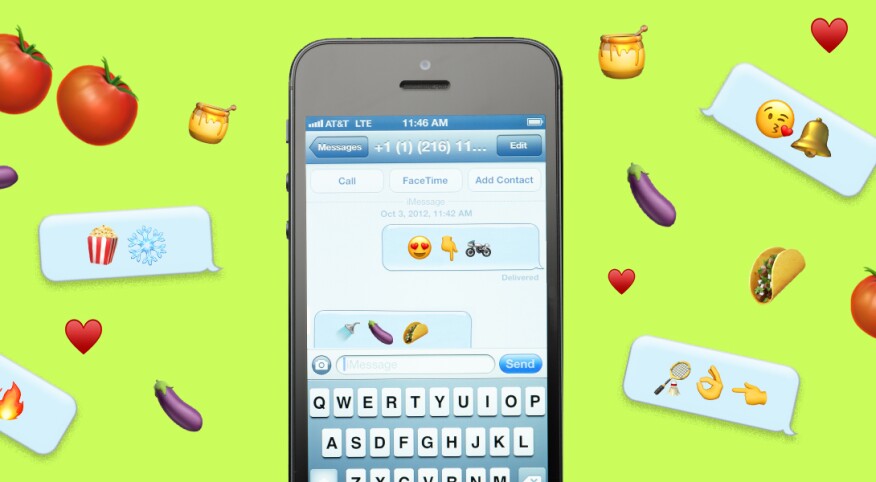 I have a girlfriend who absolutely hates emojis. I mean, if you ever think about shooting her a text and adding a giggling, teary-eyed smiley face, or a happy thumbs-up, you'll get a big middle finger emoji sent back to you in return. Personally, I think she is missing out on some serious emoji fun. I mean, who among us hasn't group texted a girl's night out complete with emojis of wine glasses and frozen umbrella-laden cocktails?

And recently, I've discovered an entirely new genre of emoji use — one that, when used correctly, can actually take the place of foreplay. How so, you ask? Well, if your longtime marriage or relationship is getting a tad stale, why not use your smartphone to liven things up with some emoji sexting? I promise you'll never look at a farmers market shopping list in the same way again.

First things first: We need to get a few basic anatomical emoji representations explained. After a quick translation of which emojis can be used for which specific body parts, the sexting storytelling possibilities become endless.

Here we go!

?= His

?= Hers

?= Hers (latest addition to vagina emoji is a honey pot)

?= Bottom

??= Breasts

Now that you know which is which, you can start to link them together with some other basic action emojis, and begin some scintillating sexting. Remember, think outside of the box, because if you can speak it (or act it out!) there's a great chance you can "emoji" it.

Here we go again!

?❄= Netflix and chill (this doesn't actually mean sit on sofa and binge-watch TV; ask your teenagers).

???= Let's have shower sex.

??= You make my honey hot.

???‍♀️?‍♂️??? ?= Dinner, movie, then mind-blowing sex.

???= Let's get down and dirty.

???= Wanna score later?

❤➕❤⏱= Time for a quickie?

??= You can ring my bell.

See what I mean? Now grab your smartphone, your creative "emojination" and your lover's phone number, and get those fingers tappin' and textin'. You may just find your text screen has the ability to initiate a hot date and foreplay all on its own — no actual talking needed. I think we can all stand up and ?for that.