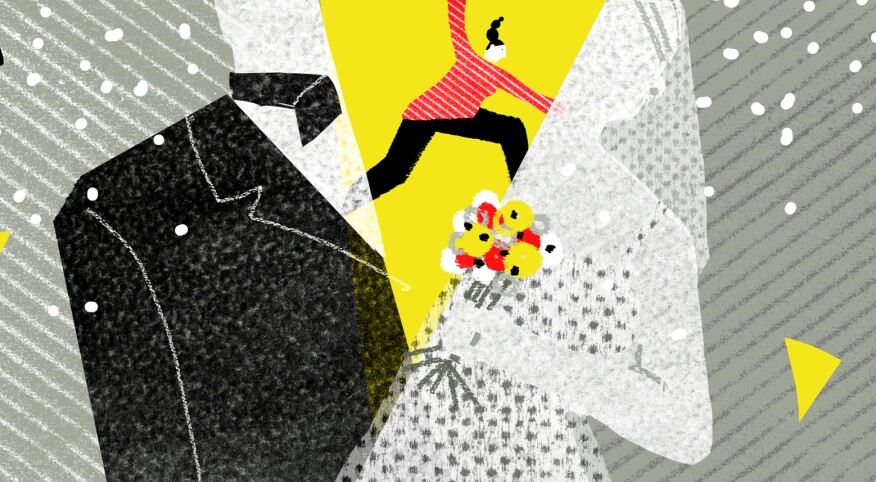 Do you want to hear/talk more about infidelity? Join the conversation here!

I never thought my marriage was perfect. We often quarreled over little things like keeping the house tidy and how much to spend on a kid's birthday party, and after 11 years of marriage, we definitely took each other for granted. But these issues never seemed greater than the love and commitment we shared. He was my husband, my life partner and my love. We weren't perfect, but we were in it together. I loved him very much and was secure in the knowledge that he loved me.

This faith served as my security blanket, one that provided reassurance as I sat in front of my mirror one Sunday in December, putting on my makeup and preparing for the arrival of my family and a few friends who were coming over to celebrate my daughter's birthday. I was completely unaware that I was experiencing my last moments of confidence in my marriage and trust in my husband. My security blanket had gaping holes — and I was completely oblivious.

My phone buzzed on the table beside me. I picked it up and began to read a series of text messages accidentally copied and pasted from a monthlong email exchange between my husband and a woman who lived exactly one block from my home and everything that was sacred to me. I felt a tingle crawl up my back, over my shoulders and my neck. My face grew hot, but I kept my emotions in check as I read each sexual, intimate, loving and real exchange.

"How was this weekend? I wish I'd been there to hold your hand."

"I've been up since 5 AM picturing your face."

"What was it you were about to say to me the other night in bed? We were talking about our feelings and you stopped yourself …"

It went on and on. I read every single text as the room spun around me. I wish I could say I felt betrayed, angry, distraught ... but the truth is that this was a shot in the back so severe, I felt nothing. I was still, almost dead inside. I realize now that I was in shock.

When the phone stopped buzzing and I had nothing left to read, I calmly placed the phone down on the counter and resumed applying my lipstick. Although the room stopped spinning, I realized my heart had been racing for some time and I'd broken out in a sweat. I'd been panicking without even feeling it. But oh, now I could feel everything. There was lead in my chest and I was certain I would vomit.

Downstairs, I could hear my parents coming in and greeting my kids. The kids were opening gifts …. one for the birthday girl and one for her brother, so that he wouldn't feel left out. I looked down at my trembling hands and took a deep breath.

"Pull it together!" I thought to myself as I shakily headed downstairs to join my family.

I went through the motions of the afternoon, fulfilling my hostess duties and tending to my children. I avoided my husband as best I could, and tried not to drink too much wine. When everyone finally left, I considered my options. I could pretend it never happened and go on with my life. I could file for divorce. I could take the kids and move out. I could tell the kids how awful their father was …. none of these seemed like useful solutions to my heartbreaking problem.

So, I did the most logical, compassionate and mature thing. I confronted my husband and told him he could either move out or stop seeing this woman and attend intensive couples' therapy with me.

He agreed, apologized and cried. I honestly believed for a naïve moment that this could be good for us. I didn't understand that I would never be able to trust him again.

I've read about couples who survived infidelity and grew stronger as a result. That wasn't us. The ensuing years of working on our marriage quickly took their toll. I couldn't enjoy anything in my life because everything happened against the backdrop of my troubled marriage and my feelings of not being "good enough." Eventually and inevitably, he started cheating again.

I became obsessed with searching for clues, reading his texts, and constantly trying to confirm my suspicions. I fantasized about confronting the other women … and there were several … but I never did. We tried not to fight in front of the kids, but it was hopeless. There was too much hostility after hearing the harsh truths that were uncovered during therapy. The fights were unavoidable, always simmering under the surface and often erupting in full earshot of our children.

He asked for a divorce. After years of trying to repair the relationship, I finally threw in the towel and agreed to move on. "Now my life is REALLY over," I thought as I prepared to sink lower.

But something amazing happened. Once my now ex-husband and I were living apart, everything in my life started to get better. I started to sleep soundly for the first time in years. I began to attract men. I became a better mother as I discovered how to be patient and learned to manage stress. The quality of my work exploded, and my ability to focus and be creative grew stronger than ever before. And very quickly after my marriage ended, I met someone new. Once I stopped being just "a woman who'd been cheated on," I became a woman with a future. By removing what was toxic from my home and my life, I was left with all the best parts of myself.

I never thought it would happen to me, and I wouldn't wish those years of struggle on anyone. But when I compare who I was before I discovered my husband was cheating to who I am now, I'm almost happy it did.

Do you want to talk/hear more about cheating? Go to our new Girlfriend Community Page! Join the conversation today.