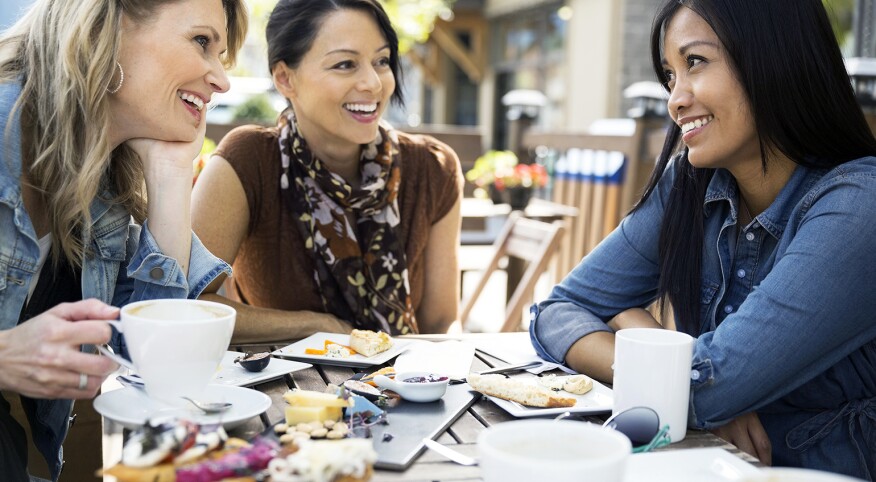 That bustling Starbucks smack in the middle of the holiday season in New York City might as well have been an intimate therapist's office. While aimlessly tying my straw wrapper into knots, I blurted out to my friend Laura that I'm stressed because I can't seem to close the deal anymore in bed. She smiled, looked at her coffee and stammered out, "My husband and I only do it, like, once a year. We're just best friends."

Walking out into the cold, I didn't feel any better about my bedroom exploits. But I was relieved that I no longer had to secretly drag around that bag of rocks. Two minutes later, I started to panic that I overshared. For her part, a guilt-stricken Laura made me promise over text to never ever tell anyone about our conversation. Not even our mutual friends. Mind you, Laura and I had known each other for more than a decade and our bond has only deepened with age. She has seen me vomit, for crying out loud. And now we're second-guessing ourselves about an everyday common-ground topic. To paraphrase the great Carrie Bradshaw, I couldn't help but wonder: Why can't we be more open about what's going on behind closed doors?

It was the groundbreaking Sex and the City, of course, that helped put sex on the table. Carrie, Samantha, Charlotte and Miranda chatted about orgasms and funky spunk over lunch with the same nonchalance as they did ordering salad. Their confessions enabled female pals to have similar types of conversations (only slightly less punny). To this day, I can remember every friend I called after I finally slept with my longtime crush — only to learn, much to my horror, that I had an allergic reaction from his aftershave. Another friend told me in exasperation that she couldn't sleep with her boyfriend because he had crippling cleanliness OCD.

As we've grown up and coupled up, the topic has moved off to the side. These guys aren't nameless flings; they're long-term boyfriends and husbands. They're the guys that flip burgers at the Fourth of July barbecues. It seems wrong to reveal their issues. Or — even more mortifying — our issues. Indeed, in a time when we're able to curate all our life highlights on social media, we're loathe to reveal what actually happens behind the scenes. The stigma is real. Plus, recapping bedroom escapades, even the positive ones, comes off like a betrayal to our partners. We can rationalize it all.

Yet it's more important than ever to continue the discussion. Not despite the fact that sex talk isn't always fun and dishy anymore — because it's not. No matter how many vitamins we take every morning, our bodies are changing at a rapid clip. So are our hormones. It's stressful and frustrating. No doubt the alterations have affected our sex lives. The night sweats. The mood swings. The lack of desire. Ay, I'm getting a hot flash just thinking about it. I want to know these emotions are totally typical, and I don't want confirmation from a rushed doctor in a lab coat or an anonymous commenter on a web site. A guy? Come on. Only females of a certain age can empathize while offering unwavering support and comfort and hopefully a few laughs.

Since that Starbucks meet-up, I've disclosed my comments and concerns to a few more trusted allies. After each instance, I feel less ashamed and more liberated. I've learned there really is no downside to sharing. Allow me to veer into Sappy Town for a moment: We may not have taken vows, but a true friend is there for you in good times and bad, better or worse. This is the time to take advantage of all the above. It's OK to admit that sex isn't a romp in the sack anymore — and if it is, more power to you. Please give advice. Either way, just talk about it. We promise not to tell anyone else. Cosmos optional.