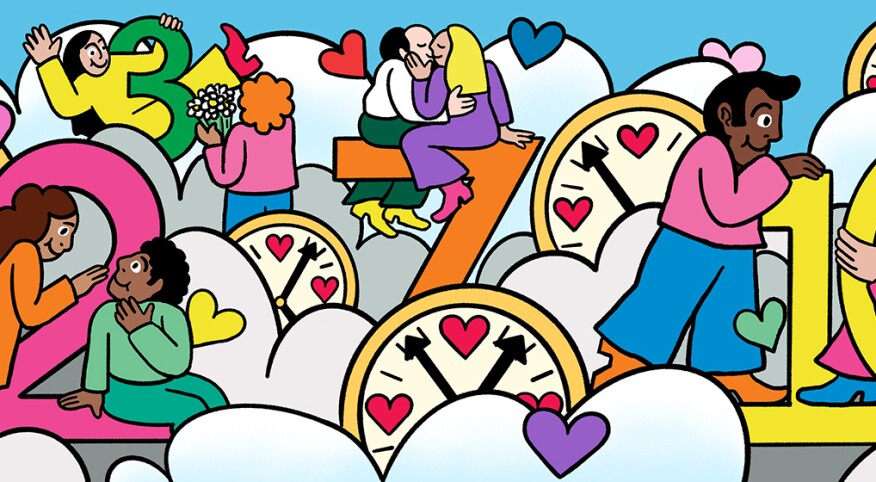 Sex. You've got questions. We've got answers.

How often is everyone having sex?

Not as often as you might imagine. A 2017 study in the Archives of Sexual Behavior found that the average adult has sex 54 times per year, which is about once a week. We're having less sex than people did in the 1990s, when they did the deed 63 times per year. It also depends on your age, however. The study found that Americans in their 20s have sex about 80 times per year, but that number decreases as they age, until they hit 20 times annually when they're in their 60s. Television and movies will have us believe that everyone from newlyweds to couples with newborn twins are going at it hot and heavy every chance they get, and if you're not, there's something seriously wrong with your relationships, says Ruby Payne, the resident sex and relationships expert at UberKinky. But that's not the way a real relationship works. "Sex is viewed as a defining factor in a successful partnership, and while it's important, it's certainly not the be-all-and-end-all," she says. "We're so desperate to find out if we're normal, that we compare ourselves to others and try to find this magical number and live up to it."

How much sex should you have?

That's a really personal question. But a study of 30,000 Americans over age 40 found that most people are very happy doing it once a week. In fact, those who had sex more frequently than that weren't any happier than those who had sex weekly; but those who did it less than weekly were less fulfilled. Isabelle Uren, a certified sex expert and the website manager for Bedbible, a sex-positive website, says don't be alarmed if your frequency varies. "It's important to note that it is totally normal for the frequency of sex and your desire for sex to fluctuate over time," Uren says. "Our sex drive is dependent on so many internal and external factors, and it's easy for things to interfere with our desire for sex."

What if you and your partner aren't having sex?

If you're having sex less than 10 times per year, it's generally agreed that you have a sexless relationship, Payne says. There are some couples who are healthy and never have sex because the partners feel neither the need nor the desire to have it, says Carmel Jones, a relationship expert who writes about dating and relationships at The Big Fling. That's totally fine. The issue comes along when one or both partners aren't satisfied with their sex lives. If you and your partner are both satisfied, you have no need to be concerned.

Is lack of sex a sign of a troubled marriage?

No, says Samantha Moss, an editor and content ambassador at Romantific. There are other ways to express love and intimacy, Moss explains. There are ways to satisfy your partner without going all the way, such as offering a sensual massage or taking a bath together. Plus, many people define sex differently, says Ryan Drake, a relationship coach in Brisbane, Australia. "Is it penetration? Is it touch? Is it orgasmic meditation?" he asks. "I think we want to expand our viewpoint on what sex is, and broaden the definition so that we can find ways to incorporate more and more better sex into our lives."

Why is there such a big mystery surrounding these numbers?

Because no one wants to be in the couple that's not having the normal amount of sex, whatever that is. "People avoid the conversation for fear that they are not normal, or that they might be doing something wrong if they're not having enough sex," says Gabriela Balsells, a couples therapist at Thriving Love LLC. But the right amount of sex, she says, is the amount that feels right for you, measured by all the people in the relationship feeling fulfilled, connected and sexually prioritized.

Want more or different sex?

You're going to have to talk to your partner about it, Uren says. Talk about how often you'd both like to have sex, identify any current barriers to sex (such as personal struggles, illness, stress or busy schedules), she says. "You can look at it as an opportunity to create a satisfying sex life that meets your needs."

Need more sex?

Masturbate, suggests Jackie Golob, a sex therapist and mental health counselor. There's no shame in that game. "This is the most sexual act that we will ever engage in," Golob says. "We know what to do, what feels good and how to love ourselves."

For more information on sexless relationships, go here.