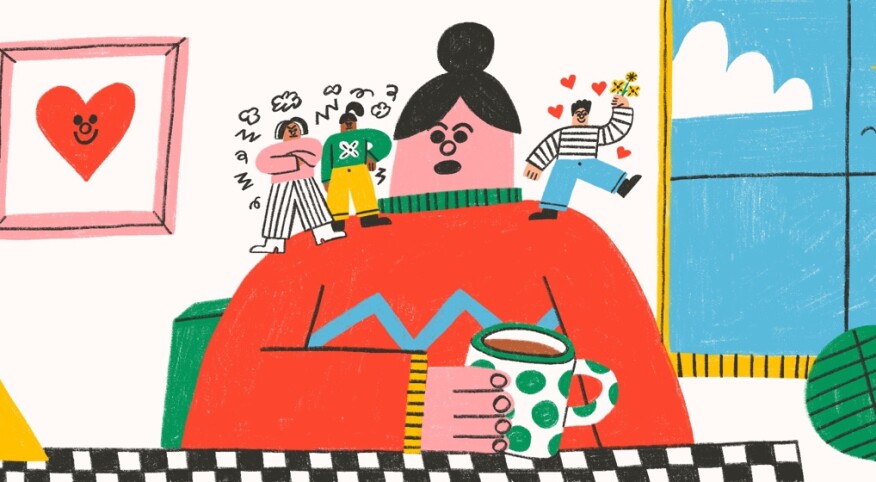 The bad news is that love, apparently, is blind.

You could find yourself the best partner ever … only to hear from your girlfriends that the man you selected is the scum of the earth. So should you listen to your girlfriends or your gut? In matters of the heart, who has your best interests in mind? A recent study from the University of Michigan found that when your partner hates your friends, it leads to poor marriage results. The study looked at the reasons why people end up divorcing, and one major issue that came up again and again was the relationship between the husband and his wife's friends. The more your friends hate him, the more likely you are to get a divorce. So case closed: Your friends tell you he's a bad guy and your partner hates your friends, so he must be a bad guy; you eventually divorce the bad guy and live happily ever after again.

Not so fast, girlfriends. There are many reasons why your friends may hate your partner, and often they have nothing to do with him as a person at all, says Danielle Bayard Jackson, a certified friendship coach, author and founder of Friend Forward, a guide to having better female friends.

"It's really common for women to dislike their friends' partners, but it often has less to do with the new love interest, and more to do with the way his or her presence impacts the overall friendship," Jackson says. Common complaints friends have against their friend's partner include: You've changed since you met him; you don't see your friends anymore; and your friend doesn't like how you act when you're with him, Jackson says.

Often when you start a relationship, you're going to spend more time with the guy than with your girlfriends, and those friends will see a side of you they hadn't seen before. It doesn't necessarily mean that you're ignoring your friends, or that your partner has changed you as a person. It's just that your friends are interpreting your new relationship as a threat to your friendships — and they're not happy, Jackson says.

"We have our own leanings when it comes to assessing our friend's new love interest, and we may be projecting our cynicism, personal complexes and fears onto our friends," Jackson says. "This is why it's so important to really ask yourself if you are concerned about your friend's well-being and your opinion needs to be expressed, or if you simply aren't a fan of the partner she's chosen, in which case verbalizing this often can strain the friendship." Still, there are times when your friends are concerned about your relationship because they've spotted things that you've overlooked because, well, you're in love.

Friends will often complain about your partner if they don't feel you're being treated well, says Cassandra LeClair, a relationship expert and communication studies professor. They may get defensive for you, and this can come out in the form of disparaging your partner, she says. "If a friend is concerned about your well-being and safety, you should hear them out," LeClair says. "Listen to their perspective openly, and try to understand their perspective. If it upsets you, is it because there is truth in what they say — or are you truly upset?"

If there's a problem, it can be helpful to analyze the feelings you have when you're talking about your partner.

To really determine what to do about the situation, it's essential to really listen to your friends, says Lesli Doares, a marriage coach and author of Blueprint for a Lasting Marriage.

Ask for specific examples of issues they have with your partner, instead of relying on vague statements — like the opinion that you're not a good fit. You don't have to accept their perceptions as accurate, but it may help to bolster your own opinions, especially if there is any form of gaslighting going on. You have a neurochemical-induced state when you're in love, and you see your partner through rose-colored glasses. Your friends aren't influenced by those neurochemicals, but that doesn't mean they aren't biased — their own issues will arise, Doares says.

"But the more people who have concerns, especially if you value and respect them on other things, the more attention their concerns should be given," she says.