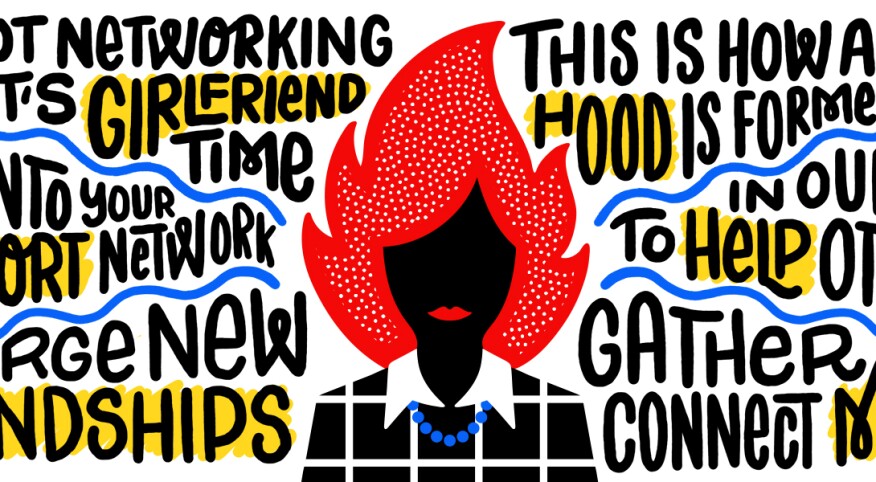 In 2007, Renata Merino had just moved from Chicago to the suburbs with her family. She'd left behind a lucrative corporate career (her male boss had denied her request for increased flexibility and less travel during her first year of motherhood) in an effort to give her children — then a 2-year-old daughter and a baby boy on the way — a more idyllic upbringing.

But while Merino was excited for better schools and a big backyard, she was nervous about suburban life's impact on her career. "I'd sign up for a weeknight networking event downtown, sit in traffic for two hours, and end up missing half the networking." Once there, the events were usually disappointing, "just people pushing business cards."

Add to that the fear of isolation she felt, away from her city friends and colleagues … coupled with what she admits were "preconceived notions about the women I'd meet in the suburbs. I assumed we wouldn't have much in common."

She couldn't have been more wrong. Those moms she saw dropping their kids off at soccer and gymnastics? They were patent lawyers, ER doctors, fitness instructors. Some, like Merino, weren't working at the time, but were eager to get back into the workforce once their kids were in school full time. "They were multitaskers, trying to manage it all, killing it every day. I wanted to have extended conversations with them, but we always had kids tugging on us."

By now it was 2013, and Merino was reading a new book called Stiletto Network: Inside the Women's Power Circles That Are Changing the Face of Business. Author Pamela Ryckman was shining a light on women's groups forming across the country, meet-ups where women from all industries — from CEOs to SAHMs launching businesses in their basements (or even just in their minds) — could come together and chat, relax and empower one another.

This struck a chord with Merino, who had nearly four decades of experience as a die-hard people person. She had thrived on the camaraderie of high school sports; recently started a business helping prospective business-school students get into their top schools; and even had playdate cards that read, "Peyton's Mommy" along with her contact info, for her daughter to hand out to friends.

This is how Blazin' Babes was born. Merino's professional networking organization invites women to gather in a social setting — from boutiques to bars to coworking spaces — to network, yes, but also to mentor, to lift one another up, and to forge new friendships. Thirty women attended her first event, a 2015 talk by Biggest Loser winner Danni Allen, who spoke about goal-setting, resilience and the importance of tapping into your support network. Today, Blazin' Babes has 120 members, ranging from a 26-year-old cryotherapy salon owner with a newborn at home to a Realtor in her mid-60s. Merino, 43, recently auditioned for Shark Tank (her dream is to scale Blazin' Babes, bringing chapters to other cities) and was chosen to join an esteemed Latino tech incubator (her dad is from Mexico). Here, she shares some of her favorite tips, promising they work for all women, regardless of location or occupation.

Networking is about building friendships
Women are social, that's how we connect. Take any chance you can to build a new relationship. Talk to each other! And talk about all aspects of your life. Don't think of it as networking; it's girlfriend time. You can vent about how hard it is to work and take care of kids and escape for a workout. You give each other suggestions. That conversation turns into, "Oh, what do you do?" You can create genuine connections, and, as a bonus, those might turn into long-term professional relationships.

Pay it forward
It's not about helping someone because they can then help you, which is what networking often is. It's about helping women just to help. At a Blazin' Babes event on financial empowerment, you might have a member who owns a cannabis company talking with a leukemia doctor, a yoga instructor and a musician, and they all have ideas on how to support one another and help one another make a positive impact in the world, with no expectation of anything in return. This is a culture shift; women need to realize we have each other's backs.

Give back
Just like we need to help one another, we need to give back to those in need. Women have always been the underdog, we've all needed help at some point, and there were people who helped us. So it's in our DNA to help others and give back. That's why I registered Blazin' Babes as a certified B corporation, meaning we must meet strict standards of social and environmental performance and accountability. Our events have raised money for Dress for Success and breast cancer research, and a black-tie casino night raised more than $9,000 to help build a playground at a refugee camp overseas. We all relate to the struggles, to being in the minority, to the pain others are feeling or experiencing. This is how a sisterhood is formed. It's very powerful.