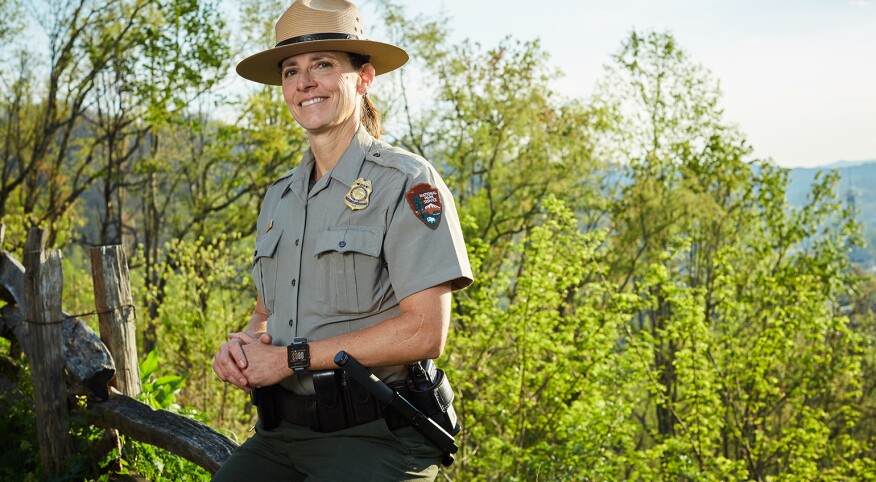 Lisa J. Hendy, the newest — and first female — chief ranger of Great Smoky Mountains National Park, didn't always know she wanted to be a park ranger.

"It's not like I woke up one day and said, 'I want to rappel out of helicopters and help people with broken limbs," Hendy says. "But I grew up with brothers in the military, and I did know I wanted to be in law enforcement."

That said, the native of Chattanooga, Tenn., who spent much of her childhood outdoors in the nearby Great Smokies, "didn't want to be stuck in a city." While attending Auburn University in the early '90s, a trusted professor suggested park management, a career that combines the caring, protecting and management of outdoor spaces along with any visiting people. That led to an internship in Yosemite National Park's backcountry office; posts at Yellowstone, the Grand Canyon and other iconic national parks; and certifications as a paramedic, firefighter, swift water rescuer and aviation manager.

In April, Hendy assumed her new role: chief ranger of the most-visited U.S. national park (11.4 million people visit Great Smoky Mountains National Park annually, compared to about five million for the Grand Canyon). This is the first time in Great Smoky's 85-year history that a woman has been at the helm, overseeing everything from search and rescue operations and emergency medical services to fire prevention and law enforcement. Under her watch: 522,427 acres of forests, mountains, deserts and wetlands straddling North Carolina and Tennessee; 80 employees; and those 11 million visitors, some of whom end up lost, injured or otherwise in need of rescue.

And there are also the roughly 1,500 bears and plenty of coyotes, white-tailed deer, wild turkeys and bats; thousands of varieties of orchids, violets and other flowering wild plants; and at least 19 species of fireflies, including synchronous fireflies — the only American species that synchronizes their dazzling light patterns. (The peak flashing usually begins in late May, and you'll need to enter a parking lottery — so start planning now.)

We caught up with Hendy just as she was exiting her post as chief ranger of Big Bend National Park, which sits on the border of the U.S. and Mexico. She told us about a day in the life of a ranger, shared sunscreen advice, and reminded us that bison selfies almost never end well.

What do you wish people knew about visiting national parks?
Do your homework. There are a lot of incidents that ruin people's vacations, or sometimes parts of their lives, as a result of not understanding their environment — the hazards of heat, the hazards of swift water. In Yellowstone, people would walk right up to bison to take pictures, selfies even, because they look so docile. But bison will charge, they weigh a ton — literally, and they run 30 mph. You can't outrun them. Go to NPS.gov and search the park you want to visit; it will tell you what you need to know. For instance, you need a backcountry permit to go backpacking; if you just hop in your car to go camping, you might get turned away.

It must be exhilarating to find someone during a search and rescue mission.
Finding people who are lost … they're pretty excited to see you. Reuniting folks when they're lost, reuniting kids with parents — it's one of the best things about the job. I once rappelled into Yosemite from a helicopter to help rescue someone.

But there's also the everyday stuff, helping people who are having a rough time, like someone stranded on a dirt road in the middle of the desert with a flat tire — that's where the heart of the job is.

There's an intense athleticism to being a ranger. We're guessing you don't need to do much to stay fit?

At the Grand Canyon, it would take me 2½ hours to hike out. At [all of the parks I've worked at], I'd be hauling 60-pound packs up the peak. Now, there's less expectation for me to go running up a trail, so I have to deliberately work to maintain my fitness level. I love swimming, cycling, kayaking. Big Bend is an amazingly fun river, with lots of access points — and it's not super crowded. I could go out for four days and not see a soul. I hike on my days off, and I do lots of weight training. I was on the structural fire brigade at Big Bend, and the gear was ridiculously heavy. Also, a bunch of us bike 25 miles into town every Thursday night and go to one of the three restaurants in town.

You're outside a lot in harsh conditions. Any sun-protection tips?
It could get up to 120 degrees at Big Bend. And it's not just about preventing sunburn — it's about the heat sucking you dry and causing dehydration. [Rangers tend to wear] long-sleeved white shirts, a big brimmed hat and a high-end waterproof sunscreen.