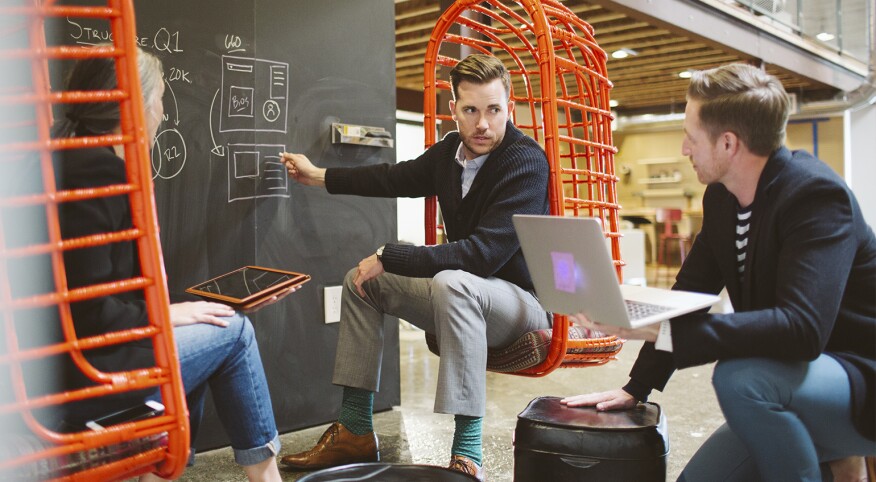 My life is full of meetings, and a lot of them happen at "shared offices" lately. They look like classic start-up spaces — a cross between a sitcom, a spa and a Starbucks — only without as many corporate walls between conference rooms. In other words, they're like big adult dorms where people spend half their waking life (at least) working side by side. As someone who grew up in the regimented Wall Street world, I think it's fabulous.

Start with the social and creative perks. A lot of companies that lease these coworking spaces (3.5 million square feet in New York alone) thrive on fresh ideas. They're media firms, next-generation financial technology shops, design businesses and digital marketing and sales companies. People are constantly buzzing around. You bump into them in the hall, the shared kitchen, the huge open common area. They're busy but usually willing to say hello.

That's a quantum shift from the home office life, where you can do the job without changing out of your bathrobe, and the only time you see your colleagues is on the social media feed. While a chance encounter with your cat might spark a few fresh concepts, it's unlikely to land you any big insights or clients. (Although, honestly, encounters with my cats usually yield nothing but cat hair on my clothing and torn pantyhose).

Let's face it: There's a face-to-face networking component to professional success that computers haven't quite bridged yet. You don't have to be a constant extrovert to get it. You just have to show up, which means putting on shoes and going outside.

Psychologists say that you need proximity, spontaneity and repetition to turn strangers into friends and maybe even find a work husband. That's what I see happening in these shared offices. You're sitting next to people who work at different companies. They're not on your personal "org chart" and you aren't on theirs, but it's worth saying hello, making a joke, asking for help with a stubborn coffee machine. Find out what they do and talk a little about what you're working on. If they're attractive, it's a stealth date.

Also, if they work for that other company across the floor, then there aren't any tough questions if sparks fly. Around 40 percent of all romances now bloom at the office, and 30 percent of them turn into something long-term. The shared space gives you access and opportunity with none of the HR complications. "Working late" gets a whole lot less lonely.

Introverts can see the advantages even more clearly. You may be blissfully content working in your bathrobe, but you still need to get out of the house sometimes. The coworking space becomes your outside office, with all the amenities you need and the address that impresses professional contacts. Spend $40 and rent a desk for a few hours. Come in and use the scanner or have the on-site IT team update your software. The smaller your business is now, the more sense it makes to tiptoe into a big corporate headquarters one desk at a time, when you know the numbers are justified. You're not paying for one square foot more than you need or even one minute of added overhead.

That's huge freedom, the kind of disruptive math that drives billion-dollar companies like Amazon and Uber. Okay, sure you could get that square foot and Wi-Fi at Starbucks, but I guarantee there are more power outlets and less ambient chatter in your coworking office. You can actually get things done in these spaces. Just like your home office, the costs are deductible, which is a big deal for independent contractor types in this year's tax environment.

And as you scale your success, the coworking floor becomes a recruiting field for more than your personal network. You'll be meeting people from all different industries with a wide range of skill sets. If you need help on a project, chances are they'd be willing to freelance or know someone who is. Maybe down the road they'll work for you. Maybe they'll be the ones who end up luring you away from your current gig. And, again, let me reiterate my first premise; you could entice them into your bedroom (and, at the same time, into your bathroom to change a light bulb and hang those framed prints still sitting on the floor from when you moved in years ago).

I have to get just a little personal here. As a highly successful entrepreneur who's worked her entire adult life, I can tell you that having a partner and children, too, makes everything in life sweeter — including your career (as long as you have the right career for you, which is an entirely different subject for another day).

I wasted 25 years believing and buying into the myth that having a robust and financially successful career is "everything." The new way of working in these hip shared offices that give you flexibility and lots of exposure to potential love interests is the best thing since cappuccinos, match.com, iPhones and 24-hour waxing salons.

So don't roll your eyes when you hear about shared offices. Don't think of them as an overgrown frat house (unless that's what you're into). Think of them as a hotel for your job. Whenever you've got to get out of bed and do business in the world, this is where you do it — with all the amenities of the old-time corporate headquarters, without breaking the bank.