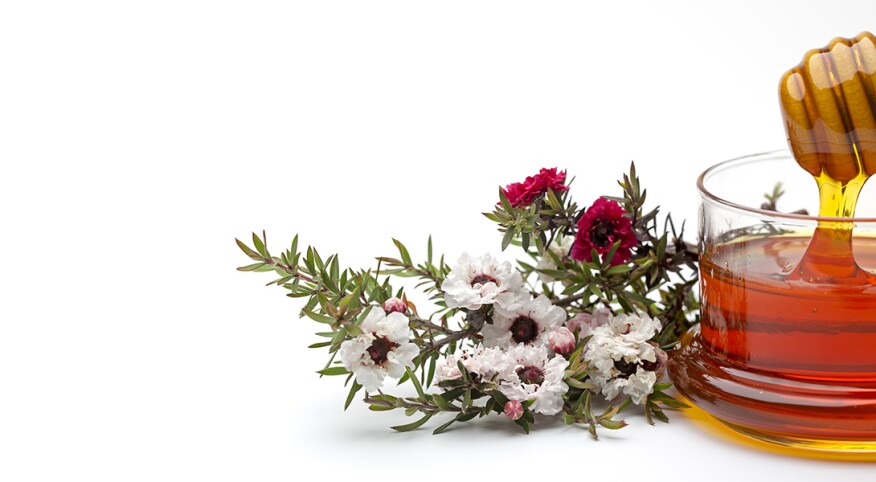 There's honey, and then there's manuka honey. Produced by bees that pollinate manuka bushes, the sticky substance has attracted endorsements from celebs like Gwyneth Paltrow and Kourtney Kardashian, who gush that it can detox your body, keep you from getting sick and improve the way you look. The honey is so popular and expensive (it can cost up to $5 an ounce!) it has even sparked a battle between Australia and New Zealand — two countries where manuka bushes grow natively — who are fighting for the rights to the name. So what exactly is all the fuss about?
First the not-so-good news: Unfortunately, there's no compelling evidence that manuka honey will ward off allergy attacks, repel flu viruses or turn you into a supermodel overnight. Also, any claims related to "detoxing" are inherently bogus.
However, manuka honey does stand apart from what's in your typical plastic bear thanks to its impressive antibacterial qualities. Research has shown that applying manuka honey to wounds can help fight infection and speed up healing. It even works against antibiotic-resistant bacteria like MRSA. Anecdotally, eating manuka honey may also help ease digestion issues or soothe a sore throat, while a dab on your skin could clear up acne.
Last January, Frances Largeman-Roth, nutritionist and author of author of "Eating in Color," traveled to New Zealand to learn more about the buzzy superfood. "All honey is naturally antibacterial because it contains hydrogen peroxide, which is produced by bees," she says. "With manuka honey, the antibacterial properties are coming from other, more potent compounds," including leptosperin, a nectar from the manuka bush; DHA, an omega-3 fatty acid; and methylglyoxal, an antibacterial substance.
Each batch of manuka honey is tested and graded for its unique manuka factor (or UMF) on a scale of 5 to 20+. The higher the UMF number, the more of those beneficial compounds the honey contains — and the more you're likely to pay.
When shopping for manuka honey, Largeman-Roth cautions that there are plenty of counterfeit products out there. The UMF Honey Association, an independent group based in New Zealand, tests honey and certifies the production process before awarding their UMF mark, which she says is currently the most reliable verification that what you're buying is the real deal.
"If you just want to stir a spoonful into your tea, then 5+ is fine," says Largeman-Roth. "But for targeted antibiotic use, you need at least 15+ or 20+." You can also buy bandages or topical salves that contain manuka honey.
And how does it taste? Not exactly like the syrupy, super-sweet stuff you find on supermarket shelves. Instead, manuka honey is thick and spreadable, with a slightly earthy, tangy flavor.