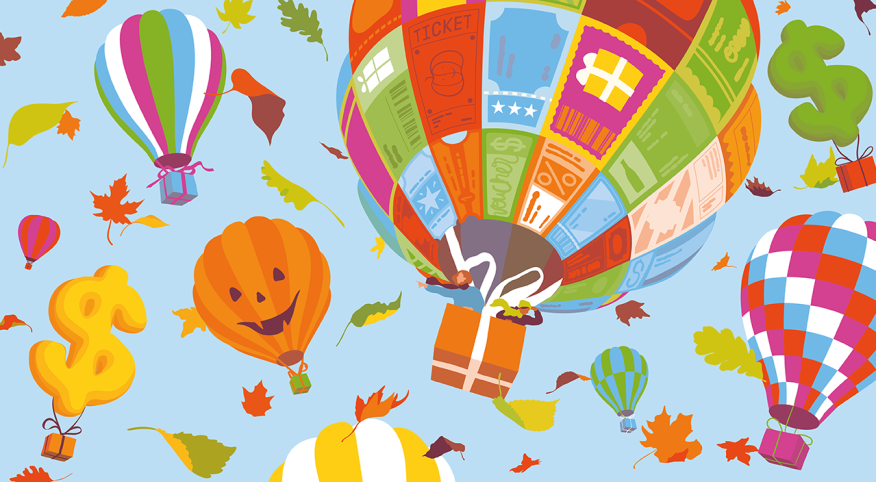 If your hometown doesn't do much to celebrate autumn, you might want to experience one of these special fall festivals, some of which are annual and lots of which are free. BYOB as well as your own blanket and take in the music, festivities and fall weather. Here's a list of some great festivals to enjoy.

Albuquerque, New Mexico

Albuquerque International Balloon Fiesta

October 7-15

Balloons have soared above the New Mexican skies for 50 years, and this year will be no different. Albuquerque is home to the International Balloon Fiesta, made possible thanks to the Albuquerque Box, the combination of weather patterns and geography that allows balloonists to take off and land in the same spot. This year's festival will have more than 500 hot-air and gas-filled balloons, and spectators can walk among the colorful inflatables, talk with pilots and watch balloons take spectacular flight. Although there's a fee of $15 per session, various public parks offer viewing for free.


Atlanta

Atlanta Food & Wine Festival

September 20-24

The Atlanta Food & Wine Festival features sought-after wines, fusion foods and down-home delicacies. There will be wine and food tastings from hundreds of restaurants, artisans and chefs. Some of the proceeds will benefit organizations promoting Southern culture and opportunities for women in the culinary arts. Tickets are all inclusive and start at $110.


Baltimore

Free Fall Baltimore

October 26–November 25

Celebrate National Arts and Humanities Month in Baltimore. Every October, Free Fall Baltimore immerses the city in arts and culture, with an entire month of free events. They range from studio tours and concerts to dance performances and workshops illuminating Charm City's many contributions to the humanities. You'll find a mix of diverse creators, performers, venues and artists beginning on October 26, with over 70 free events, including a Hula-Hoop contest, a luxury swap, an art market, a masquerade swap and much more.


Baton Rouge, Louisiana

LSU Center for River Studies at the Water Campus

October 1, November 5 and December 3, 1 to 5 p.m.

Visitors at the LSU Center for River Studies are invited to explore its award-winning coastal- themed interactive exhibit, which houses the world's largest movable physical models of the lower Mississippi River. Representing a 179-mile stretch, running from Donaldsonville to the Gulf of Mexico, the models offer opportunities for guests of all ages to learn about the history of the Mississippi River, Louisiana's disappearing wetlands and coastal restoration. Entry is free on these fall afternoons.


Chicago

Navy Pier Pumpkin Lights

October; check the Navy Pier website in mid-September for dates

The iconic Navy Pier will host the third Pier Pumpkin Lights event in October. The spooky displays includes jack-o'-lantern towers, festive lights and Halloween-inspired decorations. The lights span the 50-acre pier, to the Ferris wheel. The event is free.


New York City Area

The Great Jack O'Lantern Blaze

Hudson Valley: September 15–November 19; Long Island: September 22–November 5

The Great Jack O'Lantern Blaze is a unique fall festival in two locations — Van Cortlandt Manor in Croton-on-Hudson, in the Hudson Valley, and at Old Bethpage Village Restoration in Old Bethpage, on Long Island. Running from September through November since 2005, this family-friendly Halloween extravaganza sports hand-carved lit pumpkins and elaborate Halloween decorations, such as a giant spider web and mystical dragons. Accompanied by synchronized lighting and music, the festival is a don't miss for young and old alike. Admission is by advance tickets (starting at $24, plus a $2.50 ticketing fee) only; it's free for children age 2 and under, and for members.


Pittsburgh

Soul Food Festival

September 1-3

Pittsburgh offers several fall festivals, including a Soul Food Festival at the Plaza at PPG Place and Market Square. It features Black culinary butchery and food businesses, as well as live music, barbecue and cultural activities. The event is free.


Pittsburgh Irish Festival

September 8-10

The 32nd annual Celtic celebration at Carrie Blast Furnaces showcases new bands, Irish song and dance groups, and Irish performers on four stages, an experience that's a delight for all. Tickets range from free (for kids 12 and under) to $60.


St. Charles, Illinois

Scarecrow Weekend

October 6-8

If scarecrows are more your jam, who wouldn't love to check out the straw-stuffed icons dressed in street clothes to help scare off birds and evil spirits? The 38th annual Scarecrow Festival in St. Charles, Illinois, proudly presents 85 handmade scarecrows, contests to vote for your favorite one, and scarecrow-making kits for the kids and creative adults. There are many free events.


Sonoma County, California

Sonoma County Harvest Fair

October 14

Wine lovers and other visitors can check out the Sonoma County Harvest Fair, held at the Sonoma County Event Center at the Fairgrounds in Santa Rosa. The event includes a World Championship Grape Stomp competition, in which teams angle for the most stomped grapes; plus over 300 local wines at the tasting pavilion; merch; fun; and Cali fall weather. Among the ticket options are general admission ($75) and VIP ($150); designated driver ($50).


Stowe, Vermont

Vermont Pumpkin Chuckin' Festival

October 1

The 14th annual Vermont Pumpkin Chuckin' Festival is just the event to amuse the family this fall. It's a pumpkin-tossing competition in Stowe that features a chili cook-off, live music and kids activities. Don't miss the headliner — teams using homemade catapults to see who can hurl "punkins" the farthest. Held at Stoweflake Mountain Resort & Spa, the event raises funds for the Clarina Howard Nichols Center, to aid victims of domestic and sexual violence in Lamoille County. Admission is $10; for kids age 5 and under, it's free.


Powhatan, Virginia

Powhatan's Festival of the Grape

October 7

Over 30 Virginia wineries will attend this annual festival, full of food, wine, cider, mead, spirits and craft beers, music, and plenty of entertainment and fun. You can purchase a tasting band to sample beverages; the cost includes a complimentary wineglass. Tickets are $20 to $45.


Warrens, Wisconsin

Warrens Cranberry Festival

September 22-24

If you tire of pumpkins, visit the Cranberry Capital of Wisconsin as it hosts its annual cranberry festival, which celebrates — yes, all things cran. Since 1973, the festival has kicked off the local cranberry harvest season, with proceeds going to the village of Warrens. With more than 1,300 booths, a parade, food, cranberry juice and marsh tours, Wisconsin celebrates its state fruit in style. Admission is free.


Whiteville, North Carolina

Pecan Harvest Festival

November 3-4

The annual North Carolina Pecan Harvest Festival pays homage to everyone's favorite nut: the pecan. In addition to a Pecan Parade, fall festival activities, arts and crafts, food trucks, pecan recipes, and vendors, there's a car and truck show. Three stages offer live music all weekend, and Ms. Black North Carolina, Tatyana Faulk-Frink, is the grand marshall. The event is free.

What festival, if any, do you have in your state each fall? Anything good? Let us know in the comments below.