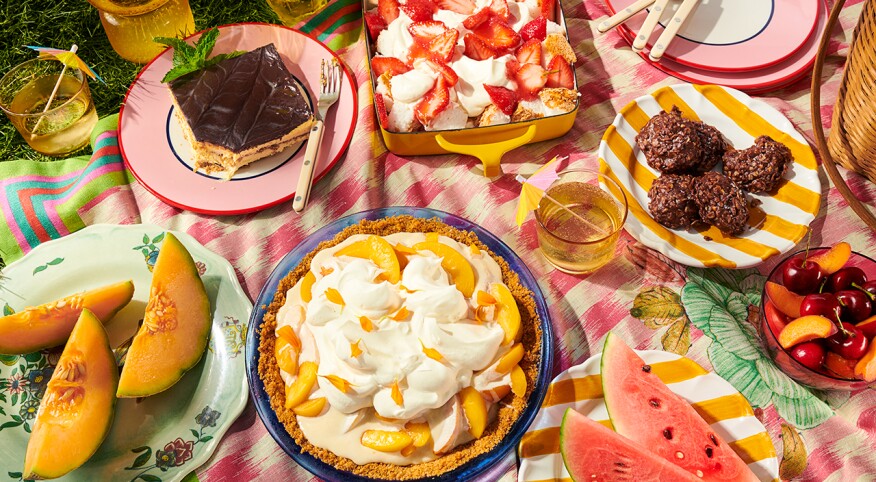 Too hot to use the oven? If you need a quick dessert to serve your guests but don't want to sweat while you cook, consider making no-bake treats. Of course, you can never go wrong with an ice-cream bar, loaded with special syrups and toppings — or you can serve whipped fruit parfaits. However, in the same amount of time you can also assemble alternatives that are simple, elegant and just as tasty.

During the summer, I like incorporating fresh fruit from the local farmers market into my chilled desserts. But I need my regular chocolate fix too, and any dessert made with this decadent ingredient brings plenty of smiles. So, ditch the oven and make these scrumptious, no-bake desserts — you'll cool everyone off at your next gathering.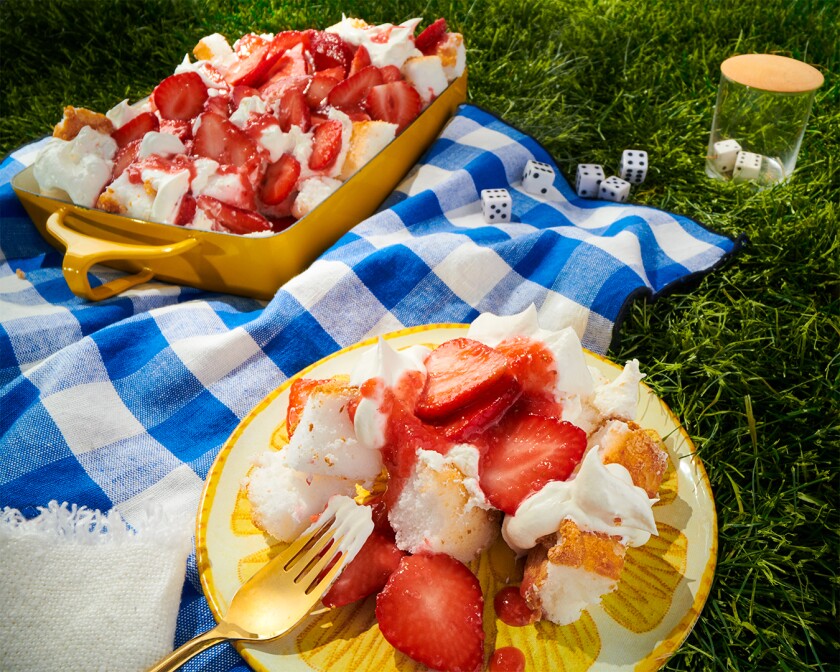 Angel Food Strawberry Cake

Serves 8–10

14-ounce angel food cake (store-bought or homemade)

8 ounces cream cheese, softened

1/3 milk

1 cup confectioners' sugar

8 ounces whipped topping

1 teaspoon vanilla extract

1 pound fresh strawberries (washed, hulled and sliced)

1 tablespoon granulated sugar

1½ teaspoons lemon juice

Cut cake into 1-inch squares and arrange them on the bottom of a 9-by-13-inch pan. Using a hand mixer, blend the cream cheese, milk and confectioners' sugar until smooth. Fold in the whipped topping and vanilla. Pour this over the cake pieces; smooth the topping mixture with a spatula. Place half the strawberries and the granulated sugar and lemon juice in a food processor; blend on a high speed for 1 to 2 minutes, until pureed. Pour this mixture into a bowl, then add the remaining strawberry slices to it. Mix, then spread this evenly over the creamy cake topping. Refrigerate for at least 1 hour before serving.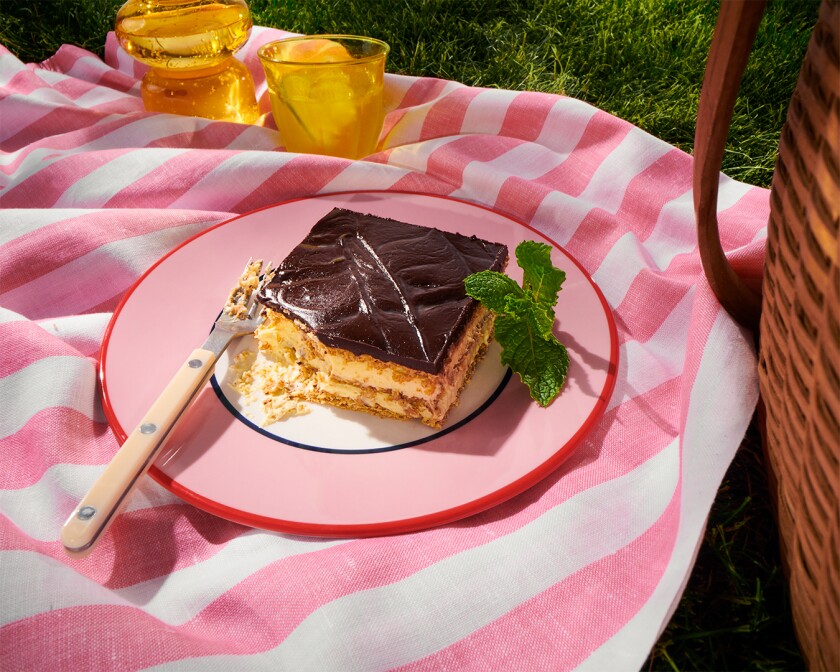 No-Bake Chocolate Éclair Cake

Serves 8-10

2 (3.4-ounce) boxes instant vanilla pudding

3 cups whole milk

1 (8-ounce) container whipped topping

1 (14–16 ounce) box graham crackers

1 stick butter

1/3 cup unsweetened cocoa powder

¼ cup heavy whipping cream

1 cup confectioners' sugar

1 teaspoon vanilla extract

Whisk (or use a hand mixer) the pudding and milk together until all the lumps are gone. Fold in the whipped topping. Line the bottom of a 9-by-13-inch pan with graham crackers (cut some, if needed). Spread half the pudding mixture over this, then add another layer of graham crackers, followed by the remaining pudding mix. Top the final layer with the last of the graham crackers. In a saucepan, melt the butter over medium heat, then whisk in the cocoa powder. As soon as this is mixed, add in the heavy cream; whisk again, until blended. Slowly add in the confectioners' sugar, whisking constantly for at least 1 minute. Make sure there are no lumps left in the sauce. Remove it from the stove and add the vanilla. Whisk the sauce, then let it cool for 3 to 5 minutes, until it thickens but is still spreadable. Using a spatula, spread the sauce evenly over the pudding and graham cracker base. Cover the pan; chill overnight in the refrigerator (or at least for 8 hours) before serving.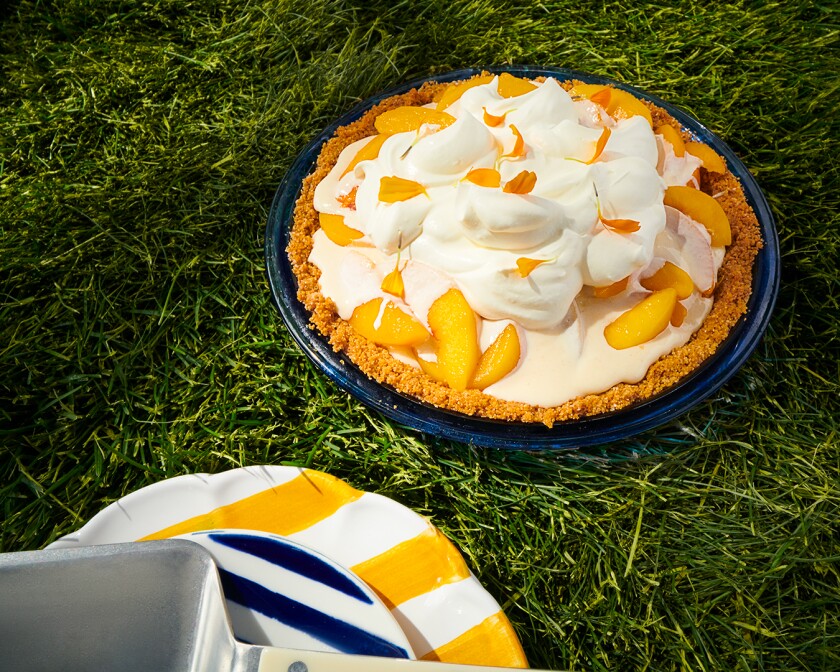 No-Bake Peach Pie

Serves 6

1 9-inch graham cracker piecrust (store-bought or homemade)

6–8 fresh medium-size peaches, peeled, sliced and pits discarded

8 ounces cream cheese, softened

1/3 cup lemon juice

1 (14-ounce) can sweetened condensed milk

1/8 teaspoon cinnamon

2 teaspoons vanilla extract

1 cup heavy whipping cream

2 tablespoons confectioners' sugar

Line the bottom of the piecrust with half the peaches. In a bowl, mix the cream cheese, lemon juice, sweetened condensed milk, cinnamon and 1 teaspoon vanilla. Pour this mixture evenly over the peach slices in the pie. Add the remaining peach slices; set aside. In a bowl, whip together (using a hand mixer on high) the whipping cream, confectioners' sugar and the remaining 1 teaspoon vanilla. Mix until fluffy. Spread evenly over the top of the pie. Chill at least 3 hours in the refrigerator, then serve.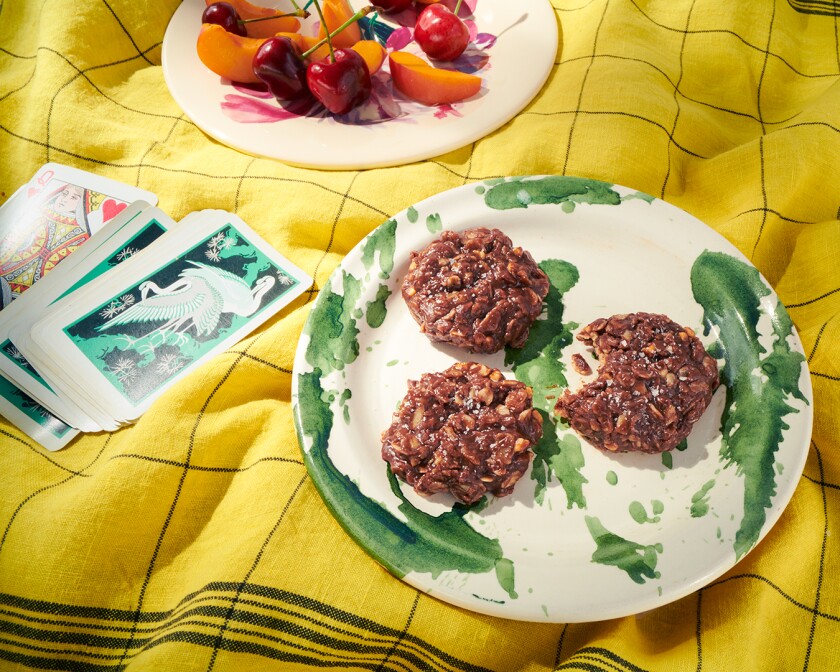 Chocolate Peanut Butter Oat Cookies

Makes 30-plus cookies

1 stick butter

2 cups granulated sugar

½ cup milk

¼ cup unsweetened cocoa powder

1 cup smooth peanut butter (use chunky if you prefer the texture of nuts)

3 cups quick-cooking oats

½ cup semisweet chocolate chips (or more if you want super-chocolaty cookies!)

2 teaspoons vanilla extract

Pinch of salt

Line 2 baking sheets with waxed paper and set them aside. In a saucepan, place the butter, sugar, milk and cocoa powder; bring to a boil. Stir the mixture as it cooks. Once it starts to bubble, let it boil for exactly 1 minute, then remove it from the stove. Stir in the remaining ingredients. Drop even spoonfuls of cookie onto the prepared baking sheets; slightly press down on the cookies to flatten them. Let the cookies sit at room temperature until they're cool and firm.

What's your favorite summertime dessert? Let us know in the comments below.