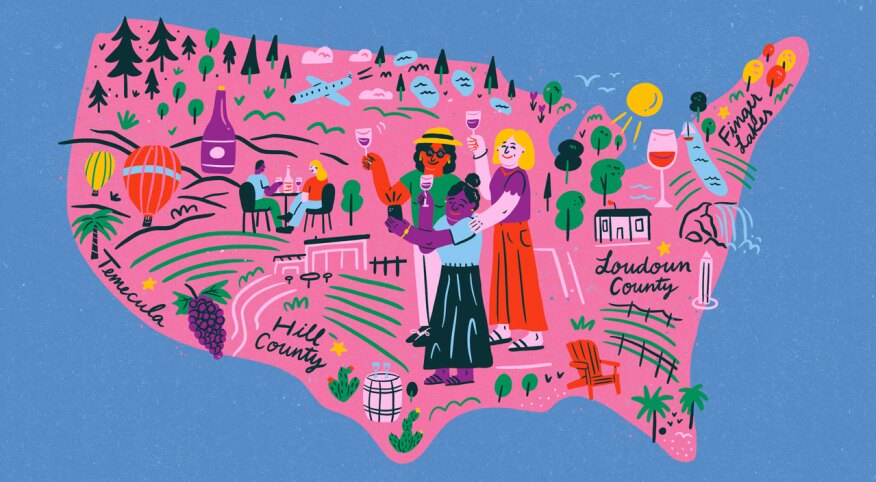 When someone mentions visiting wine country, your mind may well picture the storied vineyards of Napa and Sonoma counties in California. Popular and known throughout the world, they unfortunately also tend to be crowded.

Why not instead explore smaller, personality-rich wine regions that offer great wine yet not quite so many visitors? These four hidden-gem wine regions, each with its assortment of boutique wineries, will satisfy your thirst in every way. Let's get tasting!

Northern Virginia — Loudoun County

Loudoun County, a.k.a. D.C.'s Wine Country, creatively provides adorable bed-and-breakfasts, sumptuous farm-to-table fare, fresh honey and flowers, craft breweries — and award-winning wine. The area's rolling country terrain supports a variety of grapes and is dotted with more than 50 charming wineries.

· 868 Estate Vineyards exudes genuine warmth, evident as you walk into the cozy tasting room. The winery is owned by three families who set out to establish a gathering place celebrating exceptional wine, fresh food and local artists. The hard work has paid off. The popular winery won the 2020 Virginia Governor's Cup and pulls in guests to experience local artwork and live-music events.

· Zephaniah Farm Vineyard is a historic, four-generation working family farm that raises grass-fed Angus cattle and grows 14 varieties of grapes using sustainable techniques and canopy management. Tip: The family hosts an intimate, highly coveted tasting experience in their 1819 home.

· Forever Farm and Vineyard regards itself as the neighborhood Cheers and opens its arms to old and new friends alike — including pets and kids. Owners Bob and Teri Riggs like being unpretentious and present an inviting spot for picnicking and sipping award-winning wines. The small, welcoming farm showcases events such as Pride offerings and pet-rescue fundraisers.

New York — Finger Lakes Region

Finger Lakes Wine Country, home to Pleasant Valley Wine Company (1860), is believed to be the birthplace of America's wine industry. Today the region is known for its 130 wineries — the most east of California. It's where you'll want to try ice wine, a rare dessert wine made from grapes harvested at 12 to 18 degrees F.

· Heart & Hands Wine Company stands by the philosophy that great wine comes from great fruit. The husband-and-wife team of Tom and Susan Higgins painstakingly sought out the best limestone-based soil sites around Cayuga Lake. The estate's excellent pinot noir and Riesling wines owe their quality to the soil. Enjoy the new UTV Vineyard Tour & Tasting to learn more.

· Living Roots Wine + Co. merges the rich wine-making traditions of Australia and the Finger Lakes through owners Seb and Colleen Hardy. Seb, a descendant of the legendary Australian Thomas Hardy wine family, and Colleen — who was raised among the vines of the Finger Lakes — split their time between the two regions. They offer an urban tasting room in Rochester, New York; a newly opened winery overlooking Keuka Lake; and an Aussie winery in the hills of Adelaide.

· Seneca Shore Wine Cellars, dubbed the Medieval Winery of the Finger Lakes, has an appetite for the medieval, as is apparent from the castle-styled tasting structure, which showcases helmets, swords and axes, and features medieval-themed activities. The attention to hyperlocal wine-making continues the narrative, as royalty during medieval times would invest in every part of the wine process on behalf of their subjects.

Southern California — Temecula Valley

You'll feel transported to Tuscany in Temecula Valley, where the setting resembles that of the Mediterranean. Nearly 50 picturesque wineries dot the rolling hills of the area known as Southern California's Wine Country. The lush environment produces superb fruit, allowing for award-winning wines ranging from cabernet sauvignon and sauvignon blanc to European varietals Syrah and Sangiovese.

· Palumbo Family Vineyards & Winery sits serenely on a quiet hilltop with stunning 360-degree views. Visiting the vineyard truly feels personal —it's the idyllic haven where the Palumbos raised their kids, farmed livestock and fed their dreams. Part Sicilian and part Illinois farm boy, Nicholas Palumbo was born to make wine, a craft he believes is all-consuming when it's done well. The winery holds an unwavering commitment to scale, exercising a passion for making small, exceptional batches using sustainable methods.

· Chapin Family Vineyards offers a perfect illustration of "the good life," maintaining the highest standards through every step of the wine-making process, from raising nutritionally balanced vines to investing in top-tier vineyard tools. Tip: Recline on the veranda overlooking the vines with a glass of the 2018 Syrah Rock Creek, a velvety-textured wine with ginger, blueberry and cassis flavors.

· Lorenzi Estate winery has been described as Southern California's most-awarded winery, with 155 red wines rated 90 points or higher. Reserve a coveted spot at The 90 pt. Seated Tasting, where you can taste five renowned reds of this caliber. Anchored by the philosophy that it takes a wine lover to create great wine, the Lorenzi family makes wine lover's wine — a sensibility woven throughout the vineyard.

Texas — Hill Country

Mention of the Lone Star State will certainly raise images of barbecue, tacos and cowboy boots. Lesser known is its vibrant award-winning wine scene in the Texas Hill Country, an area with more than 100 wineries, anchored by the town of Fredericksburg.

· Meierstone Vineyards proudly produces wine that celebrates the local terroir and exclusively features Texas grapes. At the tasting room on this 555-acre working ranch and farm, order tasting flights to best experience the array of wines. From farming practices to wine-making, this historic, fifth-generation family enterprise lovingly champions sustainable practices, to ensure that future generations will also enjoy the healthy productive land.

· Lost Draw Cellars' roots can be traced back to a forward-thinking farmer, Andy Timmons, and his nephew, Andrew Sides, who once planted grapes on the family farm deep in the heart of Hill Country. In time, Lost Draw's first vintage arrived and they opened a tasting room in Fredericksburg. Recently, they opened a full-scale winery in Johnson City; it has a roomy tasting room, an outdoor bar and a welcoming porch.

· Kalasi Cellars adds a twist to the winery concept by incorporating owners Greg and Nikhila Narra Davis' historic farming heritage in India. This boutique winery, which opened in 2020 on the outskirts of Fredericksburg, uses all estate-grown fruit to produce discriminating batches of wine, crafted on-site from start to finish. Pair a glass with food offerings including Indian cuisine, and from your Adirondack chair under the pecan trees, take in views of the Babydoll Southdown sheep and their guard llama, Dalai.

Have YOU been to any of the above wine regions? Let us know in the comments below.