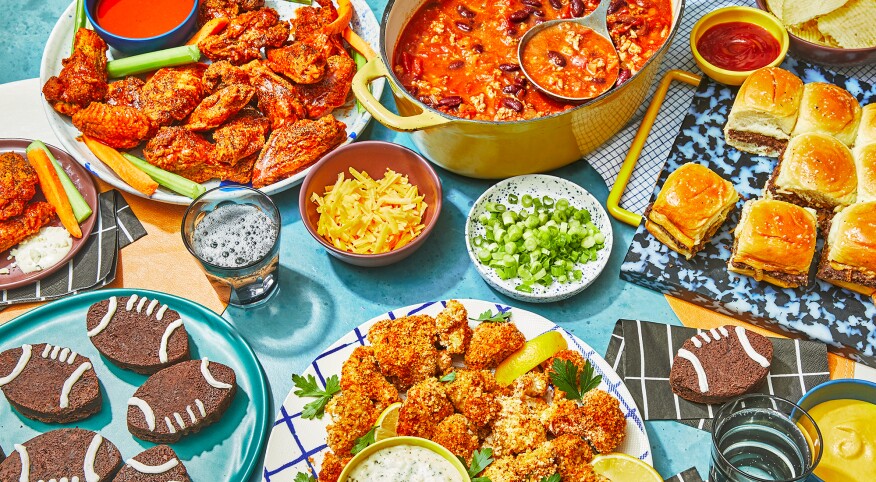 Watching football is one of my favorite ways to spend a Sunday afternoon in the fall. Honestly, I'm not a big fan of the sport. In fact, I sometimes need help understanding what's going on. But I love a good tailgate.

Tailgating 101

How the tradition of tailgating began is up for debate. According to the American Tailgater Association, the idea of a tailgate started in 1869 during the first collegiate football game between Princeton and Rutgers. Spectators gathered to watch the game and grill meat at the "tail end" of a horse. But others believe it began in the 1900s when people started traveling to sporting events by train. No vendors were selling food at the stadiums, so people brought snacks.

Regardless of the origins, today most tailgates are held either in the stadium parking lot before the game or in front of a big-screen television in the living room. If you are hosting a tailgate, you want to keep it easy so you can spend time with your company and watching the game.

Here are five delicious recipes guaranteed to have everyone cheering, even if their team loses!

Simple Turkey Chili (adapted from Amanda Ingraham for Allrecipes)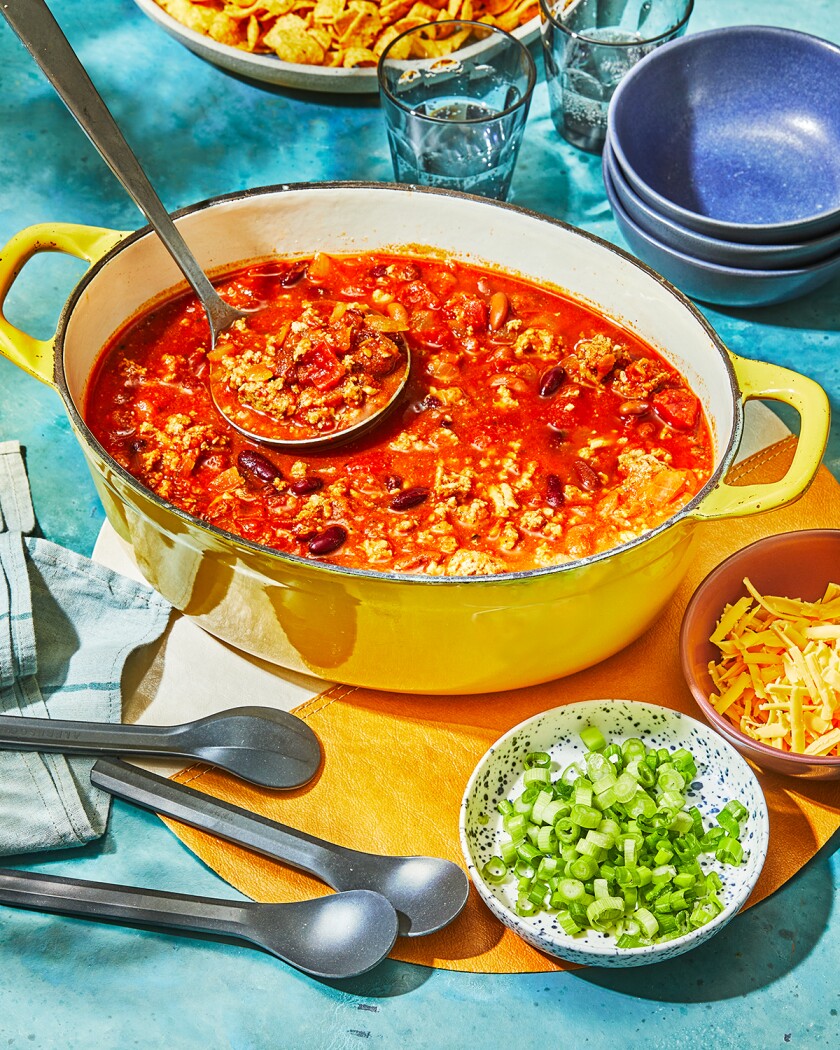 Serves 8 but can easily be doubled for a crowd

Ingredients

1 1/2 teaspoons olive oil

1 pound ground turkey

1 chopped onion

2 cups water

28-ounce can crushed tomatoes

16-ounce can kidney beans, drained, rinsed and mashed

1 tablespoon minced garlic

2 tablespoons chili powder

1/2 teaspoon paprika

1/2 teaspoon dried oregano

1/2 teaspoon ground cayenne pepper

1/2 teaspoon ground cumin

1/2 teaspoon salt

1/2 teaspoon ground black pepper

Directions

Heat oil in a large pot over medium heat. Add turkey; cook and stir until evenly browned, 6 to 8 minutes. Stir in onion and cook until tender. Add water; mix in tomatoes, kidney beans and garlic. Stir in chili powder, paprika, oregano, cayenne pepper, cumin, salt and pepper. Bring to a boil. Reduce heat to low, cover and simmer for 30 minutes.

Easy Beef Sliders (adapted from Shannon McNitt on TikTok @livingonlife191)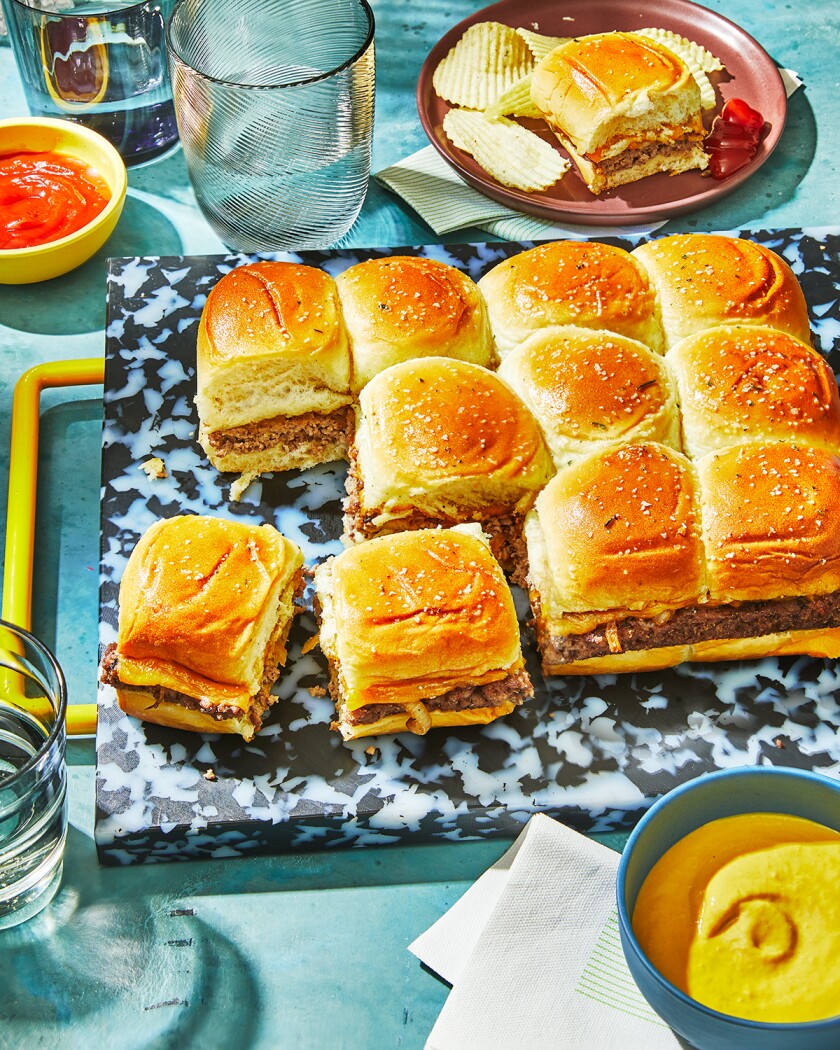 Makes 12 sliders — like a gourmet version of White Castle but even better!

Ingredients

3/4 pound ground chuck

Steak seasoning

1 package King's Hawaiian rolls or other kind of favorite rolls

1 onion, chopped and sautéed

Shredded Swiss or cheddar cheese

2–3 tablespoons butter

Garlic salt, to taste

Directions

On a 9-by-13-inch baking sheet with sides, press the ground beef evenly across (it won't look like enough meat, but it is — it should be a thin layer.) Season liberally with steak seasoning and bake in the oven at 350°F for about seven minutes. Keeping the package of 12 rolls connected to each other, slice horizontally so you end up with a top and bottom layer of bread. Place the cooked beef — now a rectangular patty — atop the bottom layer of rolls (the beef will shrink in the oven and should fit perfectly). Top beef with as much sautéed onions and cheese as you like, then place the top layer of rolls on the seasoned patty. Melt butter and add garlic salt to brush on the top of the bread and bake until the cheese melts. Once cooked, slice the rolls into separate sliders.

Crispy Baked Buffalo Chicken Wings (adapted from Tastes Better from Scratch)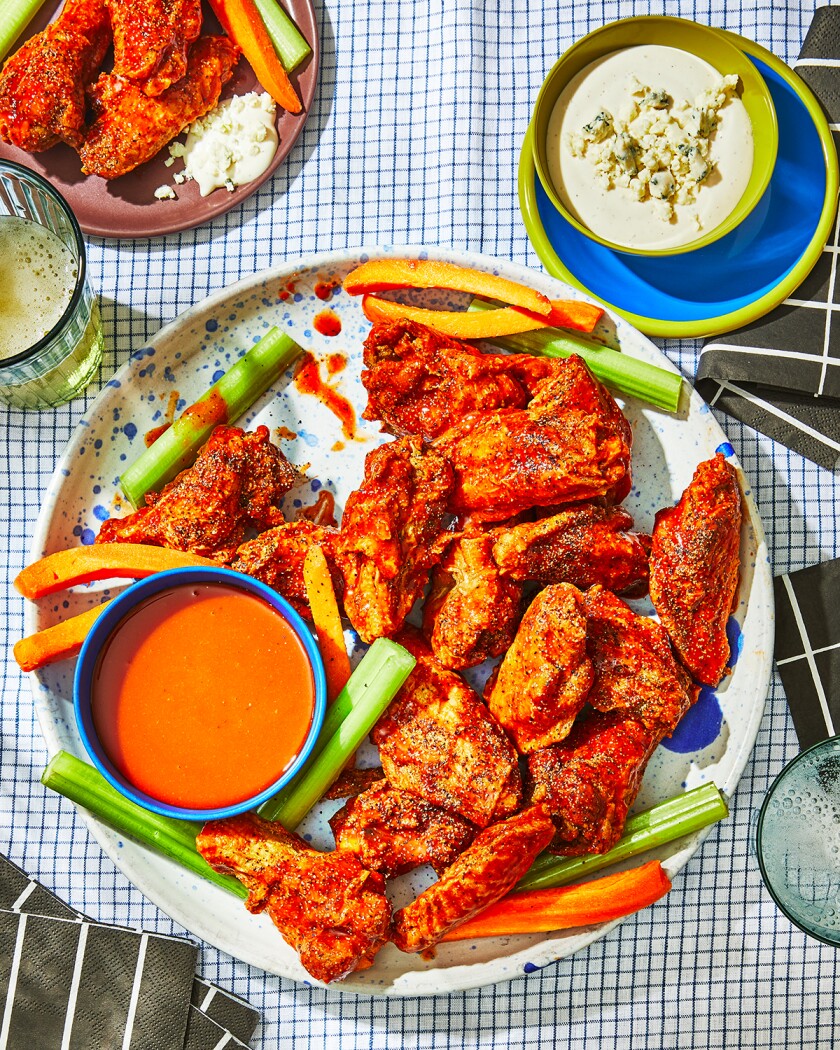 Serves 8

Ingredients

Wings

4 pounds chicken wings, halved at joints, wing tips discarded

2 tablespoons baking powder *aluminum free

3/4 teaspoon salt

1/2 teaspoon cracked black pepper

1 teaspoon paprika

1 teaspoon garlic powder

Buffalo sauce:

1/3 cup Frank's Wings Hot Sauce

1 1/2 cups light brown sugar

1 tablespoon water

Directions

Place oven rack in middle position and preheat oven to 425 °F. Line a baking sheet with aluminum foil and place a wire rack on top. Spray rack with nonstick spray. Dry wings with paper towels (it's important to get them really dry) and place in a large mixing bowl.

Combine salt, pepper, garlic powder, paprika and baking powder in a small bowl. Sprinkle the seasoning over the wings, tossing to coat evenly. Arrange wings, skin side up, in a single layer on the prepared wire rack. Bake, turning every 20 minutes, until wings are crispy and browned. Total cooking time may vary depending on wings size but may take up to an hour.

While the wings are cooking, stir together all sauce ingredients in a medium saucepan over medium heat. Mix well until the sugar has dissolved. Remove from heat and cool to room temperature.

When the wings are crispy and browned, remove from oven and let stand for 5 minutes. Transfer them to a bowl and toss with sauce. Serve with blue cheese or ranch dip.

Air-Fryer Cauliflower Bites (adapted from Love and Lemons)
Serves 4

Ingredients

1 cup panko breadcrumbs

1 1/2 teaspoons smoked paprika

1/2 teaspoon garlic powder

1/2 teaspoon onion powder

1/2 teaspoon cayenne

1/4 heaping teaspoon sea salt

1 large egg

2 cups small cauliflower florets

Extra-virgin olive oil for drizzling

Lemon wedges for serving

Tartar Sauce for serving

Instructions

On a rimmed tray, mix the panko, smoked paprika, garlic, onion, cayenne and salt. In a small shallow bowl, lightly beat the egg. Preheat the air fryer to 370°F. Dip each cauliflower floret into the egg, coat with the panko mixture, then place onto a large plate.

Drizzle the cauliflower with olive oil and put into the air fryer basket in a single layer with a little space between each floret. (Don't overcrowd the basket. Work in batches if necessary.) Air fry for 9 to 12 minutes or until golden brown and crisp. The exact timing will depend on your air fryer. Repeat with any remaining cauliflower. Serve with lemon wedges and tartar sauce.

Football-Shaped Brownies (adapted from TheBakerMama.com)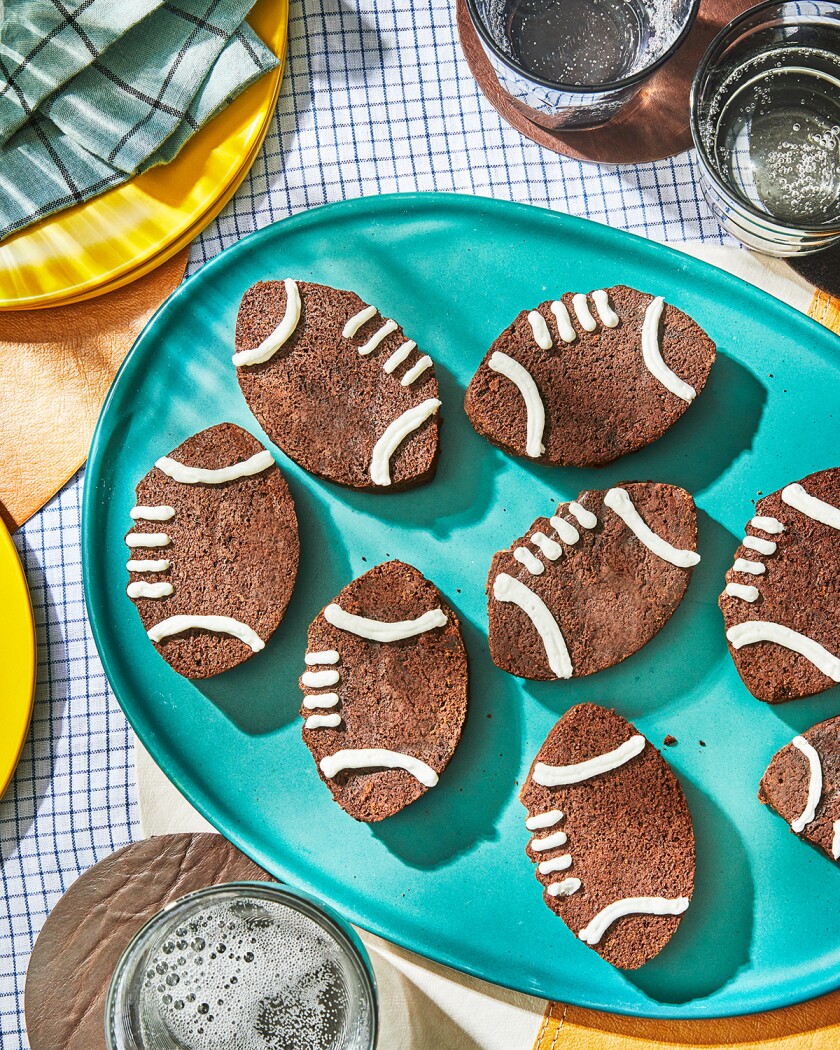 Makes 25 Brownies

Ingredients

1 cup (2 sticks) unsalted butter

2 cups semisweet chocolate chips

2 cups granulated sugar

1 tablespoon vanilla

1 1/2 cups all-purpose flour

1/2 teaspoon salt

1 teaspoon baking powder

1 cup unsweetened cocoa powder

1/2 cup white frosting

Instructions

Preheat oven to 350°F. Lightly grease or butter an 8-by-12- inch baking sheet with sides and set aside. Place the butter and chocolate chips in a large microwave-safe bowl. Heat in the microwave for about 2 minutes, stirring every 30 seconds until the chocolate chips are melted and smooth. Remove from microwave.

Stir in the sugar, then add the eggs one at a time and stir until smooth. Stir in vanilla. Add in flour, salt, baking powder and cocoa powder. Stir until well incorporated. Spread batter evening into prepared baking sheet. Bake for 20–25 minutes (rotating the pan halfway through), or until a toothpick inserted in a few spots comes out clean.

Let brownies cool completely in the pan. Use a football-shaped cookie cutter to cut the brownies into football shapes. Decorate each brownie by placing the vanilla frosting in a resealable baggie and snip a small piece off one corner. Pipe the frosting onto the top of each football-shaped brownie to create football lines.

Do any of you tailgate? Let us know in the comments below.