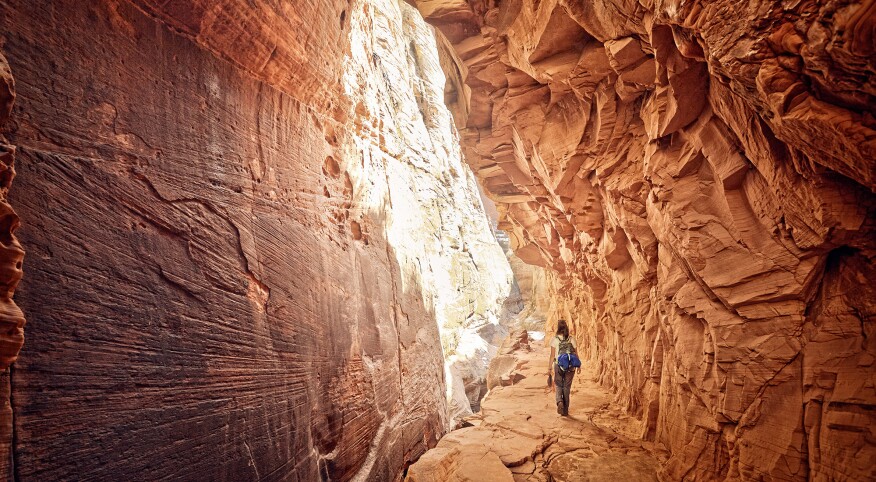 If ever there was a year that made us want to scream "Calgon, Take Me Away!" it was 2020. After a brutal, locked-down winter, we're finally seeing a tiny light at the end of the tunnel. And while travel plans still need to include rigorous safety precautions and careful logistical considerations, a getaway is possible. Here are a few places — including Airbnb options and others — to go solo or with your household where you can fully immerse yourself in the grandeur and simple pleasures of nature, keep your distance from other humans, and get a well-deserved break.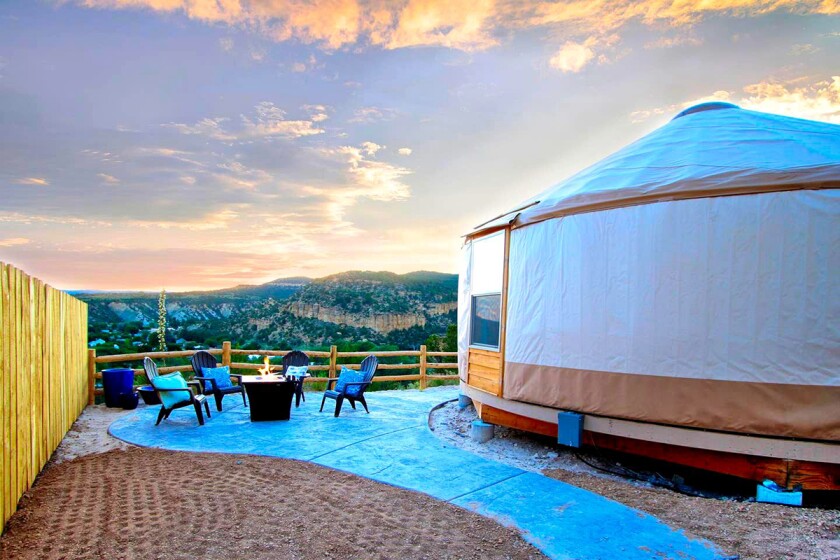 Go glamping in Zion National Park

For an adventure in the great outdoors that comes complete with all the modern conveniences, try glamping (that is, glamorous camping). A luxury yurt in Zion National Park (beginning at about $374 a night in March) comes with "jaw-dropping views of the surroundings," as well as modern yet rustic finishes — like a plush king-size bed, a stylish bathroom with all the essentials, and air-conditioning. Spend your well-deserved time away hiking, wildlife watching, biking and marveling at the scenic white cliffs — or simply doing nothing at all.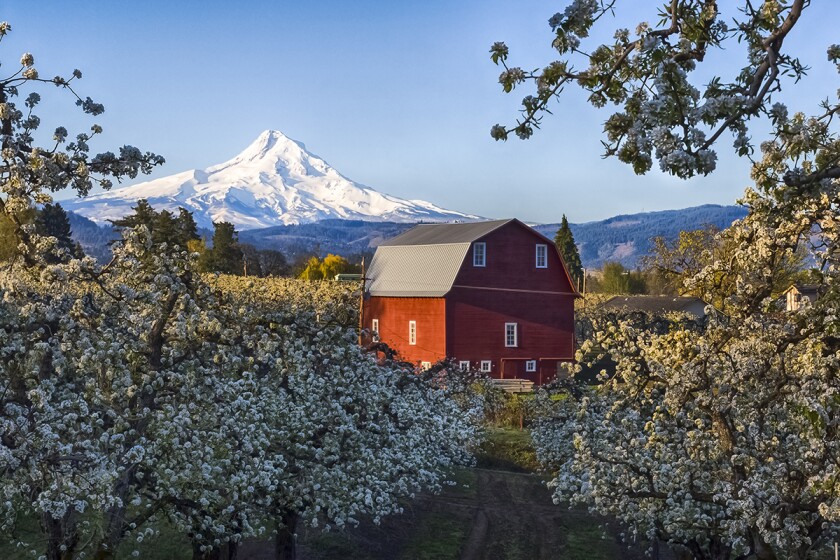 Escape to a tiny, rustic cabin in Oregon

Bring your pup along on your journey when you visit The Roost, a rustic yet contemporary tiny cabin in Mount Hood Village, Oregon. At 500 square feet and featuring an open-floor plan, this is ideal if you're seeking a solo respite. Previous guests call this spot "idyllic," "sparkling clean" and "inviting." Take a hike on the Sandy Ridge Trail, sit and read by the stream, or pop over to Mount Hood (a 15-minute drive) for tasty dining options if you don't feel like cooking.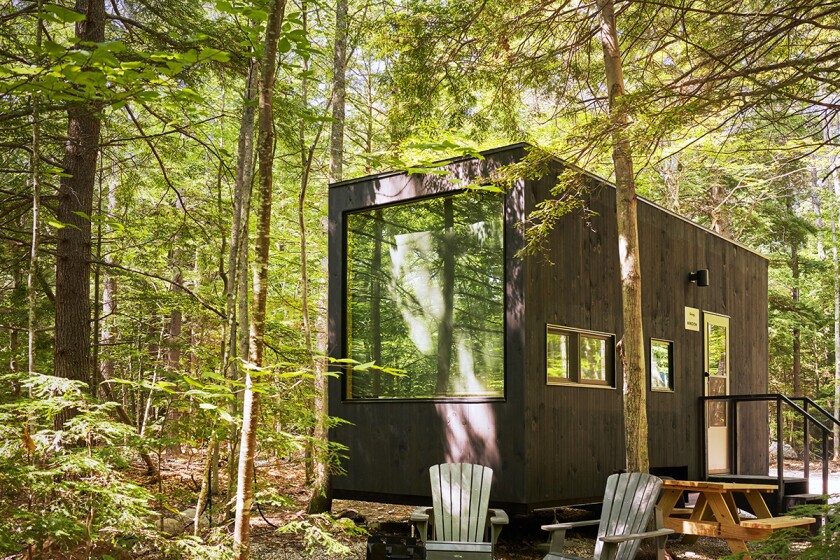 Find a tranquil escape from city life

Looking for a quick getaway from city life? Getaway offers small, remote cabins that are close enough to several major cities (including Washington, D.C., Los Angeles and Chicago) so you don't have to travel far to commune with nature. Each adorable cabin has a queen bed with fresh linens, a big window with views of surrounding trees, a fire pit, a picnic table and a kitchen with all the essentials. Cabins also are stocked with snacks and simple meals for purchase. Most of the outposts are on the East Coast, with a few scattered in the South and on the West Coast — and more opening all the time. (Near Washington, D.C., for example, prices start around $199 in May/June.) Dogs are welcome for a small additional charge.

Treat yourself to a modern cabin in the Catskills

This is not your mama's cabin in the woods. Ideal Mountain House in Olivebridge, New York, is a three-bedroom, modern "architectural gem" that sits between a mountain and meadow on 8 acres of private land. With soaring ceilings and huge glass sliders for maximum natural light, a chef's kitchen and panoramic view of the mountains, this is the perfect way to indulge yourself after surviving 2020. Prices about $450 a night in spring.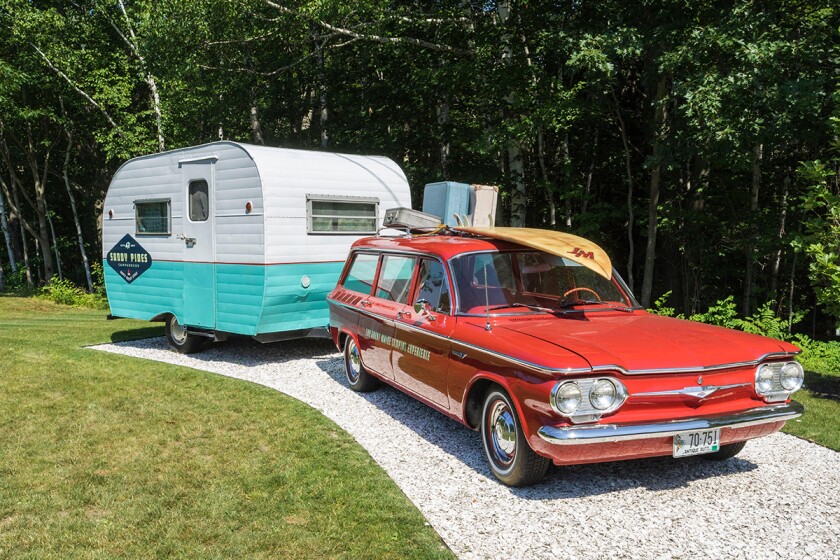 Chill out at a luxury camp in Maine

Campfire? Check. S'mores? Check. Luxury safari tents? Check. Sandy Pines Campground will evoke fond memories of overnight camp, yet this camp comes with adult amenities such as designer interiors, king-size beds, and fire pits. Located in a tranquil part of coastal Kennebunkport, Maine, the campground opens May 7 and sits on a secluded beach forest complete with ocean views and salty breezes. Choose from couples or family glamp tents or a myriad of other whimsical lodging options that include airstreams, domes, cottages, and more. Strict COVID-19 precautions are in place, but note that all guests share communal bathhouses.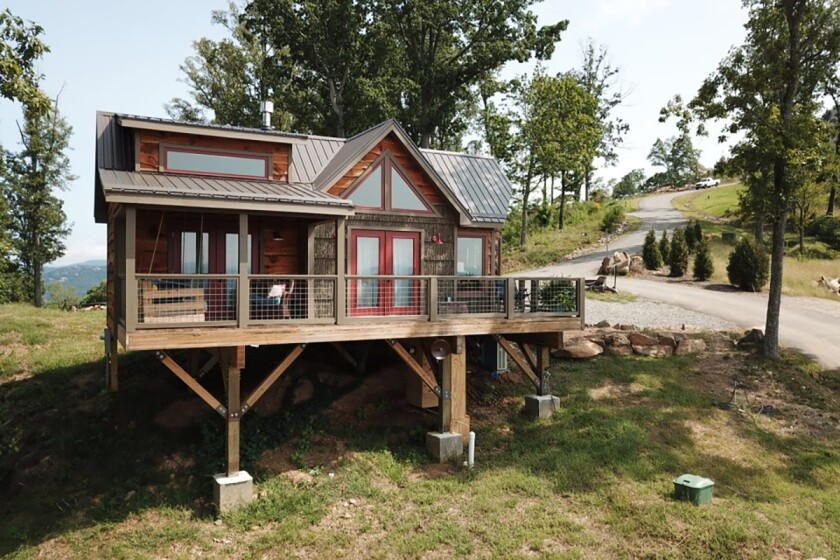 Take in the Blue Ridge Mountains from a treehouse

Did you dream of a having a treehouse when you were a kid? Yup, so did we. Now is your chance to make that dream come true by staying at The Perch, one of five elevated "treehouses" along with a hobbit home that make up the Treehouses of Serenity near Asheville, North Carolina. Located on an 8 acre parcel and nestled in the Blue Ridge Mountains, this rental unit has a rustic feel — one bedroom with a queen bed and a covered porch. Kick back, relax and soak in the long-range mountain views as you let your stress melt away.