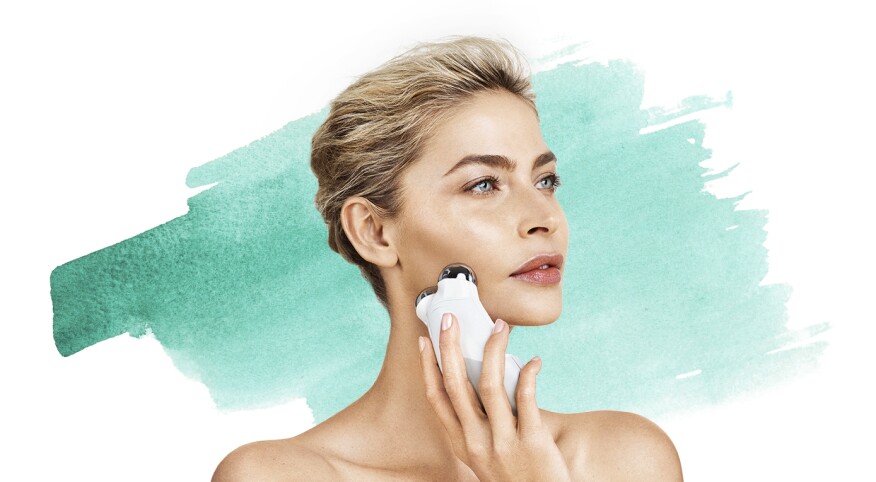 A loose blouse on a summer day is one thing. But loose skin? That's something else entirely. Unfortunately, as we age, it's pretty much inevitable. (Sorry, I just report the news.) The first step to truly solving any problem is understanding the cause. "The bone in your face starts to recede, especially after having babies, and the framework that holds our skin up becomes smaller," explains Laura Dyer, an expert in body-contouring techniques and a leading trainer for physicians in injectables. "The muscles begin to sag a bit. Fat distribution changes — we lose it from areas like the cheeks and it's deposited into less pleasing areas like the jowls and under the chin. Lastly, skin loses collagen and becomes lax." Depressed, much? Luckily, there are a number of new treatments — both at home and in the doctor's office — that can tighten the skin from your visage to your derriere.

In the doctor's office:
Ultherapy: "Ultherapy is the best treatment for women in their 40s 50s and 60s who want to lift and tighten their skin, especially someone who wants a more-sculpted jaw!" says Jeannel Astarita of the Just Ageless Medi-Spa in New York. The treatment uses ultrasound to deliver heat deep beneath the surface to reinforce collagen layers, causing your body to create new collagen over the next couple of months. While it is not pain-free, the one-and-done treatment is truly effective.

Thermage: Dyer opts for Thermage FLX, which uses radio frequency waves to stimulate collagen production and achieve overall skin tightening. "I also love the AQUAGOLD procedure, which is a painless microchanneling device that allows us to infuse a customized cocktail of medical-grade ingredients such as Botox and antioxidants directly below the skin to improve the look of fine lines around the eyes and mouth," she says.

Exilis: Celeb dermatologist Dendy Engelman, M.D., swears by Exilis for skin-tightening. "It couples radio frequency with ultrasound to give a turbocharged tightening result. It's quick, painless, and has zero downtime." Patients report firmer-looking skin after the first treatment, but four are usually recommended.

CoolSculpting: "This is the gold standard of noninvasive fat reduction," Robert Anolik, M.D., Kelly Ripa's go-to dermatologist, says. "It can allow an apparent 'tighter' midsection by reducing the fat pads on the lower abdomen and love handles. The cold temperature, which you don't really feel, triggers a shutdown of cells that hold fat. A 20-25 percent reduction in fat is possible." Two to four treatments may be needed.

At home:
Conture Kinetic Skin Toning Device ($199): The little handheld tool works by lifting targeted areas and using gentle vibrations to stimulate skin. "It has a multitude of benefits with over 250,000 hours of research behind it," Engelman says. "The third-party studies showed that participants had an almost 80 percent for overall facial firmness." She suggests using Conture twice a day for three minutes.

NuFACE Trinity ($325): Like the Conture, this device works on the premise that the skin on your face needs exercise to stay toned — just like the rest of you. The "facial trainer" uses microcurrents to stimulate skin, reducing the look of jowls and fine lines. For best results, use five minutes a day. And note: NuBODY ($399) for arms, buttocks and tummy has just hit the shelves, too.

Joanna Vargas Eden Instant Lift Mask, ($75 for five sheets): Prefer your tightening low-tech? These hydration treatment masks are made of bamboo and use anti-inflammatories to tighten skin.